FREE Reception from 6 to 8 p.m. on November 10 Offers Opportunity to Meet the Artists
Winchester, VA 11/06/15…Colorful mixed media works and vibrant paintings by Winchester artists Abigail Gomez and Roberto Carlos Rosas are now on view in the Art in the Halls sections of the Museum of the Shenandoah Valley (MSV).
Open to the public, a free reception from 6 to 8 p.m. on Tuesday, November 10 will offer visitors the opportunity to meet the artists and enjoy complimentary admission to the Museum galleries.
According to MSV Director of Exhibitions Corwyn Garman, the new Art in the Halls displays are the first in the MSV to feature the works of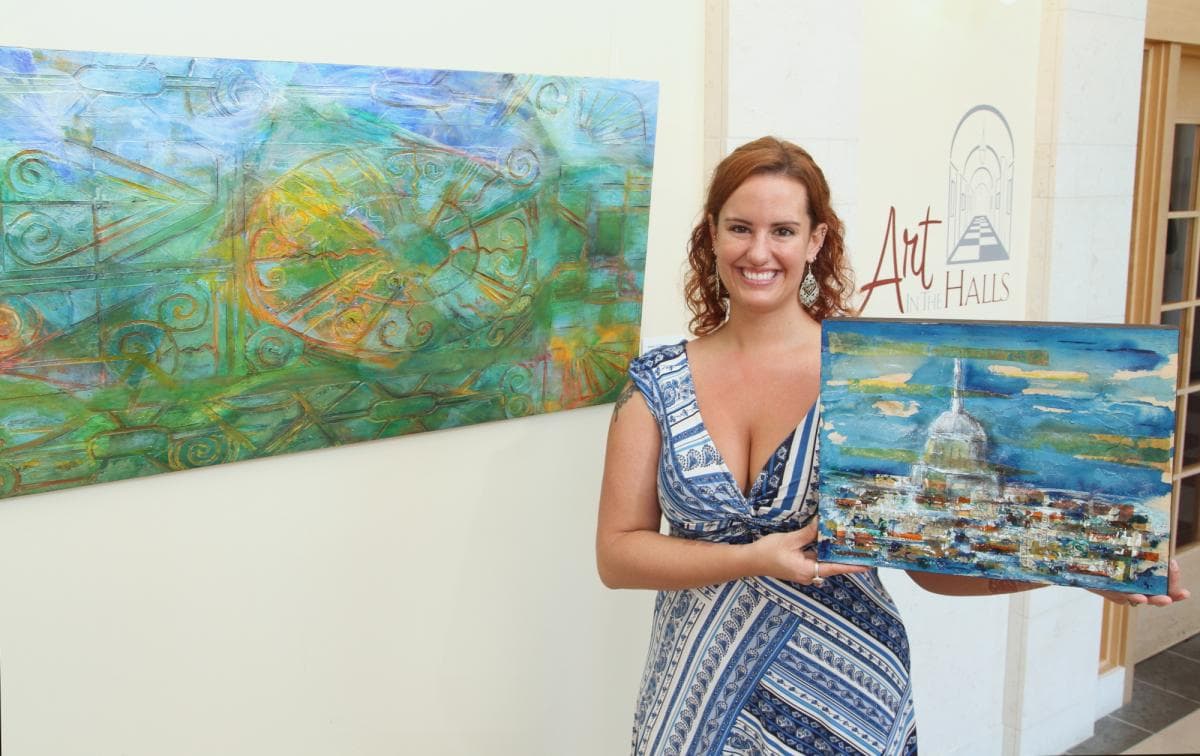 Hispanic artists. In Lewis Hall, artist Roberto Rosas has assembled a display of eight acrylic paintings, while an installation of 13 mixed-media works by Abigail Gomez is now on view in Glaize Hall. Presented through January 17, these Art in the Halls displays are available for viewing free of charge; MSV admission is not required.
Titled Roots: La Cuba de mi Bisabuelo, the series of mixed-media works by Abigail Gomez was inspired by the artist's Cuban heritage. Created in 2014 and 2015, the works are abstract representations of landscapes and vistas Gomez discovered during recent trips to the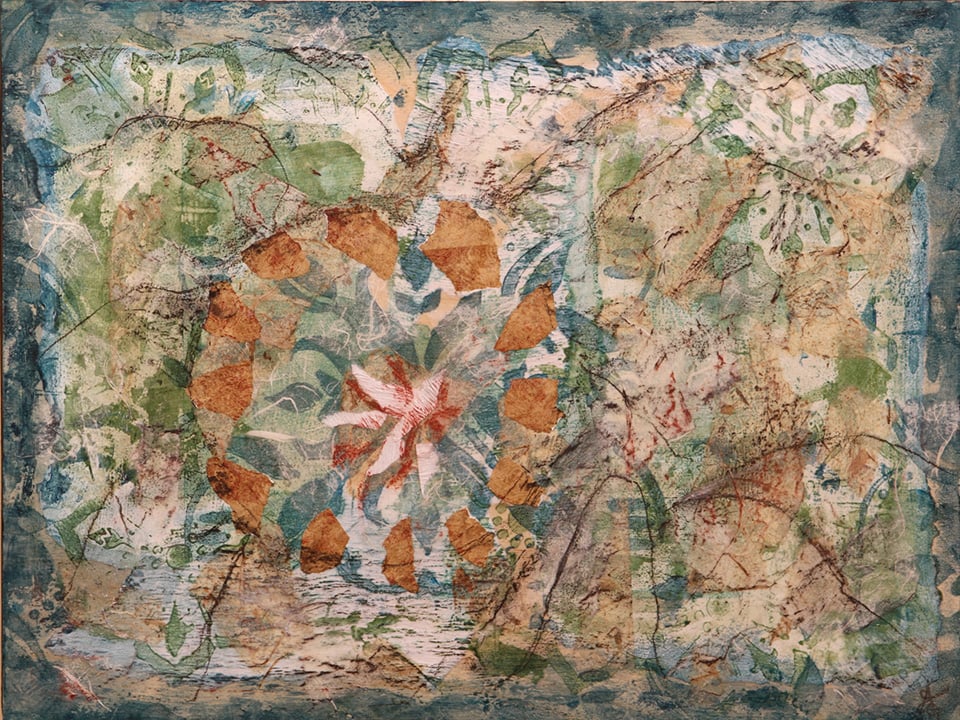 Cuban cities where her great-grandfather lived. La Capital de Cuba depicts the skyline of Havana, and several works feature designs from the Spanish-style wrought iron fences and gates in Cuba. Gomez notes that she enjoys experimenting with sculptural and textural elements in her work. In Dia Templado, the artist used glass bead gel to create an illusion of transparent clouds; in Cuban Rhythm #2, pieces of maps are incorporated into the work.
Born in New York, Abigail Gomez has lived in Virginia for 20 years. She earned a Bachelor of Fine Arts from Virginia Tech. This December, she will complete the requirements for a Master of Fine Arts in painting from the Academy of Art, University of San Francisco. Gomez's work is in a number of private collections and has been featured in exhibitions in Virginia, New York, and California. In addition to operating a fine art business, Pretty Girl Painting, Abigail Gomez serves on the board of the Shenandoah Arts Council, teaches art at Winchester's Mountain View Christian Academy, and is a set painter with Winchester Little Theatre.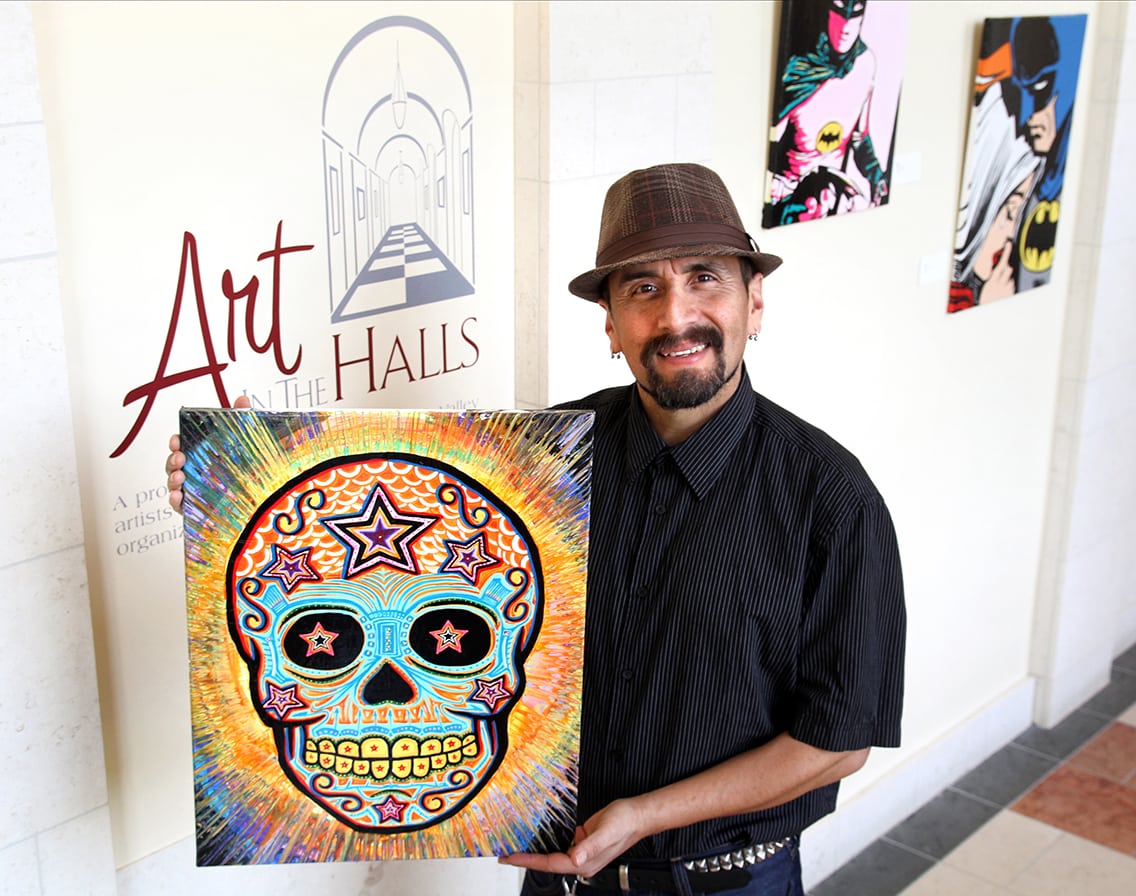 The Art in Halls installation by Winchester artist Roberto Carlos Rosas includes eight vibrant acrylic works on canvas. Created during the last 18 months, the paintings present themes inspired by comic book art, horror, and sugar skull paintings. Three of the paintings—Seis, Siete, and Ocho—were created specifically for display in the MSV and are on first-time public view in Art in the Halls. These new portraits were inspired by characters from the Frankenstein, X-Men, and Planet of the Apes movies. According to Rosas, much of his work is influenced by the color and processes of street art. Many of the works in his MSV show merge graffiti-style illustration with the abstract art technique of drip painting.
Born in Manhattan to Ecuadorian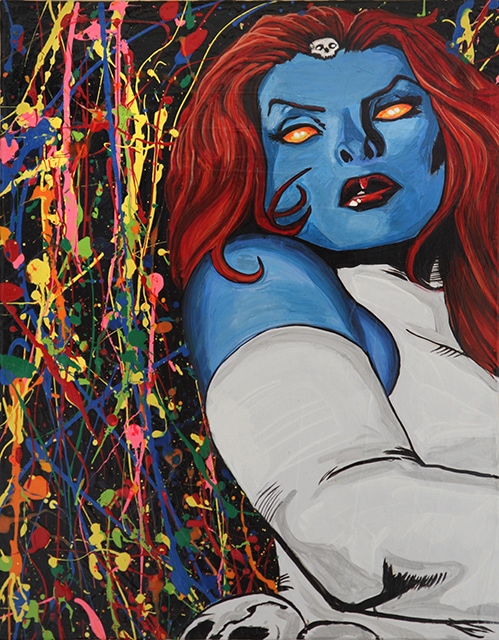 parents, Rosas lived in Miami and Savannah—where he attended the Savannah College of Art and Design—before moving to the Shenandoah Valley in 2000. Since moving to Winchester, his paintings have been displayed throughout Winchester.
Following their display in the MSV, the works featured in both Art in the Halls shows will be available for purchase.
The Museum of the Shenandoah Valley is located at 901 Amherst Street in Winchester, Virginia. The MSV complex—which includes galleries, the Glen Burnie House, and six acres of gardens—is open Tuesday through Sunday from 10 a.m. until 4 p.m. The Museum galleries are open year-round; the house and gardens are open April through October. Art in the Halls displays are located on the first floor of the Museum and admission is not required. To visit the galleries, admission is $10 or $8 for seniors and youth ages 13 to 18. General admission is always free to youth ages 12 and under, MSV Members, and—thanks to generous sponsorship from Howard Shockey & Sons, Inc.—it is free to all every Wednesday. Additional information is available at www.theMSV.org or by calling 540-662-1473, ext. 235. –END–
Top right inset: Cuban Fruit, by Abigail Gomez. Lower right inset: Seis, by Roberto Rosas. Photos by Rick Foster.