---
Shop Valley Products
---
Located off the main lobby, the Museum Store offers an abundant selection of items related to the Shenandoah Valley and prides itself on carrying products made in Virginia or created by Virginia artisans. The store is known for its selection of pottery, handmade silk scarves, books, note cards, jewelry, food, and more. Also featured in the store are items that are available exclusively onsite such as exhibition-related souvenirs.
We hope you'll take the time to stop by the Museum Store during your visit. Admission is not required just to shop! If you're looking for a unique gift for someone, feel free to browse our selection anytime Tuesday­­­­­–Sunday during MSV operating hours (11 a.m. to 4 p.m. January through March, and 10 a.m. to 5 p.m. April through December). Call 540-662-1473, ext. 244, for questions about our current stock. All purchases benefit the MSV and its educational efforts.
Can't find what you're looking for in the store? Consider giving the gift of a Museum Membership. Museum Members receive a 10% discount on all museum purchases. MSV gift certificates are also available for purchase in the store.
---
Current Feature
The Museum of the Shenandoah Valley has announced publication of its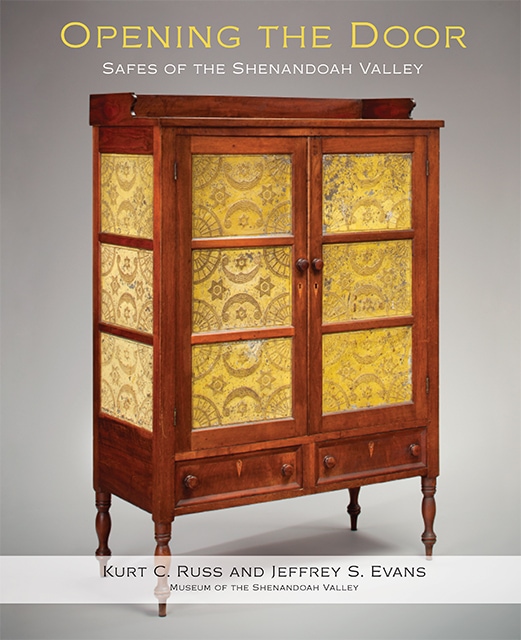 long-awaited book, Opening the Door: Safes of the Shenandoah Valley.
Coauthored by Valley scholars Kurt C. Russ and Jeffrey S. Evans, the publication is based on the research of The Virginia Safe Project, which the authors launched in 2010. The ground-breaking volume documents and greatly expands on the content presented in the exhibition Safes of the Valley, which took place at the MSV in 2014–15.
At 136 pages, Opening the Door: Safes of the Valley is the fourth book the Museum of the Shenandoah Valley has published. Richly illustrated with images of safes and their distinctive tin patterns, it is now available for purchase in the MSV Store for $44.95.
---