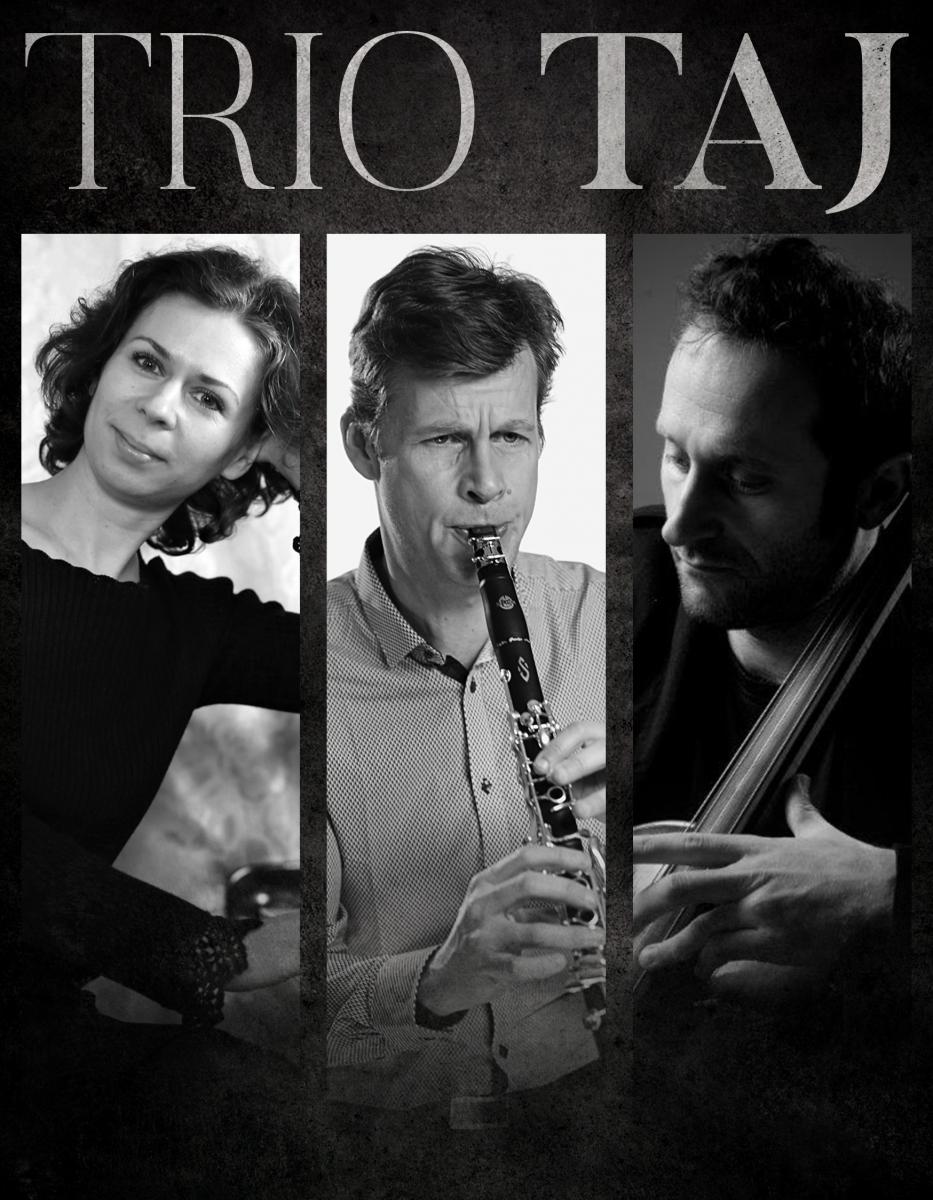 Drawing Room Concert Features Trio TAJ Performing a French Repertoire
Event Includes Wine & Cheese Reception and Exclusive Access to MSV Gardens
Winchester, VA 9/28/16…Classical music from Paris-based Trio TAJ, a wine-and-cheese reception, and special evening access to the Glen Burnie House and surrounding seven-acre gardens will highlight the Museum of the Shenandoah Valley (MSV) Glen Burnie Salon Series concert from 5 to 7 p.m. on Thursday, October 6.
For the concert, the Glen Burnie House and Gardens will open at 5 p.m., wine and cheese will be served on the drawing room terrace, and attendees may explore the house and gardens at their leisure. The concerts will take place from 6 to 7 p.m. in the Glen Burnie House drawing room.
Based in Paris, Trio TAJ includes acclaimed clarinetist Jean-Francois Bescond (France), cellist Axel Salmona (France), and pianist Tatsiana Dahan (Belarus). TAJ is performing at the MSV as one of only two stops on an east coast U.S. tour.
During their Glen Burnie performance, Trio TAJ will treat concert-goers to chamber music written by French composers during the end of the nineteenth century and early twentieth century. According to the trio, this was a rich and prolific period for chamber music. Louise Farrenc (1804–1875), the only female professor of music to be hired in the nineteenth century at the famous Paris Conservatory, and Gabriel Fauré (1845–1924), one of the foremost French composers of his generation, are among the composers whose music will be featured during October's salon concert.
TAJ pianist Tatsiana Dahan is a graduate of the Belarusian National Academy of Music and the Sergey Rachmaninov Russian Conservatory in Paris. She has won awards at several international piano competitions including the Smetana International Piano Competition in the Czech Republic. For the MSV salon concert, she will be playing the MSV's recently restored nineteenth-century piano. Made by the English piano manufacturer Broadwood & Sons in the late 1800s, the piano was owned by MSV benefactor Julian Wood Glass Jr. and is now in top playing condition following an extensive two-year restoration project. Cellist Axel Salmona studied at the Lyon National Conservatory of Music (France), taught at the Conservatory of Rouen (France), and regularly performs chamber music in France and internationally. Clarinetist Jean-Francois Bescond performs with Trio TAJ, the clarinet quintet Octave 5, and the Orchestre Philharmonique de l'Oise (France).
The Glen Burnie Salon Series is organized by the MSV in partnership with Shenandoah University. Tickets to salon performances—which include the concert, the wine-and-cheese reception, and admission to the house and gardens—are $35 per person for MSV Members and SU faculty and students. For all others, tickets are $40. Seating is limited; those interested in attending must purchase tickets in advance by calling 540-662-1473, ext. 240, or visiting www.theMSV.org.
A regional cultural center, the Museum of the Shenandoah Valley is located at 901 Amherst Street in Winchester, Virginia. The MSV complex—which includes the Glen Burnie House, seven acres of gardens, and galleries (not open during the salon concerts) —is open Tuesday through Sunday. Additional information is available at www.theMSV.org or by calling 540-662-1473, ext. 235. –END–
About the Glen Burnie House and Gardens:
The Glen Burnie House sits on land that Winchester-founder James Wood settled in 1735. Wood's son Robert built the oldest portions of the house in 1793 and 1794. Descendant Julian Wood Glass Jr. (1910–1992) became the house's sole owner in the 1950s; with partner R. Lee Taylor (1924–2000), he transformed the Glen Burnie House into a country retreat surrounded by acres of formal gardens featuring fountains, sculptures, and intimate garden rooms. After Glass's death, the house and gardens opened to the public in 1997. The house underwent an extensive, three-year preservation and renovation project from 2011 to 2014 and reopened with a new visitor experience. Interpretive panels in the house show visitors archival images of people who have lived in Glen Burnie over the generations and a fully furnished miniature model of the Glen Burnie House provides visitors with an exacting look at how Glass and Taylor furnished the house as their private residence. Added to Glen Burnie in 1959, the drawing room features three crystal chandeliers and provides the perfect setting for the Glen Burnie Salon Series.
Register Here