More than 250 Regional Business Leaders to Attend Event Featuring
Larry J. Sabato, Founder and Director, University of Virginia Center for Politics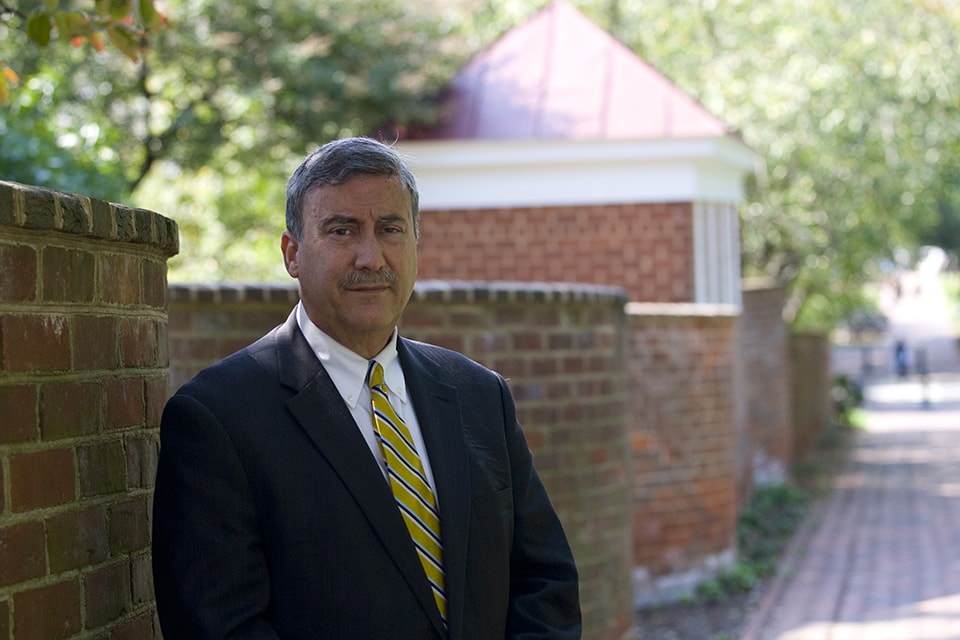 Winchester, VA 10/08/14…More than 250 regional business leaders have registered to attend the sixth annual Museum of the Shenandoah Valley (MSV) Business Forum Luncheon on Wednesday, October 8. The highlight of the event will be a presentation, "Sabato's Crystal Ball," by Larry J. Sabato, PhD, founder and director of the University of Virginia Center for Politics. The event will offer an opportunity for networking from 11:30 a.m. until noon. Lunch will be served at noon with the presentation immediately following.
According to MSV Business Advisory Committee Chairman Thomas M. "Wilke" Green, the Museum is pleased to be presenting Larry Sabato just weeks away from Virginia's House and Senate elections. During his MSV presentation, Sabato will look back at 2012 and that election's key issues, states, and political figures. He will then offer projections for November's elections, discuss their consequences, and examine the 2016 political landscape.
Sabato founded and directs the University of Virginia Center for Politics. The University's Professor of Politics and a Rhodes Scholar with a doctorate from Oxford University, he has authored or edited two dozen books on American politics. The Center for Politics Crystal Ball website is a leader in accurately predicting elections since its inception 12 years ago. In 2008, the Crystal Ball came within one electoral vote of the exact tally in the Electoral College and correctly predicted every gubernatorial and Senate race across the country. In 2010, it forecasted a Republican takeover of the House and in 2012 accurately forecasted a substantial Obama margin in the Electoral College, ultimately missing just two states. In addition, Sabato accurately predicted 98% of Senate, House, and gubernatorial winners in 2006, 2008, 2010, and 2012.
In 2013, Sabato won an Emmy award for the television documentary Out of Order about the U.S. Senate and unveiled the Kennedy Half-Century Project. The latter included a New York Times bestselling book, a PBS documentary—for which he won his second Emmy in 2014—an online course, an app with the recordings and transcripts from Dealey Plaza on 11/22/63, and a website, www.thekennedyhalfcentury.com. Also active on social media, Sabato's Twitter feed (@LarrySabato) was named by Time Magazine as one of the 140 best Twitter feeds of 2014.
Wilke Green, founder and director of Castleman Property and a member of the MSV Board of Directors, notes that the Business Forum Luncheon was created by the Museum's Business Advisory Committee six years ago to present a forum for discussion regarding the most pressing issues of the day for the region's business leaders. Previously featured speakers for the event have included: in 2009, John A. Allison, chairman of BB&T Corporation; in 2010, Mark H. Merrill, president and chief executive officer of Valley Health; in 2011, the Honorable David M. Walker, founder, president, and chief executive officer of the Comeback America Initiative; in 2012, Susan Dentzer, editor-in-chief of Health Affairs and one the nation's most respected health and health-policy journalists; and last year, Sean T. Connaughton, Secretary of Transportation, Commonwealth of Virginia.
This Wednesday's event is sponsored by Swift Run Capital, First Bank, Valley Health, United Bank, and Yount, Hyde & Barbour, P.C.
The Museum of the Shenandoah Valley is located at 901 Amherst Street in Winchester, Virginia. The MSV complex—which includes galleries, the Glen Burnie House, and six acres of gardens—is open Tuesday through Sunday from 10 a.m. until 4 p.m. The Museum is open year-round; the house and gardens are open April through October. Additional details are available at www.theMSV.org or by calling 540-662-1473, ext. 235.