Displays by Shenandoah University and Powhatan Students Now on View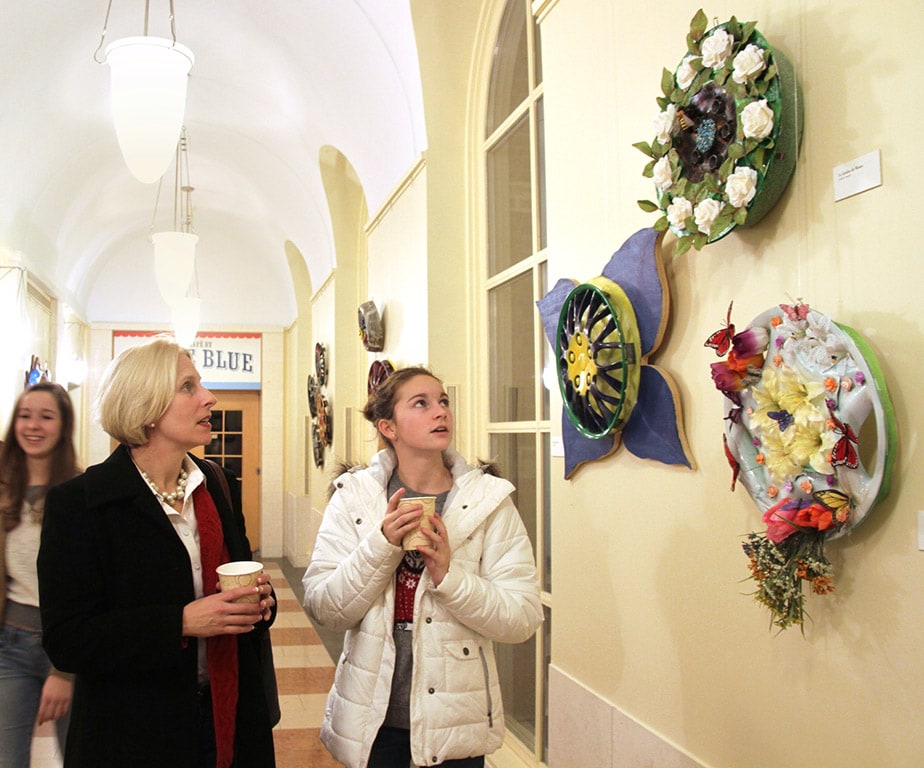 Winchester, VA 01/14/15…Works of art made out of repurposed hubcaps and created by students from Shenandoah University (SU) and Clarke County's Powhatan School are now on view in new Art in the Halls displays in the Museum of the Shenandoah Valley (MSV).
According to MSV Director of Exhibitions Corwyn Garman, the two displays mark the first time that student art has been featured in Art in the Halls. Garman notes that both displays were inspired by the Second Time Around: The Hubcap as Art exhibition currently on view in the Museum's Changing Exhibitions Gallery. Presented through April 19, the new Art in the Halls displays are available for viewing free of charge; Museum admission is not required.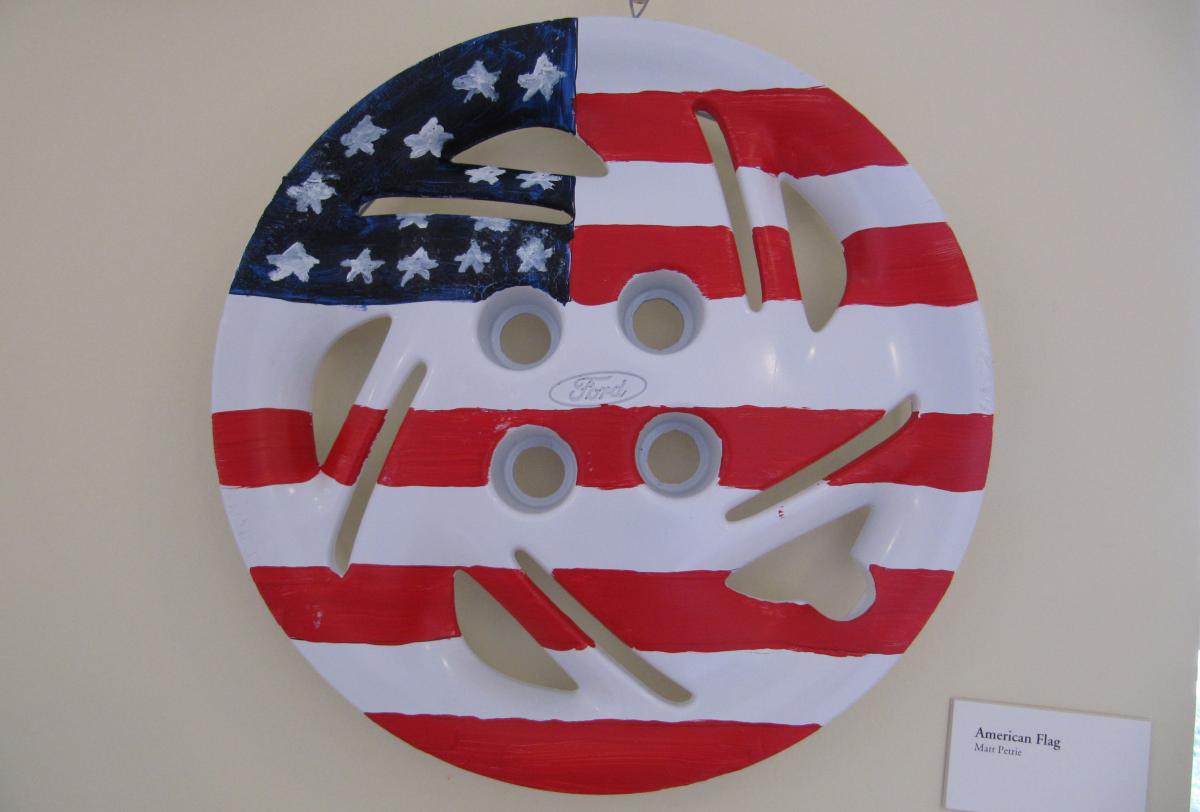 In Lewis Hall, 28 works created by SU students enrolled in last fall's Art Appreciation course are on view in the display, Third Time Around: Shenandoah University Students Twirl the Hubcap. The hubcap art stems from a final exam project assigned by Associate Professor of Art Geraldine Kiefer, PhD. Kiefer toured Second Time Around with her students and then arranged for her class to discuss the exhibition with Woodward Bousquet, PhD, SU professor of environmental studies and biology and director of the Blue Ridge Institute for Environmental Studies. Bousquet collaborated with the MSV during the development of Second Time Around and advised the Museum on the exhibition's environmental messages.
Some of the SU works, such as Cruel Bars by Kaitlyn Russell, underscore the environmental theme of Second Time Around. Russell's hanging sculpture is made of repurposed items and features a bird in a cage that is made with plastic six-pack rings and a paper grocery bag. Other works are representative of the artist themselves, such as Jenn Youngellman's mixed-media work, The Reflection of my Being, which includes a hubcap wrapped in dance tights with a mirror and a worn pair of ballet slippers attached. The cultural diversity seen on the SU campus is also reflected in the Art in the Halls display. Saudi Arabia Flag by Khalid Alsomaili is a painted hubcap inspired by the green and white flag of Saudi Arabia, and for the Time is Gold work, Mohamid Ali Barus painted Arabic symbols and text on his canvas-covered hubcap and transformed the object into a clock. An additional work in the display was created by Kiefer. Titled Ancient Mixologies, Kiefer's sculptural work incorporates photography, hubcaps, and vintage beaters.
The display in Glaize Hall showcases the work of 26 eighth-grade art students from Powhatan School in Boyce, Virginia. According to Powhatan's Upper School Art Teacher Ryan Royston, the Art in the Halls display was created as a follow-up to the class's field trip experience in Second Time Around. At the conclusion of their MSV visit, the students were presented with a pile of reclaimed hubcaps and asked to select a hubcap to create their own works of art. Highlights of the Powhatan display include The Band-Jo, a hubcap that has been transformed into a functioning musical instrument by Lucy Martindale; Devika Subedi's Pearl in the Rough, a work made by joining two small Ford hubcaps together to form an oyster shape; and Ready to Hatch by Wyatt Leary. To create his work, Leary joined two hubcaps together and transformed them into a bird's nest using organic materials and paint. The largest piece in the display is Me, My Jellyfish, and I, a hanging sculptural work made by Sophia Shockey and comprised of plastic wrap, pipe cleaners, string, paint, and colored tissue paper.
Along with showcasing the imagination and creativity of area students, Garman notes that the new Art in the Halls displays illustrate the MSV's recent efforts to develop customized educational experiences for students using MSV exhibitions as subject matter. He encourages any area educators interested in developing programs with the Museum to contact MSV Manager of Youth and Family Programs Curry Schiavone at 540-662-1473, ext. 219, or dcschiavone@theMSV.org.
On view in the MSV through March 1, 2015, Second Time Around: The Hubcap as Art features environmentally inspired contemporary created by 287 artists from across the globe who responded to the challenge to transform discarded hubcaps into works of art. An immersive experience that includes sculptures, art that moves or lights up, and serious social commentaries, Second Time Around is sponsored in part by Trex, Shenandoah Country Q102, and Reader & Swartz Architects, P.C.
The Museum of the Shenandoah Valley is located at 901 Amherst Street in Winchester, Virginia. The MSV complex—which includes galleries, the Glen Burnie House, and six acres of gardens—is open Tuesday through Sunday from 10 a.m. until 4 p.m. Additional information is available at www.theMSV.org or by calling 540-662-1473, ext. 235. –END–