Award-Winning SU Conservatory Student Alexander Bernstein to Perform at 1 p.m.
FREE Student and SU Faculty Admission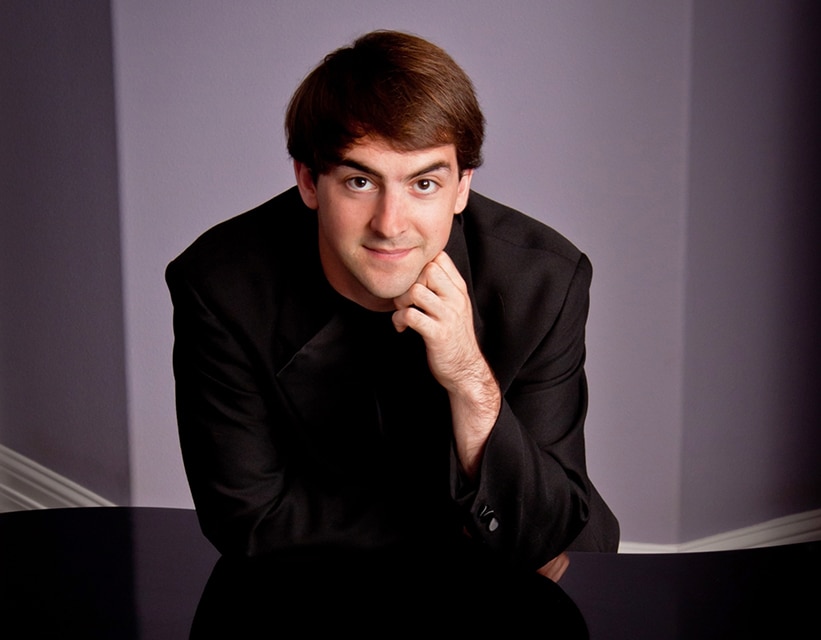 Winchester, VA 01/16/15…Award-winning pianist and Shenandoah Conservatory student Alexander Bernstein will perform classical music in a 1 p.m. recital at the Museum of the Shenandoah Valley (MSV) this Sunday, January 18.
Part of the monthly "Afternoons at the MSV" concert series presented by the Museum in partnership with Shenandoah Conservatory, Sunday's program is free to MSV Members, all Shenandoah University students and faculty (with identification), and youth ages 12 and under. For all others, the cost is just $10 ($8 youth/senior) and includes the performance and admission to the Museum galleries.
A native of San Francisco, Alexander Bernstein is currently pursuing an Artist Diploma at Shenandoah Conservatory under the tutelage of Distinguished Artist-in-Residence John O'Conor. Bernstein holds a Bachelor's Degree in Music from Harvard University and a Master's Degree in Piano Performance from the Royal Irish Academy of Music in Dublin. Born in 1988, Alexander Bernstein began taking piano lessons at the age of 7 and made his symphonic debut in 1999. He has performed with several orchestras in the United States and Ireland and has given recitals in the United States, Canada, Ireland, the United Kingdom, Germany, and Italy. In addition, Bernstein was awarded 4th Prize and the Ita Stephens Beethoven Prize in the 2012 Dublin International Piano Competition. He was also awarded 1st Prize in the 2011 Irish Freemasons Young Musician of the Year Competition.
For Sunday's recital at the MSV, Alexander Bernstein will present "Piano Masterpieces," a recital featuring works by composers Johann Sebastian Bach, Ludwig van Beethoven, and Franz Liszt.
Those planning to attend Sunday afternoon's performance are encouraged to arrive early; seating is limited and will be on a first-come, first-served basis. Tickets for the recital will be available at the Visitor Information Desk beginning at 10 a.m. on Sunday.
Before or after the performance, attendees are encouraged to enjoy the MSV exhibitions. On view in the Changing Exhibitions Gallery, Second Time Around: The Hubcap as Art, features works by 287 artists from across the globe who responded to the challenge to transform discarded hubcaps into works of art. The exhibition is sponsored in part by Trex, Shenandoah Country Q102, and Reader & Swartz Architects, P.C. In the Shenandoah Valley Gallery, Safes of the Valley presents the first-ever display of food safes—commonly known as "pie safes"—made in the Shenandoah Valley region and dating to the 1800s and early 1900s. Recently opened in the Founders Gallery, Face to Face: Portraits from the Julian Wood Glass Jr. Collection features 35 portraits by renowned eighteenth and nineteenth-century American and European artists. Face to Face was made possible with the support of MSV Compass Society Donors.
The Museum Café by Bonnie Blue will offer lunch and desserts from 11:30 a.m. until 2 p.m.
Following Sunday's recital, upcoming "Afternoons at the MSV" will feature performances byShenandoah Conservatory students and will take place on February 15 and March 15. In February, the Schubert "Trout Quintet" will perform works by Austrian composer Franz Schubert. March's program will feature a recital of classical music by pianist Yun Tai Kim.
The Museum of the Shenandoah Valley is located at 901 Amherst Street in Winchester, Virginia. The MSV complex—which includes galleries, the Glen Burnie House, and six acres of gardens—is open Tuesday through Sunday from 10 a.m. until 4 p.m. The Museum galleries are open year-round; the house and gardens are open April through October. Additional information is available on the MSV Website or by calling 540-662-1473, ext. 235. –END–