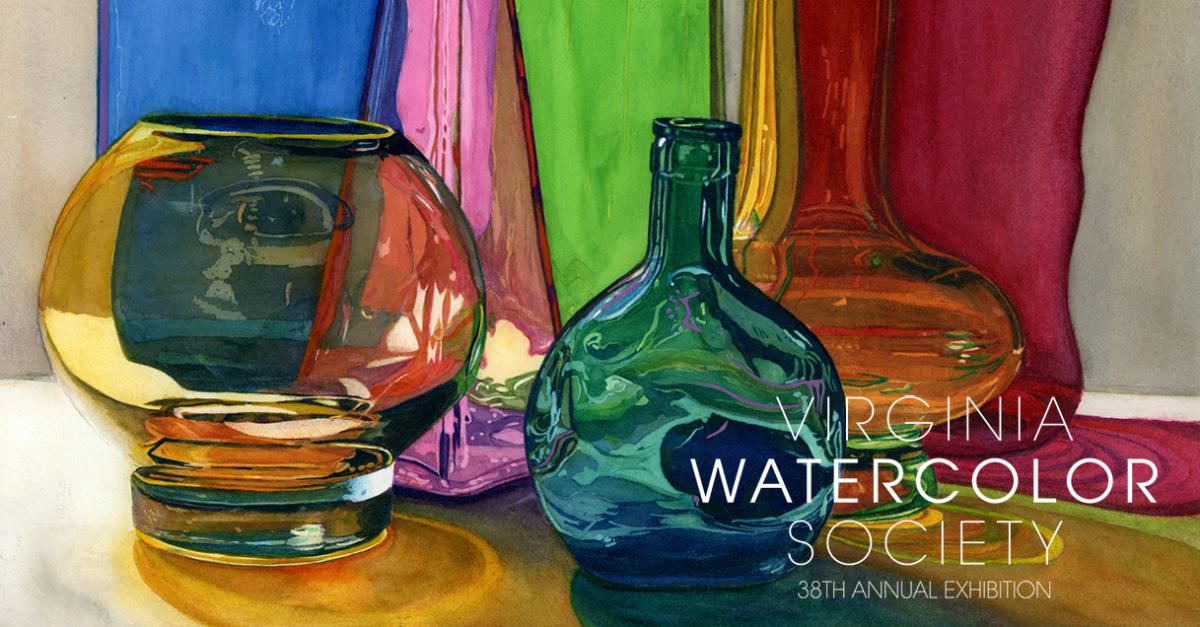 The Virginia Watercolor Society 38th Annual Exhibition Will be on View at the MSV October 14, 2017, through January 7, 2018
Winchester, VA 10/09/17 . . . Artworks by Virginia's best watercolor artists will be on view at the Museum of the Shenandoah Valley (MSV) from October 14, 2017, through January 7, 2018, when the MSV presents the Virginia Watercolor Society 38th Annual Exhibition.
On view in the MSV Changing Exhibitions Gallery and featuring nearly 80 juried works, the Virginia Watercolor Society 38th Annual Exhibition showcases beauty, experimentation, innovation, and creativity in contemporary watercolor.
According to MSV Director of Exhibitions Corwyn Garman, a wide variety of subjects and styles will be represented in the exhibition, with works ranging from realism to abstraction. Garman notes that the MSV display marks the first time that the Virginia Watercolor Society (VWS) annual show has been presented in the northern Shenandoah Valley, with most recent previous locations including Mathews, Virginia, and James Madison University, Harrisonburg, Virginia.
This year's exhibition is taking place at the MSV thanks to the efforts of Winchester VWS Members and 2017 exhibition co-chairwomen Julie Read and Mary Fetter. Garman notes that he began discussions with artist Julie Read about bringing the VWS exhibition to the Museum more than seven years ago, and he is now thrilled that the idea has finally come to fruition.
Juror for the exhibition was M. E. "Mike" Bailey, Santa Cruz, California, whose watercolor works have won numerous national and international recognitions, including, most recently, his acceptance into the International Biennial Watercolor Competition, Shanghai, China. Developer of the course "Painting Beyond the Obvious" at the University of California, Bailey presents numerous workshops in watercolor painting throughout the country.
To celebrate the opening of the Virginia Watercolor Society 38th Annual Exhibition, the MSV is hosting a preview reception from 7 to 9 p.m. on Friday, October 13. During this event, many of the exhibiting artists will be on hand to answer questions about their works. Those interested in attending the preview should register in advance online or call 540-662-1473, ext. 240. The fee to attend the reception—which includes admission to the exhibition and complimentary light refreshments—is free to MSV and VWS Members and $20 for all others.
Related Educational Programming
"Along with bringing an impressive display of watercolor art to our community," says Corwyn Garman, "hosting the Virginia Watercolor Society 38th Annual Exhibition provides an opportunity to present a comprehensive slate of related programming at the MSV for all ages."
For adults, these programs begin with Meet the Artist, a question-and-answer session with international, award-winning artist Z. L. Feng, whose work is included in the 2017 VWS exhibition. The session will take place at 2 p.m. on October 21.
"Fun with Abstract Design," a workshop for beginning adult watercolorists, will take place from 9 a.m. to 3 p.m. on October 27 or 28.  For experienced adult artists, the "Seeing the Light" watercolor workshop will explore advanced techniques from 9 a.m. to 3 p.m. on November 10.
Other programs for adults include a holiday card workshop, in which participants will design and create watercolor holiday cards, offered at two different times—9 to 11:30 a.m. or 1 to 3:30 p.m.—on December 5. Also for the holidays, a holiday tea at 2 p.m. on December 12 will feature a presentation, "The World of Watercolor," by VWS President Gwendolyn Bragg.
For youth, a watercolor workshop for grades 5 through 8 will take place from 1 to 3 p.m. on November 11. In addition, Gallery Explorers, for ages 4 to 10, will tour the exhibition and explore watercolor techniques from 10:30 a.m. to noon on November 18 or 21.
Pre-registration for all programs is required and may be completed online or by calling 540-662-1473, ext. 240.
About the MSV
A regional cultural center, the MSV is located at 901 Amherst Street in Winchester, Virginia. The MSV includes galleries, the Glen Burnie House, and seven acres of gardens. The galleries and exhibitions are open year-round; the house and gardens are open April through December. The site is open Tuesday through Sunday from 10 a.m. to 5 p.m. April through December (11 a.m. to 4 p.m. January through March). Admission is $10 or $8 for seniors and youth ages 13 to 18. General admission is always free to youth ages 12 and under and to MSV Members. Thanks to sponsor Howard Shockey & Sons, Inc., admission is free to all every Wednesday. Additional details are available at www.theMSV.org or by calling 540-662-1473, ext. 235. –END–
Top: Vases of Many Colors [detail] by Suzanne Lhor Sliger.