Valley Craftsman to Present Carving Demonstration in the MSV Lobby from 1 to 3:30 p.m.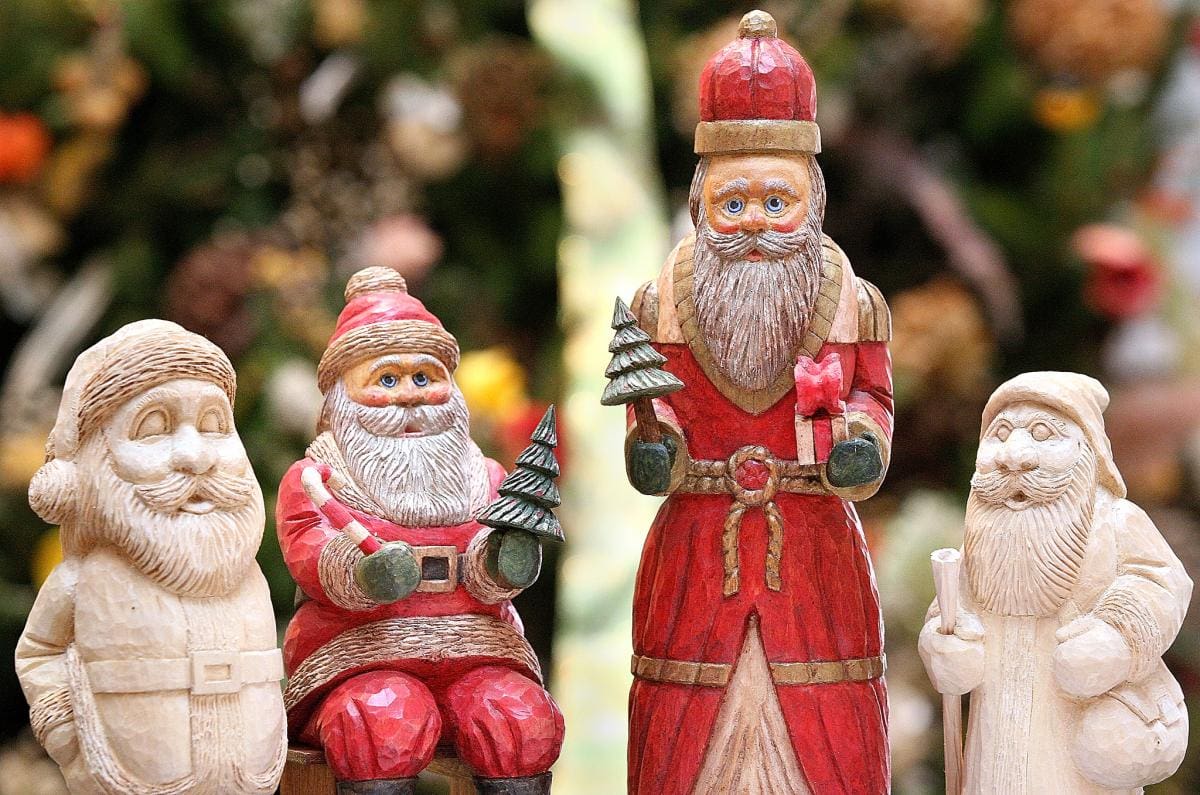 Winchester, VA 11/06/14…Shenandoah Valley craftsman Ed Bender will be in the Museum of the Shenandoah Valley lobby carving his collectible wooden Santas from 1 to 3:30 p.m. this Saturday, November 8. Admission to the informal demonstration is free.
According to MSV Museum Store Manager Bonnie Barr, Bender's carved Santas are among the most sought-after items offered in the Museum Store during the holiday season. Barr notes that the store has sold the handcrafted Santas since 2012.
A Frederick County resident, Ed Bender has been carving for nearly 25 years. He says he learned the craft as a Boy Scout and picked up the pastime once again after retiring in 1988. He has taken classes with master carvers and turned his hobby into an endeavor to help fund his grandson's college education. According to Bender, all the proceeds from the sale of his Santas are directed toward an education fund for his 15-year-old grandson.
Bender carves the Santas out of basswood and paints them. The carvings range in size, style, and price. Some of Bender's Santas are traditional with influences of Saint Nicholas while others feature elements associated with the modern Santa Claus such as candy canes, presents, and Christmas trees. The carvings range in size from four or five inches to Santas that are nearly 12 inches in height. Bender says the largest pieces take up to 50 hours to complete.
The Museum Store currently has a selection of Bender's Santas that includes more than 20 different designs. Prices for the carvings range from $40 to $200. Barr encourages anyone interested in purchasing a Santa to shop early as she expects to sell out of the carvings.
In addition to the Santas, the Museum Store carries a selection of Bender's country folk carvings throughout the year.
There is no fee to watch the carving demonstration and meet Ed Bender on Saturday. Regular admission rates apply to visit the Museum galleries ($10 adult, $8 senior/student, and free to MSV Members and ages 12 and under). Admission is not required to visit the Museum Store.
The Museum of the Shenandoah Valley is located at 901 Amherst Street in Winchester, Virginia.  The MSV complex—which includes the Museum, the Glen Burnie House, and six acres of gardens—is open Tuesday through Sunday from 10 a.m. until 4 p.m. The Museum galleries are open year-round; the house and gardens are open April through October. Additional information is available at www.theMSV.org or by calling 540-662-1473, ext. 235. – END –
Photo by Jeff Taylor, courtesy of The Winchester Star.