Exhibition Displays 35 Portraits and Eight Mirrors from the Collection of MSV Benefactor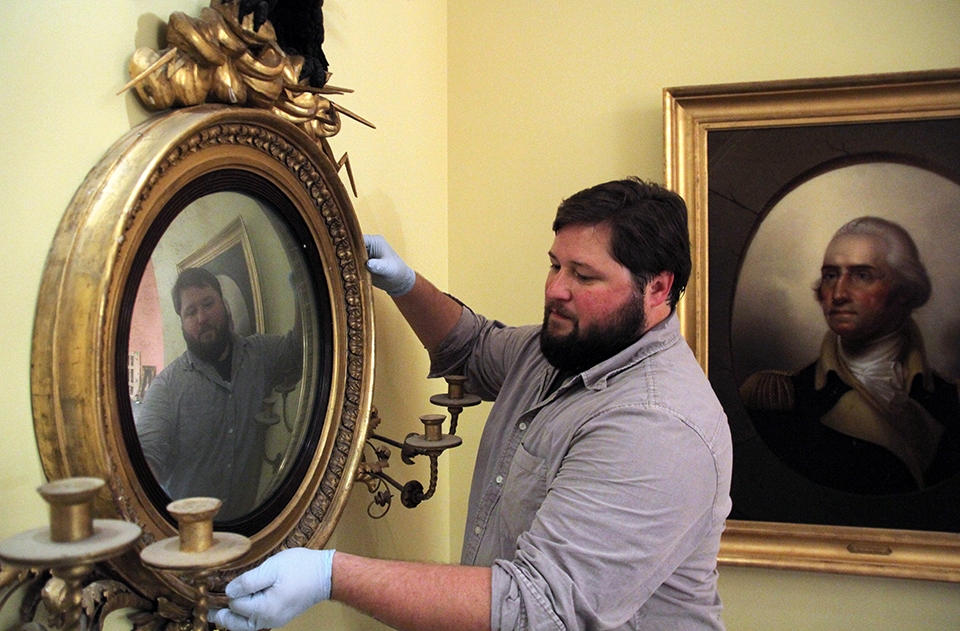 Winchester, VA 11/12/14…Opening in the Museum of the Shenandoah Valley (MSV) on November 18, Face to Face: Portraits from the Julian Wood Glass Jr. Collection will examine the world of eighteenth- and early nineteenth-century portraiture with the display of 35 British, American, and Dutch portraits from the collection of MSV benefactor Julian Wood Glass Jr. (1910–1992). On view in the Museum's Founders Gallery through May 29, 2016, Face to Face also includes eight mirrors from the Glass Collection dating from 1735 to 1840.
Face to Face will feature works by renowned artists, such as Rembrandt Peale (American, 1778–1860), George Romney (English, 1734–1802), Gilbert Stuart (American, 1755–1828), Sir Henry Raeburn (Scottish, 1756–1823), John Singleton Copley (American, 1738–1815), Sir Thomas Lawrence (English, 1769–1830), Sir Joshua Reynolds (English, 1723–1792), Pompeo Batoni (Italian, 1708–1787), and Thomas Gainsborough (English, 1727–1788). In addition to presenting examples of works by many of the major portrait painters of the 1700s, the exhibition explores the lives of the portraits' sitters.
According to exhibition organizer and MSV Deputy Director of Arts and Education Nancy Huth, Julian Wood Glass Jr. emulated the lifestyle of an eighteenth-century English country gentleman. He studied classic literature and art, toured Europe frequently, and created a country manor home at Glen Burnie, his ancestral home located on the MSV grounds. Glass acquired the paintings seen in Face to Face to decorate his Winchester, New York, and Oklahoma homes. The exhibition presents the portraits interspersed with mirrors, much as the works would have been displayed in eighteenth-century English country houses.
The portraits on display in Face to Face are grouped by subject matter in five sections: military men, ladies, gentlemen, families and children, and nobility. The oldest portrait on view in the exhibition is the 1630 Portrait of a Lady by Dutch artist Thomas De Keyser (1596–1697), and the most recent work in the display was painted by American artist Rembrandt Peale in the 1840s and depicts the most recognizable sitter in the exhibition, George Washington. Other notable works in the exhibition include the 1781 portrait of Elizabeth Taylor by George Romney—which, at 50 by 39¼ inches is one of the largest works in the exhibition—and two portraits of Ayscoghe Bucherett Jr., painted about 1805 and 1810 by Sir Thomas Lawrence. Bucherett's parents were friends of the painter, and the artist painted Bucherett and members of his family more than once. The earlier of the two works of the young man included in Face to Face depicts the sitter at age 14 or 15 and is a "leaving portrait" marking the teen's departure from Eton College. In the children and families section, The Shelly Children, John and Charlotte Anne, a charming portrait painted around 1791 by Sir William Beechey (English, 1753–1839), depicts the eight-year-old daughter and ten-year-old son of a wealthy ship owner.
In addition to presenting a variety of portraits featuring sitters of various ages, Face to Face also includes an interactive section to engage visitors of all ages. In the Photo Op Stop, visitors may stage their own portraits using a selection of accessories, a reproduction eighteenth-century chair made by the Shenandoah Valley firm of Mack S. Headley & Sons, and as a background, a reproduction of An Idyllic Landscape, a landscape painting from the Julian Wood Glass Jr. Collection painted between 1700 and 1725 by Jan Frans van Bloeman (Flemish, 1662–1749).
The second in a series of rotating exhibitions showcasing the Julian Wood Glass Jr. Collection, Face to Face is the first MSV exhibition with bilingual interpretation. The Museum enlisted the support of the Department of World Languages and Cultures, Shenandoah University, Winchester, to translate the exhibition labels. Students Ashley Suk and Rodrigo Casteriana and professors Ann Lesman, PhD; Bryan Pearce-Gonzales, PhD; and Andrea Meador Smith, PhD, worked on the translation project.
Made possible with the support of the Museum's lead donors, the MSV Compass Society, Face to Face will open on Tuesday, November 18. The public is invited to attend the Exhibition Preview from 3:30 to 5 p.m. on Sunday, November 16. Registration for the preview is free to MSV Members and SU students and faculty. Admission for all others, which includes admission to the exhibition and light hors d'oeuvres, is $20. Reservations are required and should be made by Thursday, November 13, on www.theMSV.org or by emailing visit@theMSV.org or by calling 540-662-1473, ext. 217.
A series of educational programs in support of Face to Face, including gallery talks, youth workshops, and lecture events, are listed on www.theMSV.org.
The Museum's annual holiday tea event on Tuesday, December 9, will feature the lecture, "Lovely Ladies and Manly Men," by exhibition organizer Nancy Huth. In her talk, Huth will share little-known stories about the men and women featured in Face to Face, discuss eighteenth-century fashion, and lead an informal walk through the new exhibition. Registration for the event, which is $35 for MSV Members and $40 for all others, is underway. Those interested in attending the holiday tea may register online at www.theMSV.org or by calling 540-662-1473, ext. 240, by December 1.
The Museum of the Shenandoah Valley is located at 901 Amherst Street in Winchester, Virginia. The MSV complex—which includes galleries, the Glen Burnie House, and six acres of gardens—is open Tuesday through Sunday from 10 a.m. until 4 p.m. The Museum galleries are open year-round; the house and gardens are open April through October. Admission is $10 or $8 for seniors and youth ages 13 to 18. General admission is always free to youth ages 12 and under and to MSV Members, and thanks to generous sponsorship from Howard Shockey & Sons, Inc., it is free to all every Wednesday. Additional information is available at www.theMSV.org or by calling 540-662-1473, ext. 235. –END–
About Julian Wood Glass Jr.
MSV benefactor Julian Wood Glass Jr. (1910–1992) was a descendent of Mary and James Wood, who settled the site now called Glen Burnie in the late 1730s and founded the city of Winchester—then called Frederick Town—in 1744. Julian and his half-sister, Sunny, grew up in Nowata, Oklahoma, where their father had moved from Winchester and achieved financial success in the oil industry. The Glass family enjoyed a gracious lifestyle that exposed Julian to European travel and the arts.
As a young boy, Julian saved his allowance to buy art. This collecting passion continued throughout his life. He eventually amassed a significant collection of English and American paintings and decorative arts. He displayed his collection in his homes in Oklahoma and New York, as well as in Glen Burnie, which he acquired in the 1950s.
In the late 1950s, Julian, aided by his partner R. Lee Taylor (1924–2000), undertook an extensive renovation of the Glen Burnie House. The couple turned the house into a showplace and surrounded it with six acres of formal gardens. After their romantic relationship dissolved, Julian continued to use Glen Burnie as a retreat in which to entertain, and Lee lived in a small apartment in the house and managed the site. Prior to his death in 1992, Julian established the Glass–Glen Burnie Foundation to assure that his collection and Glen Burnie would be preserved for public enjoyment. The Glen Burnie House and Gardens opened in 1997, with Lee Taylor serving as curator of gardens until his death. In 2005, the Museum of the Shenandoah Valley opened on the site, and today it presents Julian's collection through changing exhibitions on a variety of topics.