Advertising Creative Director and Communications Professor Drew Babb to Discuss TV Commercials as Works of Art in 2 p.m. Lecture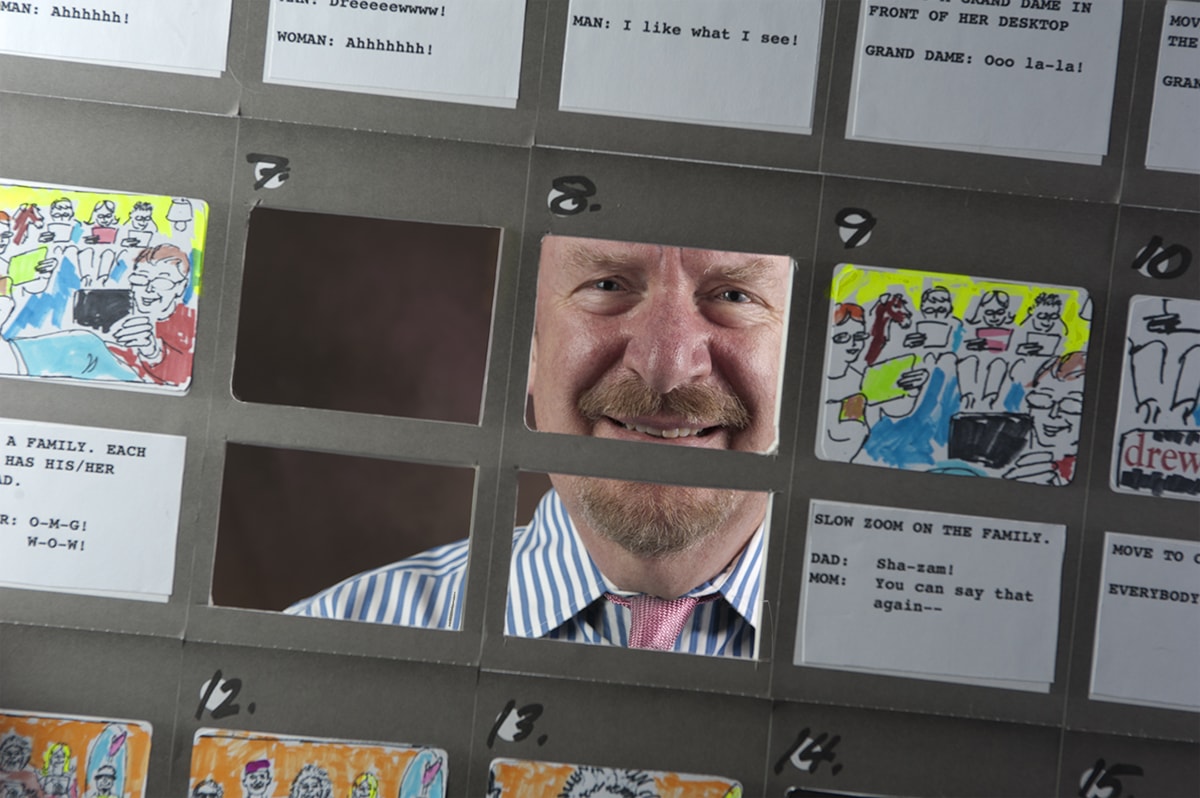 Winchester, VA 10/30/14…The 100 most memorable moments in television advertising history will be revealed in an entertaining lecture at 2 p.m. this Sunday, November 2, at the Museum of the Shenandoah Valley (MSV).
In the special program, "The 100 Greatest TV Spots of All Time," advertising creative director Drew Babb will tell the story of television advertising—from the very first documented TV commercial in 1941 to twenty-first century classics—and highlight the unforgettable jingles, products, celebrities, and advertising geniuses that made advertising history.
According to Babb, an adjunct professor in the School of Communication at American University, Washington, DC, and winner of two CLIO awards, the best television commercials and public service spots aren't merely engines of capitalism; rather, they are works of art.
Originally created by Babb as a personal effort to collect and rank-order ads he loved, couldn't forget, and wished he'd written himself, "The 100 Greatest TV Spots of All Time," evolved into an in-demand presentation for journalism and film school students. The MSV is the first Winchester venue to present Babb's entertaining presentation to the public.
Born in Winchester, Babb moved to Williamsburg, Virginia, when he was 13 years old. Today he runs his own creative consultancy in Lincoln, Virginia. Babb's successful 40-year advertising career has included stints as an account executive, writer, and creative director. He has produced advertising in all media and has worked at prestigious agencies including the Marsteller agency and the Leo Burnett Company, Chicago, IL; J. Walter Thompson, Washington, DC; and VanSant Dugdale, Baltimore, MD. Babb holds bachelor's and master's degrees from the University of Missouri School of Journalism.
Admission to Sunday's lecture includes Museum gallery admission and is free to MSV Members and $12 for all others. Limited seating is first-come, first-served; tickets will be available beginning at 10 a.m. on Sunday at the Visitor Information Desk in the Museum lobby. Lecture tickets may be reserved in advance by calling 540-662-1473, ext. 235. Reserved tickets must be picked up by 1:30 p.m. day of lecture.
The Museum of the Shenandoah Valley is located at 901 Amherst Street in Winchester, Virginia. The MSV complex—which includes the Museum, the Glen Burnie House, and six acres of gardens—is open Tuesday through Sunday. The galleries are open year-round; the gardens are open April through October. Additional details are available at www.theMSV.org or by calling 540-662-1473, ext. 235.