Maggie & Jordan, a singer-songwriter duo with classical, folk, and indie influences, will perform at 1 p.m. this Sunday, October 19
Winchester, VA 10/18/14…Maggie & Jordan, a singer-songwriter duo with classical, folk, and indie influences, will perform a set of original and covered music in a 1 p.m. concert at the Museum of the Shenandoah Valley (MSV) this Sunday, October 19.
Part of the monthly "Afternoo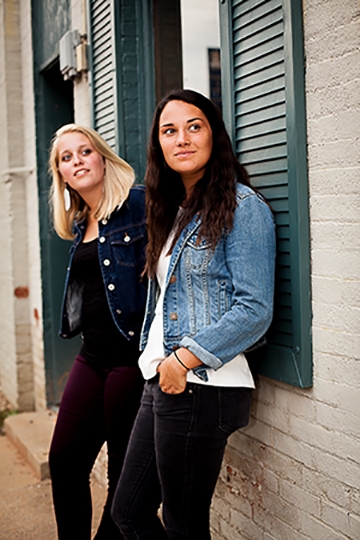 ns at the MSV" concert series presented by the Museum in partnership with Shenandoah Conservatory, Sunday's concert is free to MSV Members, all Shenandoah University students and faculty (with identification), and youth ages 12 and under. For all others, the cost is just $10 ($8 youth/senior) and includes the performance and admission to the Museum exhibitions and Glen Burnie House and Gardens.
Based in Harrisonburg, Virginia, the duo is comprised of vocalist and guitarist Maggie Nave and vocalist and keyboardist Jordan Garrett. Both musicians are seniors in the School of Music at James Madison University (JMU). Nave is a music education major; Garrett is majoring in music industry. Maggie & Jordan has performed regularly at venues throughout Harrisonburg and, following the release of its See How it Shines EP in early 2014, the duo promoted the recordings on a summer tour that included various venues in Virginia. Maggie Nave's parents reside in Winchester and her father, Kirk Nave, is lead pastor at Braddock Street United Methodist Church.
For Sunday's concert at the MSV, Maggie & Jordan will perform original numbers from See How it Shines along with songs made famous by bands and artists such as Norah Jones, The Beatles, Coldplay, Needtobreathe, and the Zac Brown Band.
Those planning to attend Sunday afternoon's performance are encouraged to arrive early; seating is limited and will be on a first-come, first-served basis. Tickets for the show will be available at the Visitor Information Desk beginning at 10 a.m. on Sunday.
Before or after the performance, concert-goers are encouraged to enjoy the MSV exhibitions and the Museum's six-acre gardens and Glen Burnie House. The house, gardens, and galleries— including the recently opened exhibition Second Time Around: The Hubcap as Art—  will be open from 10 a.m. until 4 p.m. Second Time Around features works by 287 artists from across the globe who responded to the challenge to transform discarded hubcaps into works of art. On view through March 1, 2015, the exhibition is sponsored in part by Trex, Shenandoah Country Q102, and Reader & Swartz Architects, P.C.
The Museum Café by Bonnie Blue will offer lunch and desserts from 11:30 a.m. until 2 p.m.
Following Sunday's concert, "Afternoons at the MSV" will take place on November 16 and December 21. In November Zingara will perform show tunes, classics, and light opera. December's concert will feature a performance of seasonal favorites by tenor Jackson Caesar.
The Museum of the Shenandoah Valley is located at 901 Amherst Street in Winchester, Virginia.  The MSV is open Tuesday through Sunday from 10 a.m. until 4 p.m. The Museum galleries are open year-round; the house and gardens are open April through October. Additional information is available at www.theMSV.org or by calling 540-662-1473, ext. 235. – END –