Dennis E. Frye and Dana MacBean to Discuss the James E. Taylor Sketchbook; Event Includes Free Gallery Admission from 6 to 7 p.m.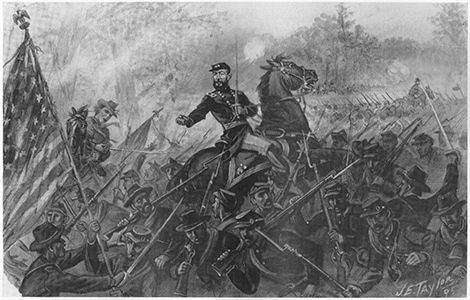 Winchester, VA  10/22/14…Renowned Civil War historians Dennis E. Frye and Dana MacBean will discuss the sketchbook compiled by artist James E. Taylor in a free lecture at 7 p.m. on Thursday, October 23, in the Museum of the Shenandoah Valley (MSV). The Museum galleries will be open for complimentary tours from 6 to 7 p.m.
Organized by Cedar Creek and Belle Grove National Historical Park, Thursday's program is part of a special, guest-lecture series commemorating the 150th anniversary of the Civil War's 1864 Shenandoah Valley Campaign. Begun in August, the eight-part lecture series features programs designed to examine and remember the consequences the 1864 campaign, the largest and bloodiest waged in the Shenandoah Valley during the Civil War.
An illustrated program, "Rediscovering the James E. Taylor Sketchbook," will provide a visual and interpretive guide to some of the best stories from Taylor's original sketchbook. James E. Taylor (1839–1901) was an artist for Union General Philip H. Sheridan during the 1864 Shenandoah Valley Campaign. Taylor kept a diary and drew sketches of the war during this time. Many of his drawings were published in Frank Leslie's Illustrated Newspaper. Following the war, Taylor compiled more than More…500 narrative sketches and drawings based on his unique experience as the only artist assigned to cover General Sheridan. Taylor's diary and sketches were reprinted in the 1989 publication, The James E. Taylor Sketchbook: With Sheridan Up the Shenandoah Valley in 1864 / Leaves from a Special Artist's Sketchbook and Diary. Now out of print, the book is a highly collectible and sought-after publication.
According to the National Park Service, Thursday's program will highlight a variety of stories from the original sketchbook, including day-to-day, mundane encounters, dramatic stories of combat, and the aftermath of battle.
Attendees of Thursday's program are encouraged to arrive early to view the MSV exhibitions and galleries. Select images from Taylor's sketchbook are incorporated into several exhibition panels in the Museum's Shenandoah Valley Gallery.
Dennis E. Frye is the chief historian at Harpers Ferry National Historical Park. Writer, lecturer, guide, and preservationist, Dennis is a prominent Civil War historian. He has made numerous television appearances and has authored 92 articles and eight books.
Dana MacBean is an author and the former curator of exhibits for the Parris Island Museum, USMC, Parris Island, South Carolina. A museum professional with decades of experience, MacBean has spent years retracing Taylor's wartime path in the Shenandoah Valley to create a series of "then and now" images.
Admission to Thursday's lecture is free. Limited seating is first-come, first-served; tickets will be available beginning at 10 a.m. on Thursday at the Visitor Information Desk in the Museum lobby.
The Museum of the Shenandoah Valley is located at 901 Amherst Street in Winchester, Virginia.  The MSV complex—which includes the Museum, the Glen Burnie House, and six acres of gardens—is open Tuesday through Sunday. The galleries are open year-round; the gardens are open April through October. Additional details are available at www.theMSV.org or by calling 540-662-1473, ext. 235.  – END –