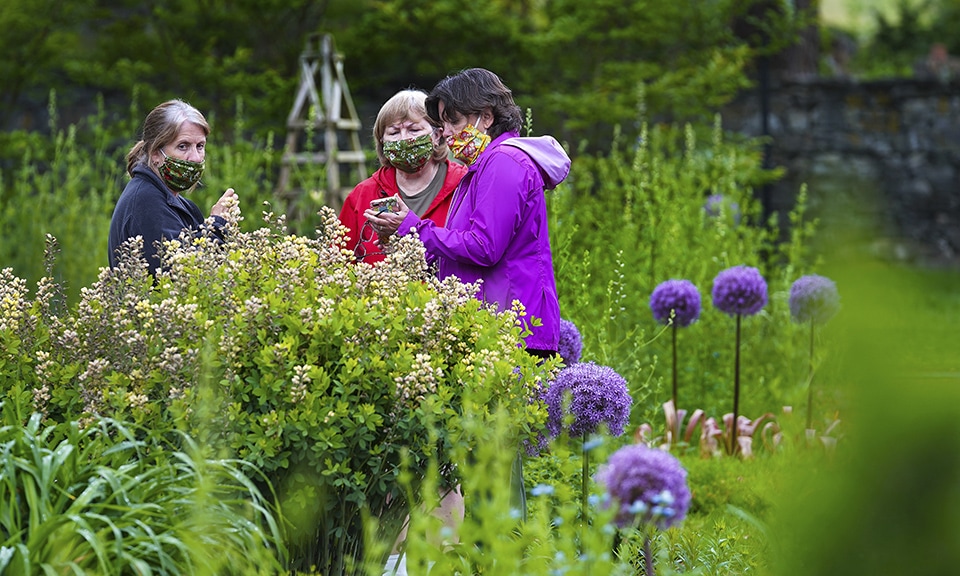 MSV Gardens Now Open to Visitors
Admission by Donation Now through June 19
Winchester, VA 06/02/20…Beginning today and lasting until June 19, the seven-acre gardens at Winchester's Museum of the Shenandoah Valley (MSV) are open with a donation-based admission fee.
The MSV has been temporarily closed to the public since March 17 due to the COVID-19 pandemic. According to MSV CEO and Executive Director Dana Hand Evans, the Museum will be opening in phases, beginning with the gardens.
"We are pleased to be able to open the gardens," notes Evans, adding, "I hope that the opportunity to walk through the gardens will provide our community with a place to relax and enjoy time outside."
Along with exploring a new Bamboo Grove east of the Asian Garden and seeing a variety of peonies and roses in bloom, visitors to the gardens will note modifications made to encourage physical distancing. In an effort to eliminate congestion at the garden entrance, visitors are being asked to exit the gardens through a gate by the south field, tables in the picnic area have been spaced to more than six feet apart, and all garden restrooms are closed.
Also new for the 2020 season, the Museum is offering its members the opportunity to visit from 9 to 10 a.m. before the site opens to the public. Along with enjoying free admission throughout the entire day, MSV members receive free admission to these daily member-only hours.
Those interested in taking advantage of the special morning member hour are encouraged to join the MSV here. In celebration of the MSV's 15th anniversary, membership fees are being discounted throughout 2020. To receive the membership discount, the code "ART15" should be entered during the online checkout process.
Following the June 2 opening of the gardens, the galleries and the special outdoor exhibition David Rogers' Big Bugs are scheduled to open to the public on June 23. Upon the opening of the galleries and the Big Bugs exhibition, admission will be required to visit the MSV.
A regional cultural center, the MSV is located at 901 Amherst Street in Winchester, Virginia. The MSV includes galleries displaying permanent collections and rotating exhibitions, the Glen Burnie House, seven acres of gardens, and is the future home of The Trails at the MSV, which will provide three miles of trails for walking, running, or biking. The MSV is open Tuesday through Sunday from 10 a.m. to 5 p.m. Each Wednesday now through September 2, the MSV is open until 8 p.m. Additional details are available at www.theMSV.org –END–