Woodward Bousquet, PhD, to Present Illustrated Lecture at 7 p.m.
Event Includes Gallery Admission from 6 to 7 p.m.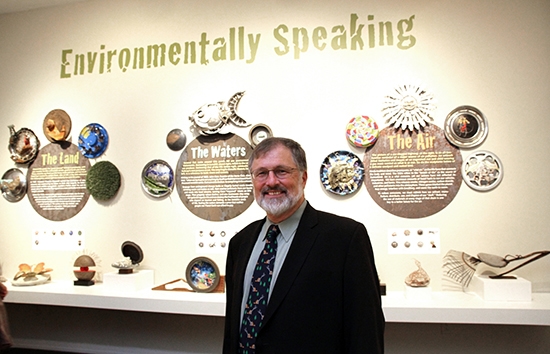 Winchester, VA 1/27/15… The importance of the northern Shenandoah Valley's green spaces, streams, and other natural places will be discussed in a special evening lecture by Shenandoah University Professor of Environmental Studies and Biology Woodward "Woody" Bousquet, PhD, at 7 p.m. on Wednesday, January 28, in the Museum of the Shenandoah Valley (MSV). The Museum galleries will be open for tours from 6 to 7 p.m.
Along with exploring the Valley's natural heritage in the illustrated lecture, Bousquet will detail the challenges the region faces in preserving these resources in the twenty-first century. According to MSV Deputy Director of Arts and Education Nancy Huth, Wednesday's lecture was organized to complement the environmental theme of the MSV exhibition, Second Time Around: The Hubcap as Art.
On view in the Museum's Changing Exhibition Gallery through March 1, 2015, Second Time Around features environmentally inspired contemporary pieces created by 287 artists from across the globe who responded to the challenge to transform discarded hubcaps into works of art. Bousquet collaborated with the MSV during the development of Second Time Around and advised the Museum on the exhibition's environmental message. An immersive experience that includes sculptures, art that moves or lights up, and serious social commentaries, Second Time Around is sponsored in part by Trex, Shenandoah Country Q102, and Reader & Swartz Architects, P.C.
An accomplished educator, Woodward Bousquet has taught at the university level for 32 years, including 21 years at Winchester's Shenandoah University where he is the director of the university's Blue Ridge Institute for Environmental Studies. A recipient of Shenandoah University's Exemplary Teaching Award, he was also a Fulbright Exchange Scholar in Canada. Since 1993, Bousquet has collaborated with his students in wetland studies, water quality investigations, ecological inventories of natural areas, and public information projects in the Shenandoah Valley. Also in 1993, he and his students received the Penfold Memorial Award for Grassroots Conservation Efforts from the Mason-Dixon Outdoor Writers Association for their work in protecting, studying, and educating about the Abrams Creek Wetlands in Winchester.
Admission to Wednesday's lecture is free to MSV Members, SU students and faculty (with ID), and ages 12 and under. For all others, attendance—which includes admission to the MSV exhibitions—is $10. Limited seating is first-come, first-served and may be reserved online at HERE or by calling 540-662-1473, ext. 240.
The largest green space in the City of Winchester, the Museum of the Shenandoah Valley is located at 901 Amherst Street in Winchester, Virginia. The MSV complex—which includes the Museum, the Glen Burnie House, and six acres of gardens—is open Tuesday through Sunday. The galleries are open year-round; the gardens are open April through October. Additional details are available at www.theMSV.org or by calling 540-662-1473, ext. 235.  – END –