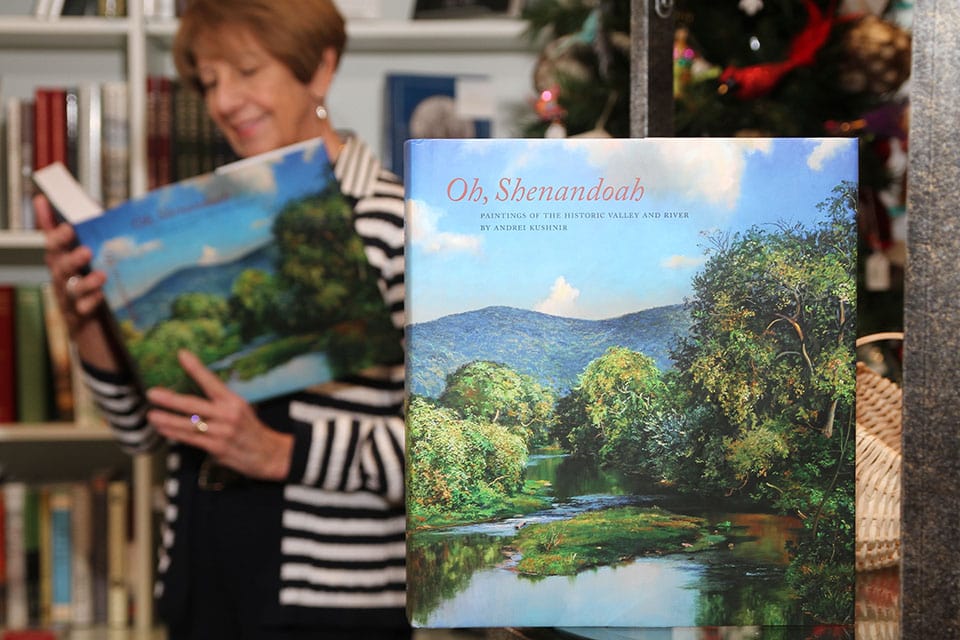 Andrei Kushnir to Sign Oh, Shenandoah Noon to 4 p.m. December 4
Winchester, VA 12/02/16…Artist Andrei Kushnir will celebrate the publication of his new book Oh, Shenandoah with a book signing event at the Museum of the Shenandoah Valley (MSV) from noon to 4 p.m. this Sunday, December 4.
Just released, the 400-page Oh, Shenandoah: Paintings of the Historic Valley and River features 263 of Kushnir's plein-air paintings of the Shenandoah Valley. The publication also includes historical and curatorial essays about the Shenandoah Valley by Warren R. Hofstra, William M. S. Rasmussen, and Jeffrey C. Everett.
Oh, Shenandoah is the result of a decade-long project by Kushnir to explore the natural and cultural landscapes of the Shenandoah Valley region. Since beginning the project in 2004, he has completed hundreds of Valley scenes and logged thousands of miles traveling and painting from Harpers Ferry, West Virginia, to the town of Buchanan, Virginia. Kushnir's paintings depict popular landmarks such as Skyline Drive and the Shenandoah River as well as places treasured by local residents but little known to the rest of the world.
Based in Washington, DC, and a plein-air painter for more than 30 years, Andrei Kushnir is a signature member of the National Oil and Acrylic Painters Society, an elected member of the Washington Society of Landscape Painters and the Salmagundi Art Club, New York City, and is an official artist of the US Coast Guard. His paintings are in numerous public and private collections around the world. More than 70 of his paintings were presented in the exhibition Painting the Valley: Works by Andrei Kushnir, on view in the MSV from April 1 through September 11, 2016.
MSV admission is not required to meet Andrei Kushnir and attend Sunday's book signing. Copies of Oh, Shenandoah are available for purchase in the Museum Store for $59.95. Notecards and magnets featuring Kushnir's Valley paintings are also available for purchase at the MSV.
A regional cultural center, the Museum of the Shenandoah Valley is located at 901 Amherst Street in Winchester, Virginia. Open from 10 a.m. to 4 p.m. Tuesday through Sunday. The MSV's Glen Burnie House and seven acre gardens are open April through December; the galleries are open year-round. Admission is not required to visit the Museum Store, which is open during regular MSV hours. The MSV will be closed December 24 and 25, and January 1. Additional information about the MSV is available at www.theMSV.org or by calling 540-662-1473, ext. 235. – END –