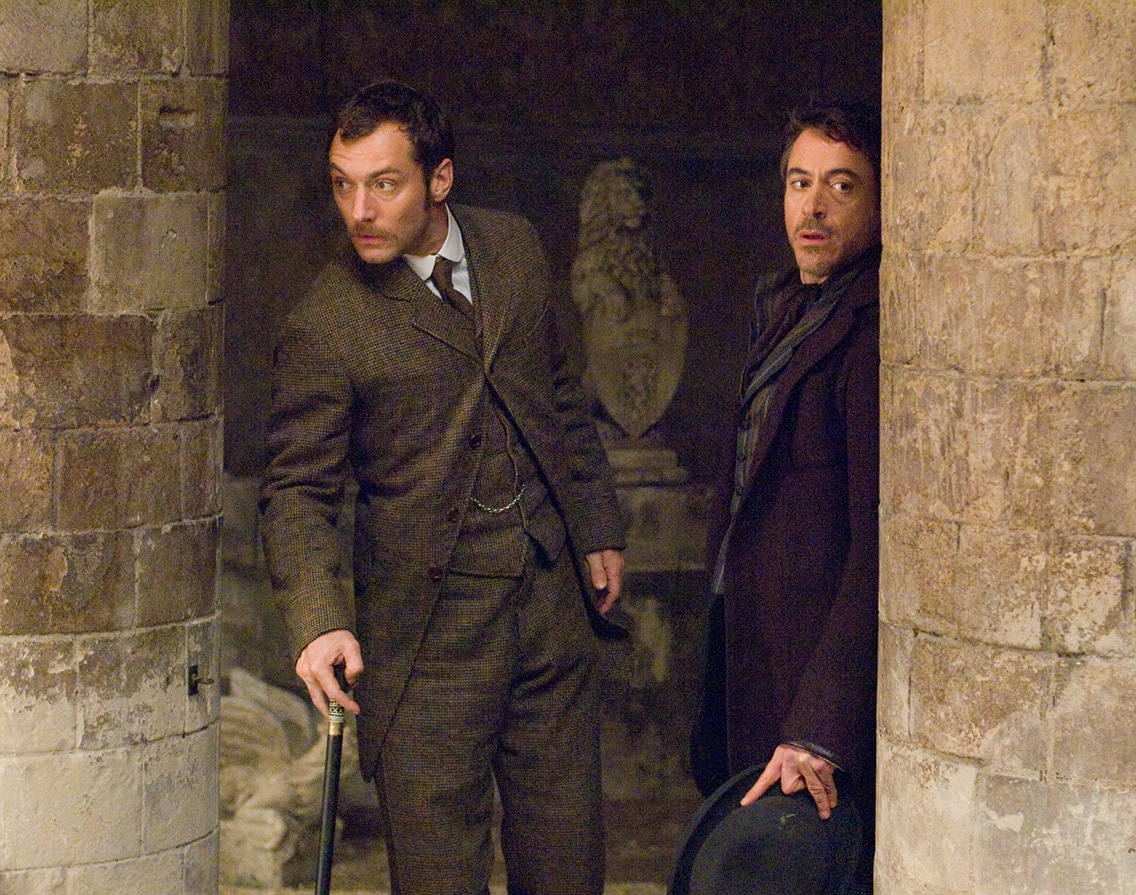 Screenings to Take Place January 16, 17, 18, 20 and 21; Admission just $3
Attendees Receive Coupon to See CUT! Costume and the Cinema at the MSV
Winchester, VA 1/15/16…From January 16 through 21, the Alamo Drafthouse Winchester will offer a five special screenings of the action-packed mystery film Sherlock Holmes to benefit Winchester's Museum of the Shenandoah Valley (MSV). Tickets to the film are just $3.
Screenings will take place at 10 a.m. on Saturda­­­y, January 16; 10 a.m. on Sunday, January 17; 10:05 a.m. on Monday, January 18; 3:30 p.m. on Wednesday, January 20; and 10:50 a.m. on Thursday, January 21.
Each attendee of the benefit screenings will receive a buy-one-admission-get-one-free coupon to the MSV where costumes worn by Sherlock Holmes stars Robert Downey Jr. and Jude Law are on view in the exhibition CUT! Costume and the Cinema.
Inspired by the fictional characters created by novelist Sir Arthur Conan Doyle (1859–1930), Sherlock Holmes (2 hours, 8 minutes; PG-13) stars Robert Downey Jr. as detective Sherlock Holmes and Jude Law as his stalwart partner Watson. In the film, set in nineteenth-century England, the eccentric Holmes and his companion Watson are hired to unravel a deadly plot that could destroy the country. A mystery with plenty of adventure, the 2009 film was directed by Guy Ritchie.
After seeing the film, attendees are encouraged to visit the MSV where the bohemian frock coat ensemble worn by Robert Downey Jr. and the three-piece wool suit worn by Jude Law are on display in the CUT! Costume and the Cinema exhibition.
On view in the MSV Changing Exhibitions Gallery through February 28, 2016, CUT! takes an in-depth look at the art of making costumes for period films. The exhibition displays 43 costumes depicting five centuries of style. Films represented in CUT! depict history, drama, comedy, fantasy, and adventure from the 1500s to the 1900s through costumes worn by such film stars as Johnny Depp, Kate Winslet, Heath Ledger, Emma Thompson, Anjelica Huston, and many others. In all, more than 30 actors and 25 films are represented, including Pirates of the Caribbean, Sense and Sensibility, The New World, Gosford Park, and The Phantom of the Opera. CUT! is organized by Exhibits Development Group, USA in cooperation with Cosprop, Ltd., London, England. The MSV display is sponsored by the Alamo Drafthouse Winchester and Shenandoah Country Q102.
Those planning on attending the Sherlock Holmes screenings may purchase tickets at the door or in advance at www.drafthouse.com/winchester. The Alamo is located at 181 Kernstown Commons Boulevard in Winchester.
The MSV is open from 10 a.m. to 4 p.m. Tuesday through Sunday. The CUT! Costume and the Cinema exhibition coupons that will be presented at the Sherlock Holmes screenings are valid through February 28, 2016 and include admission to all the MSV exhibitions.
A regional cultural center, the MSV is located at 901 Amherst Street in Winchester, Virginia. The MSV complex includes exhibition galleries, the Glen Burnie House, and six acres of gardens. The galleries are open year-round; the house and gardens are open April through October. Admission is $10 or $8 for seniors and youth ages 13 to 18. General admission is always free to youth ages 12 and under and to MSV Members, and, thanks to generous sponsorship from Howard Shockey & Sons, Inc., it is free to all every Wednesday. Additional details and information about programming related to CUT! Costume and the Cinema are available on this website or by calling 540-662-1473, ext. 235. –END–
Photo: [detail] Jude Law as Dr. John Watson and Robert Downey Jr. as Sherlock Holmes in Sherlock Holmes (2009). Courtesy of Photofest.