Hooked Rugs and Acrylic Paintings Now on View
Winchester, VA 04/28/14…Colorful hooked rugs and contemporary paintings created by three Shenandoah Valley artists are now on view in new Art in the Halls displays in the Museum of the Shenandoah Valley (MSV).
In Lewis Hall, artist Penelope Carroll has assembled a display of 15 acrylic paintings, while hooked rugs by textile artists Vicky Germroth and Nancy Slye are on view in Glaize Hall. All three artists are members of The Art Group Gallery (TAGG), a nonprofit cooperative of artists that operates in the Bowman-Shannon Cultural Arts Center in the Shenandoah County town of Mount Jackson, Virginia. Presented through July 13, these new Art in the Halls displays are available for viewing free of charge; Museum admission is not required.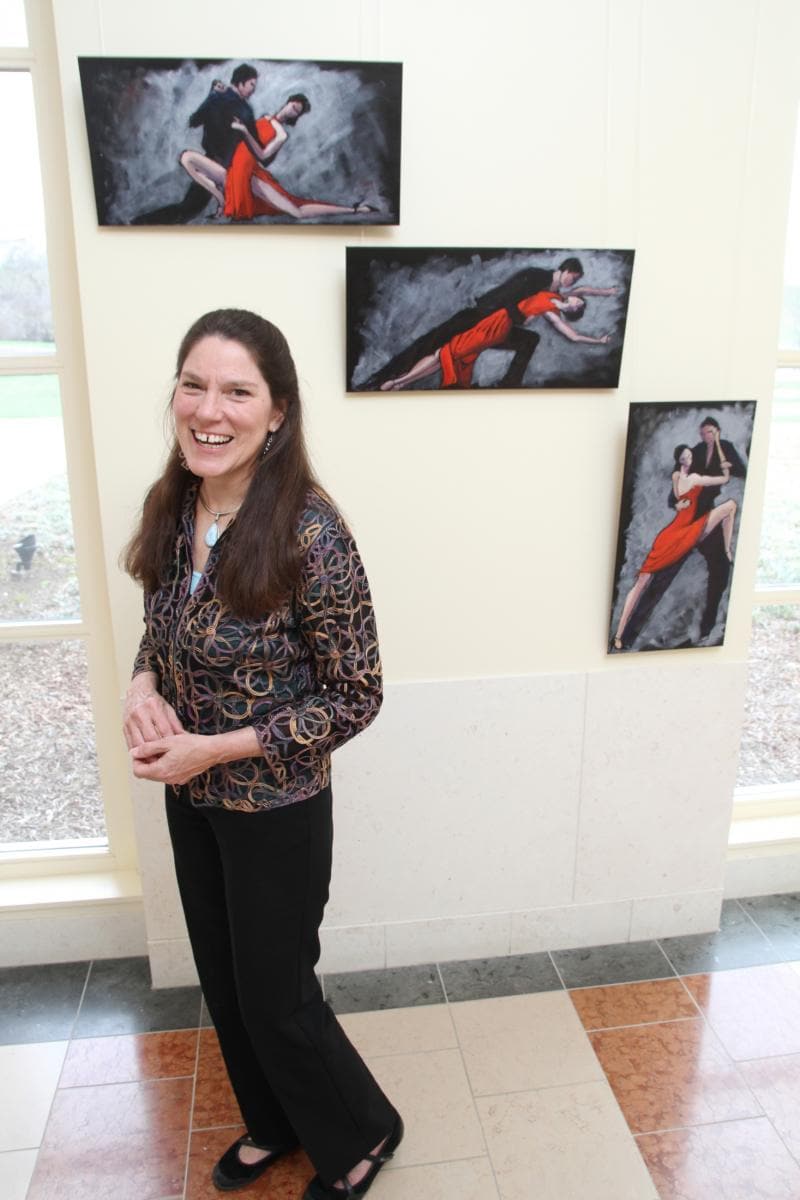 President of TAGG, Penelope Carroll has lived in Edinburg since 2004. Semi-retired, she has practiced veterinary medicine for 30 years. According to Carroll, she has had a lifelong passion for the arts and has taken art classes at colleges, universities, institutes, and retreats. Carroll says that this diverse exposure has contributed to her ever-changing artistic style. Her move to the Shenandoah Valley, where she was enticed by the region's beauty, inspired her to paint her first landscapes. One such landscape in the MSV display, Salmon Sunrise, captures the Valley vista that greets the artist from her home balcony. The landscape is the only oil painting in Carroll's Art in the Halls display; the remaining works in the show are acrylic paintings created using latex resist techniques, a medium Carroll began using last year.
All works in her display at the MSV were painted between November 2013 and February 2014. They include six paintings that Carroll calls her "alley series." Whether they are depictions of actual landscapes or scenes from the artist's imagination, each painting in the alley series includes a cat or two somewhere in the scene. Inspired by her trip to New York, Bubblegum Alley features a raincoat-clad woman walking down an alley; one cat peers out from behind a trashcan and another from an upper-story window. Other notable alley paintings include Magic Alley, a work loosely based on a scene from the Harry Potter books, and Bamboo Alley, a scene inspired by Virginia's Richmond Hill retreat center. Along with illustrating her talent for painting landscapes and her love of animals, Carroll's show also reflects her passion for ballroom dance. Three paintings—Gancho, Inclinada, and Parada—depict a couple in various stages of the tango.
According to MSV Director of Exhibitions Cory Garman, Nancy Slye and Vicky Germroth are the first textile artists to have works featured in Art in the Halls. Original hooked rugs by each artist are represented on separate walls in the Museum's Glaize Hall.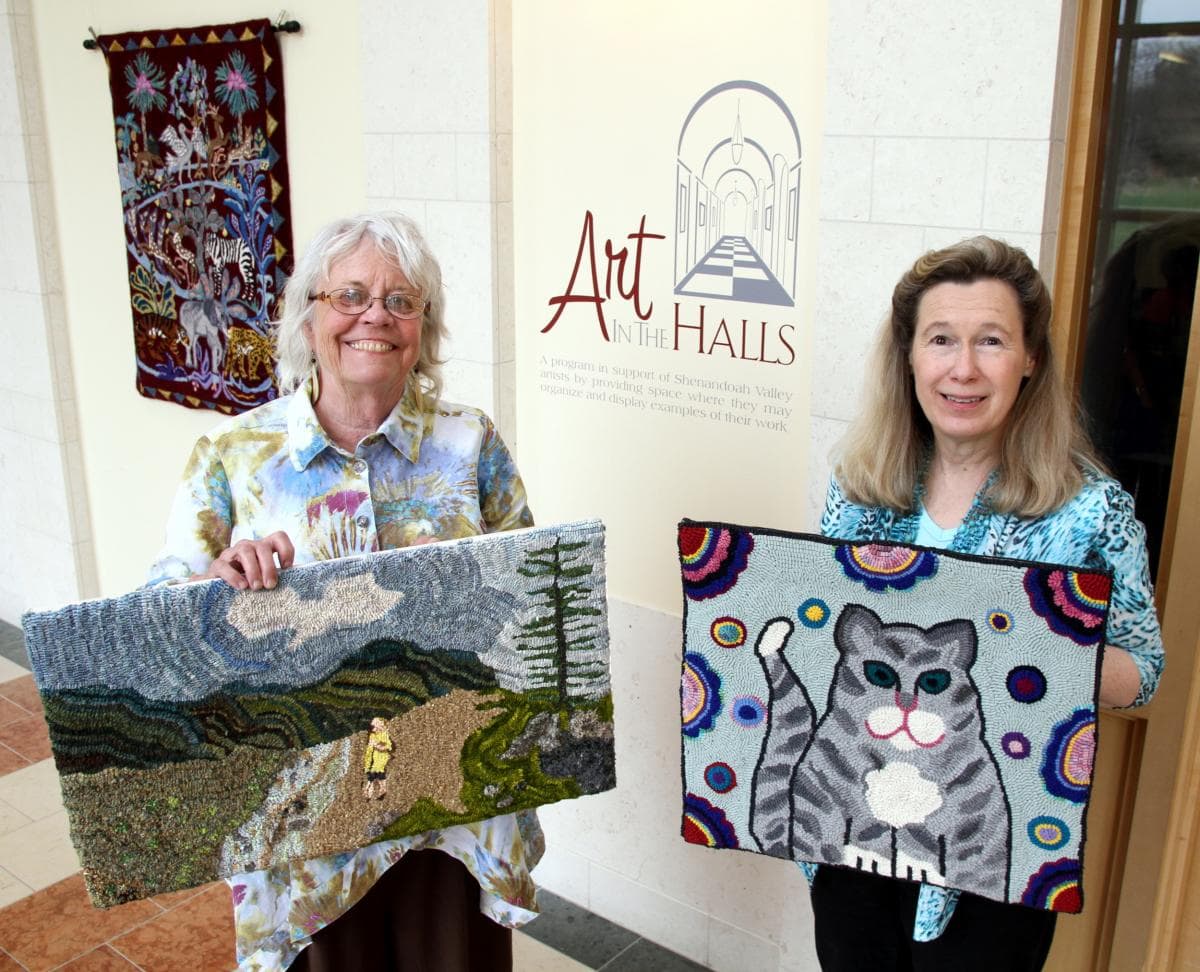 A resident of Edinburg, artist Vicky Germroth has lived in Shenandoah County for more than 30 years. From her first career as an interior designer to her artistic work today, Germroth says she has always enjoyed working with fabric and notes that vibrant colors are her passion. She began making hooked rugs in 2001, and today she is a member of a rug-hooking group that meets weekly in Woodstock, Virginia.
Germroth's Art in the Halls display includes eight rugs made between 2006 and 2014, with most from her personal collection. Sailing Through Europe—a 2013 work inspired by that year's Viking River Cruise to the Netherlands, Germany, Austria, Hungary, and Slovakia—features flags and various European landmarks. Rugs on first-time public display in the MSV include Charity Prayer Rug, made in 2014 and inspired by prayer rugs used during Islamic prayers, and a 2012 work, Amish Quilt Blocks, which features colors and designs common in traditional Amish quilts. A horse owner and dressage rider, Germroth's love for horses is visible in Parade of Horses (2006) a rug featuring five vibrantly colored, prancing horses. The show also includes Jungle Fantasy, 2009, and Fat Cat, 2013, made from recycled wool fabric and fishing line for the cat's whiskers.
A new TAGG member, Nancy Slye has worked with textiles since the 1980s, when she began weaving on a loom and spinning fiber. In the early 1990s she moved from New York to a 150-acre farm in Broadway, Virginia, where she raises Angora goats, sheep, and llamas for their wool, which she shears, dyes, and sells to other fiber artists. Slye, who took her first rug-hooking class in 2005, describes rug hooking as "painting with wool" and enjoys interpreting rug patterns as well as creating her own unique designs. She continues to learn new hooking techniques and frequently attends hooking classes and seminars.
Slye's MSV display includes six original works made between 2009 and 2014, with several from her personal collection and on first-time public display in Art in the Halls. All Slye's rugs include her own, hand-dyed wool. Page and Nancy in Pa's Barn, 2012, is based on an old family photograph of the artist and her sister playing in their grandfather's barn in Remo, Virginia. Another impressionistic rug hooked using a photograph as a pattern is a 2014 work, My Sister Page at State Lick–Fulks Run, Virginia. Featuring mountains and the north fork of the Shenandoah River, Slye recently completed this rug as a gift for her sister Page.
The earliest work in Slye's display, I Can't Hear You, was hooked in 2009 and features depicitons of an old-fashioned hearing aid and a set of lips. The only rug in the show based on an existing pattern is Funky Chickens of 2014. To make that colorful work, Slye used a folk art rug pattern from Vermont and incorporated recycled wool and fabric from silk neckties.
Following their Art in the Halls presentation, all of Carroll's paintings and several rugs from the displays organized by Slye and Germroth will be available for purchase in the Bowman-Shannon Cultural Arts Center.
According to MSV Director of Exhibitions Garman, these new Art in the Halls displays are the second such presentations resulting from a collaborative relationship between the MSV and TAGG. Works by other Art Group Gallery artists will be featured in this summer's Art in the Halls presentations.
The Museum of the Shenandoah Valley is located at 901 Amherst Street in Winchester, Virginia. The MSV complex—which includes galleries, the Glen Burnie House, and six acres of gardens—is open Tuesday through Sunday from 10 a.m. until 4 p.m. Additional information is available at www.theMSV.org or by calling 540-662-1473, ext. 235.