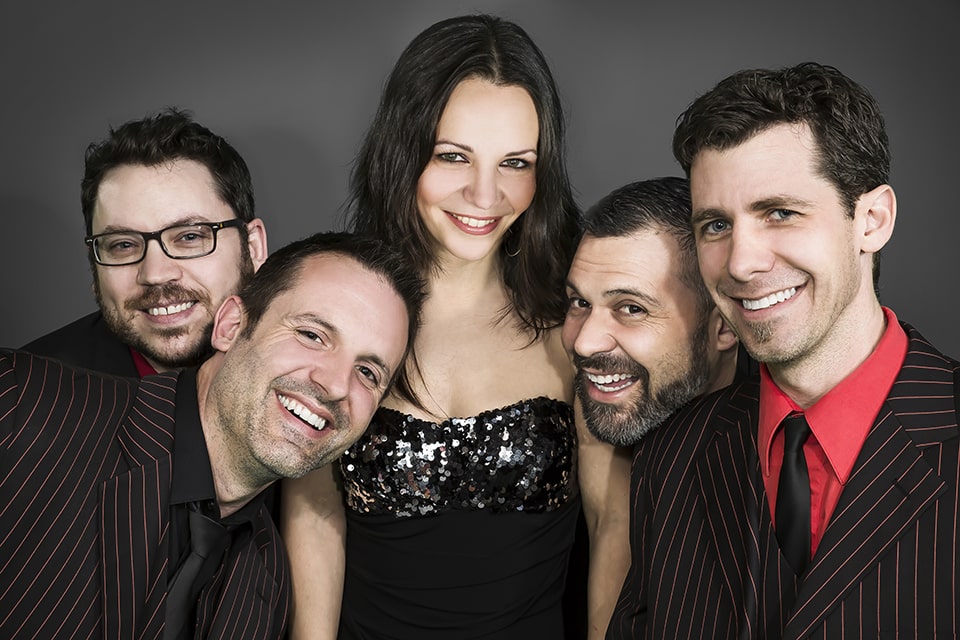 Free Admission for Active Military & Their Families
$10 Ticket Includes Music, Lawn Games, and Admission to MSV Gardens & Galleries 
Winchester, VA 08/04/17…Hits from the '80s and '90s from retro band The Real Geniuses, free family lawn games, and admission to acres of gardens and exhibition galleries will highlight Gardens at Night at the Museum of the Shenandoah Valley (MSV) on Friday, August 11, from 6 to 9 p.m. In addition, those attending will be able to purchase food, beer, and wine. *** Rain or Shine; please dress for the weather. ***
Making its first appearance at the MSV and based in Baltimore, Maryland, The Real Geniuses are known for high-energy performances featuring songs made famous by Blondie, Bryan Adams, Madonna, Prince, Duran Duran, INXS, the GoGos, The Cure, Cyndi Lauper, Eric Clapton, The Police, U2, Dexy's Midnight Runners, The Outfield, and many others. Formed in 2000, the five-piece band includes lead vocalist and guitarist Jason Hughes, lead vocalist and keyboardist Elena Martin, guitarist and vocalist Dave Vergauwen, bass player and vocalist Dave DeMarco, and drummer Jay Novak. Along with party songs and new wave favorites from the '80s, Gardens at Night attendees will be treated to some disco hits, '90s favorites, and some crowd favorites from the early 2000s.
According to MSV Community Programs Manager Autumn Gray—thanks to the sponsorship of Navy Federal Credit Union—admission to Gardens at Night is free to all active military personnel and their families. Gardens at Night admission is also free to MSV Members and ages 12 and under. The ticket price for all others, which includes gardens and gallery admission, is $10. The summer concert series is also sponsored by Shenandoah Country Q102.
Along with live music, Gardens at Night features free family activities. Youngsters will be able to explore the gardens with a seek-and-find game, Can You Find This? In addition, from 6 to 8 p.m. families may play a variety of lawn games, including Frisbee, hula hoops, and cornhole.
Throughout the evening attendees may experience the seven-acre Glen Burnie Gardens illuminated by nighttime lighting and explore the MSV galleries. On view in the Changing Exhibitions Gallery, Art and the Animal features some of the world's best contemporary animal art produced by members of the prestigious Society of Animal Artists. A traveling exhibition featuring more than 60 paintings, drawings, and sculpture of wild and domestic animals, the tour of Art and the Animal is directed by noted wildlife art scholar and author David J. Wagner, PhD, and the exhibition's display at the MSV is sponsored by 92.5 WINC FM.
Those attending Gardens at Night at the MSV also may purchase food and drinks at the event. Sodexo catering will serve a buffet dinner for $12 per plate that will include herb-roasted chicken, bratwurst with grilled peppers and onions, potato salad, coleslaw, green bean and tomato salad, watermelon, cookies, and ice cream novelties. Cheese, cracker, and grape trays will be available for $5. Drinks available for purchase include bottled water and soda ($2), domestic ($7) and craft beer ($8), and wine by the 10-ounce glass ($8) or bottle ($25). Cash sales are preferred. No outside food or drinks will be permitted in the concert area.
The gates will open for seating at 5:30 p.m. and the gardens, galleries, and food/drink stations will open at 6 p.m. The music will begin at 7 p.m. The concert will take place on the lawn by the MSV. All those who plan to listen to the musical performance should bring their own chairs. The concert will take place outdoors rain/shine and attendees should dress for the weather.
Following the August concert, Gardens at Night will conclude on September 8 with a performance by Alter Eagles, an Eagles tribute band.
The MSV is located at 901 Amherst Street in Winchester, Virginia. The MSV complex—which includes galleries and exhibitions, the Glen Burnie House (not open during Gardens at Night), and the gardens—is open Tuesday through Sunday. Additional information is available by calling 540-662-1473, ext. 235, or referring to www.theMSV.org. – END –
About Navy Federal:
Navy Federal Credit Union is the world's largest credit union with more than $81 billion in assets, 7 million members, 298 branches, and a workforce of over 14,000 employees worldwide. The credit union serves all Department of Defense and Coast Guard active duty, civilian and contractor personnel and their families. For additional information about Navy Federal, visit www.navyfederal.org.
Sodexo's Menu: (cash & credit; however cash is preferred)
$12 per plate served buffet style:
Herb Roasted Chicken
Bratwurst with Grilled Peppers and Onions (Hoagie Rolls)
Potato Salad
Homemade Coleslaw
Green Bean and Tomato Salad with Shallot Vinaigrette
Watermelon
Packaged Chocolate Chip Cookies or Ice Cream Novelties
*no drinks included in dinner
Veggie burger available by request only
Cheese/Cracker/Grape Tray $5
Wine
Red and White Wine $8 per cup
Red and White Wine Bottle $25
Beer
Imported and Craft Beer $8
Domestic Beer $7
 Other Drinks
Assorted Canned Soft Drinks/Bottled Water $2
Bottled Tea and Gatorade $3