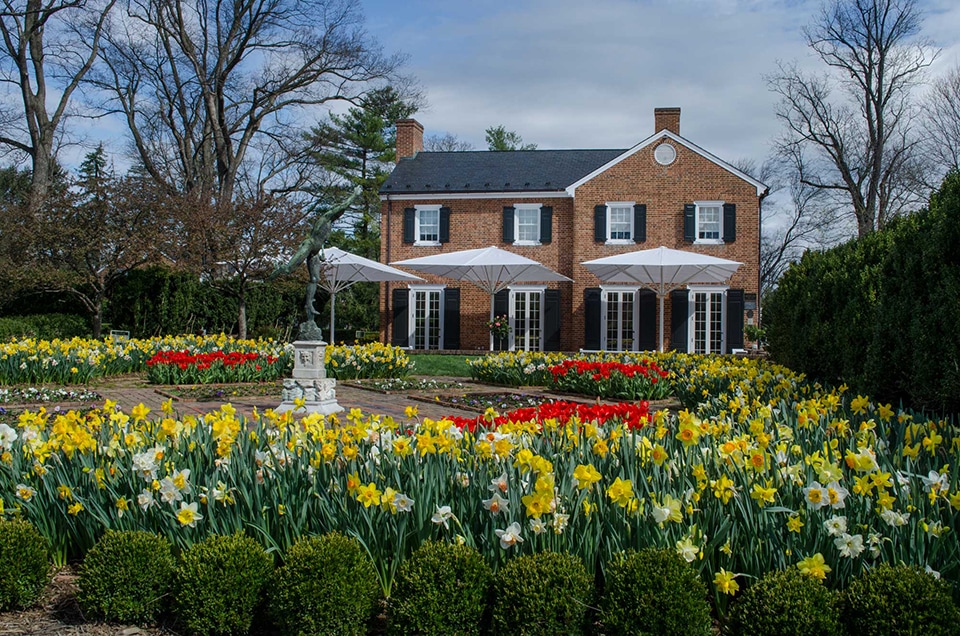 MSV's Glen Burnie House & Gardens and Two New Exhibitions to Open April 1
Painting the Valley: Works by Andrei Kushnir
on View in the MSV through September 11, 2016
Suzanne Stryk: Notes on the State of Virginia
on View in Glen Burnie through October 30, 2016
Extended FREE Summer Hours Return and Include Galleries and Exhibitions
---
Winchester, VA 3/30/16…Two new exhibitions and the Glen Burnie House and Gardens will open at the Museum of the Shenandoah Valley (MSV) this Friday, April 1.
Opening for the 2016 visitor season and a short walk from the MSV galleries, the Glen Burnie House is surrounded by seven acres of gardens.

According to MSV Executive Director Dana Hand Evans, the house and gardens season is now expanded by two additional months and will run through December 31 this year. Also new this year and thanks to the support of sponsor Howard Shockey & Sons, Inc., the MSV will offer free access to the entire MSV site every Wednesday between Memorial Day and Labor Day from 10 a.m. to 8 p.m. Free weekly evening admission hours were offered for the first time last summer and included the house and gardens only. This year, the galleries and exhibitions are included.
In addition to enjoying expanded summer hours of operation, those who visit MSV gardens this season will experience renovated garden spaces and see Suzanne Stryk: Notes on the State of Virginia, the second in a series of exhibitions to be displayed in the Glen Burnie House.
On view in the drawing room of the house, Notes on the State of Virginia features more than 20 place-based, mixed-media assemblages created by Virginia artist Suzanne Stryk and inspired by Thomas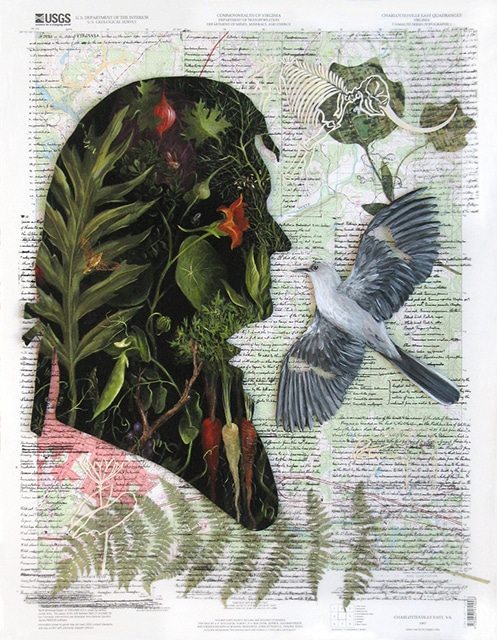 Jefferson's book Notes on the state of Virginia (1781).  For this project Stryk traveled from the western Appalachians to the Eastern Shore, visiting ecologically or culturally distinct places throughout Virginia. At each site she recorded observations in sketchbooks and collected natural materials. Back at her studio in Bristol, she created assemblages about each place, layering her paintings, sketches, and found objects with topographic maps. On view in Glen Burnie through October 30, 2016, all of the works in the exhibition were created between 2011 and 2013.
Also opening at the MSV on April 1, Painting the Valley: Works by Andrei Kushnir will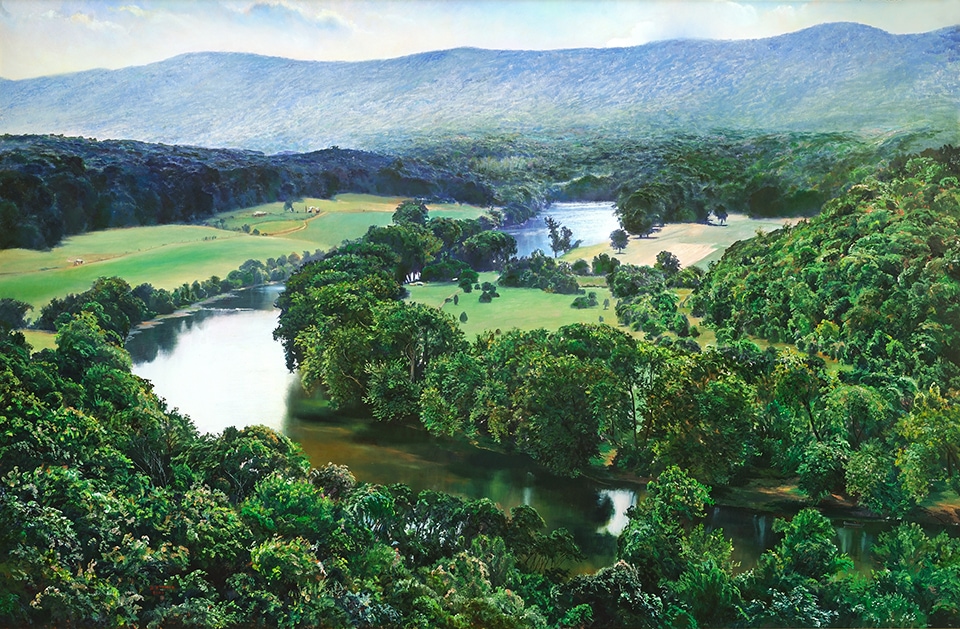 be on view in the Shenandoah Valley Gallery through September 11. The exhibition features more than 50 plein-air paintings which depict the communities, farmlands, forests, waterways, and historically significant places of the Shenandoah Valley. An accomplished painter who has exhibited his work nationally, Andrei Kushnir has painted more than 260 Shenandoah Valley landscapes during the last decade. While some of his paintings depict Shenandoah Valley landmarks, many scenes show places treasured by locals but little-known to the rest of the world. Andrei Kushnir has been a full-time painter since 1980, and his work has been exhibited widely in juried and invitational shows throughout the United States.
Those interested in meeting Andrei Kushnir are invited to attend an exhibition opening wine-and-cheese reception on Saturday, April 2, from 7:30 to 9:30 p.m. Admission to the event is free to MSV Members and the cost—which includes admission to the exhibition—is $20 for all others. Reservations for this event are required and may be made calling 540-662-1473, ext. 213 by 5 p.m. Friday, April 1, or on www.theMSV.org/PaintingtheValley.
Along with spring blooms, visitors to the MSV on opening day will enjoy new accessible pathways in front of Glen Burnie and see a replanted Grand Allée featuring 26 crabapple trees. Support from Beverley and Steven Shoemaker and the James L. and Mary Jane Bowman Charitable Trust allowed the MSV to improve garden accessibility and redesign and replant the allée. Those interested in getting a behind-the-scenes look at the new garden improvements are invited to join MSV Director of Gardens Perry Mathewes at 10 a.m. on Wednesday, April 6, for a free guided garden tour. Offered on the first Wednesday of each month, the free Garden Walkabouts also highlight the newest blooms in the gardens.
A regional cultural center, the MSV is located at 901 Amherst Street in Winchester, Virginia. The MSV complex includes exhibition galleries, the Glen Burnie House, and seven acres of gardens. The galleries are open year-round; the house and gardens are open April through December. Admission is $10 or $8 for seniors and youth ages 13 to 18. General admission is always free to youth ages 12 and under and to MSV Members, and, thanks to generous sponsorship from Howard Shockey & Sons, Inc., it is free to all every Wednesday. Every Wednesday between Memorial Day and Labor Day, the MSV site is open free of charge from 10 a.m. to 8 p.m. Additional information and details about spring garden programs and workshops related to Suzanne Stryk: Notes on the State of Virginia and Painting the Valley: Works by Andrei Kushnir are available at www.theMSV.org or by calling 540-662-1473, ext. 235. –END–
About Glen Burnie House and Gardens:
The Glen Burnie House sits on land that Winchester-founder James Wood settled in 1735. Wood's son Robert built the oldest portions of the house in 1793 and 1794. Descendant Julian Wood Glass Jr. (1910–1992) became the house's sole owner in the 1950s; with partner R. Lee Taylor (1924–2000), he transformed the Glen Burnie House into a country retreat surrounded by acres of formal gardens. After Glass's death and as a condition of his will, the house and gardens opened to the public in 1997. Tours of the house and gardens are self-guided.
Top photo of Glen Burnie House and tulips by Rick Foster. Center: Jefferson's Secret [Piedmont Region], 2011, by Suzanne Styk. Bottom: Shenandoah River, 2002, by Andrei Kushnir.