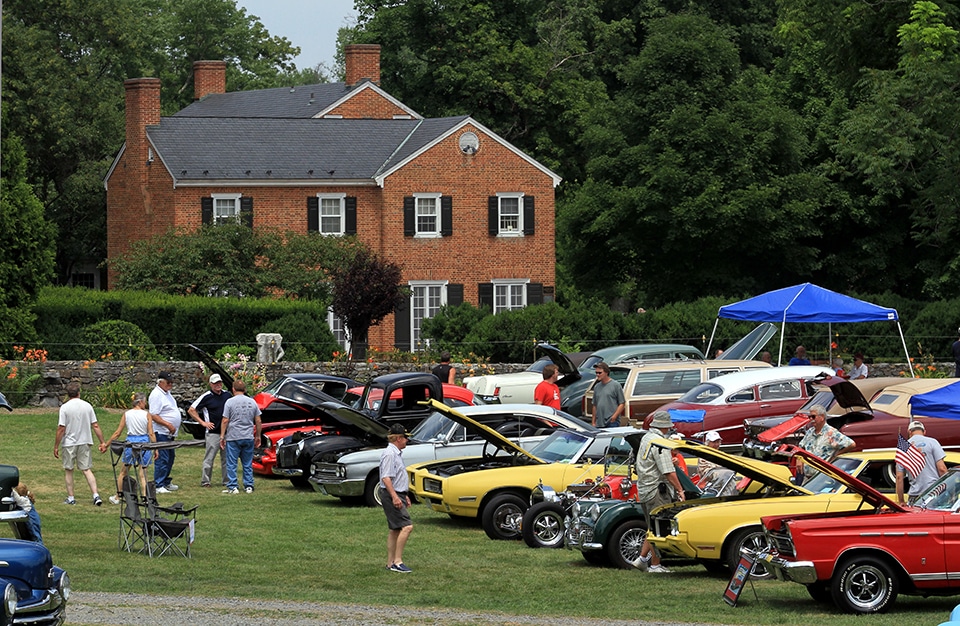 Glen Burnie Day also includes Free Concert, Children's Activities, and Lego Car Display
Winchester, VA 7/14/15…This Saturday, July 18, the Museum of the Shenandoah Valley (MSV) will offer free admission to its six-acre gardens, Glen Burnie House, and museum galleries during Glen Burnie Day. The family-oriented event, from 10 a.m. until 4 p.m., will also include an antique and modified car show, children's activities, a display of a life-sized car made of LEGO®, and an outdoor concert by the Clarke County Community Band, all FREE of charge.  [Click HERE for more information and the schedule of the day's events.]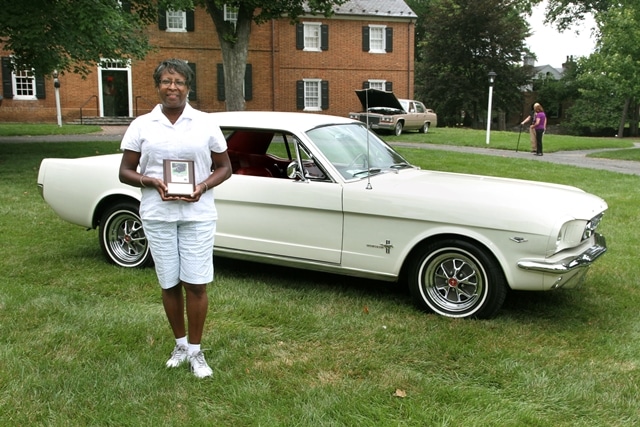 An annual event at the MSV, this year's Glen Burnie Day is sponsored by Don Beyer Volvo and Volkswagen of Winchester. As part of its sponsorship, the Winchester dealership will display a life-sized Volvo XC90 made of more than 201,000 LEGO® bricks. Weighing 2,930 pounds, the LEGO® SUV is one of just two in the world and has been displayed across the country, including at Legoland in Carlsbad, California, and more recently in Winchester's Shenandoah Valley Discovery Museum.
Saturday's event also includes, from 10 a.m. until 2 p.m., the Antique and Modified Car Show. Coordinated by the Shenandoah Region of the Antique Automobile Club of America (SRAACA), the show will take place on the lawn in front of the Glen Burnie House and in the field between the museum and gardens. A popular part of Glen Burnie Day, the show will showcase antique and modified cars that are at least 25 years old. According to SRAACA member Angie Yonally, more than 80 cars are registered for this year's event, including a 1915 Ford, a 1939 Lincoln Zephyr, a 1940 Peter Pirsch Fire Truck, a 1964 Porsche 356C, and a 1968 Jaguar XKE Roadster. The SRAACA will present awards to car show participants from 2 to 3 p.m. Glen Burnie Day attendees will have the opportunity to vote for their favorite car on display, and the car garnering the most votes will receive the People's Choice Award.
Before or after touring the car show, families are encouraged to stop by the garden carriage house to take part in a free, car-themed craft. Also to complement the car show and taking place at 11 a.m., the Clarke County Community Band will play twentieth-century hits and other popular favorites in a free, 45-minute concert in the gardens.
According to MSV Executive Director Dana Hand Evans, those attending this year's Glen Burnie Day will have the free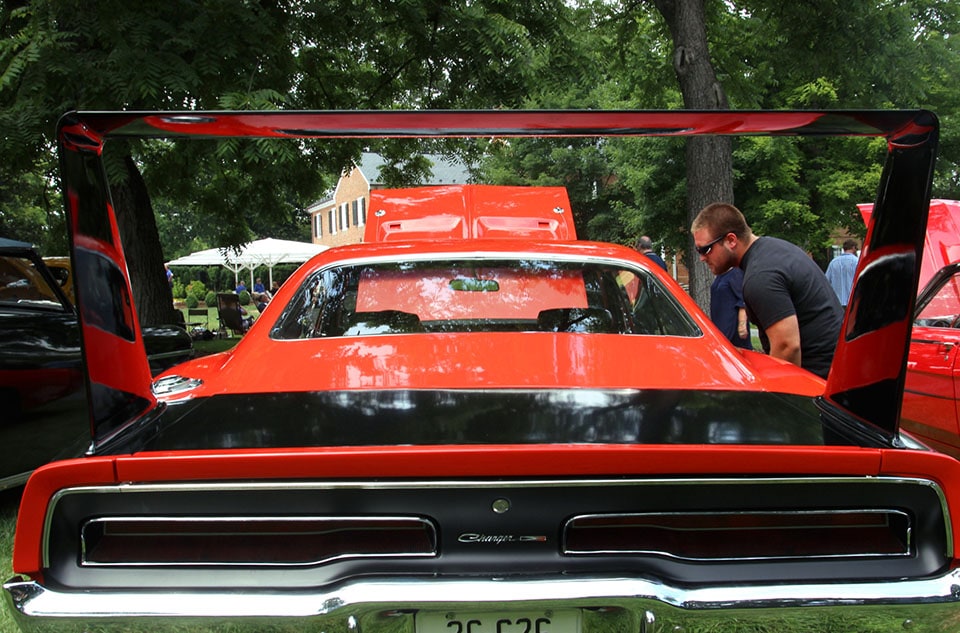 opportunity to see three recently opened exhibitions. These include, in the Glen Burnie House, Beauty in Botany, which features 22 works by seven celebrated, regional botanical artists. Exhibitions in the MSV galleries include Collect, Preserve, Interpret: Ten Years at the MSV, which presents some of the most important objects the MSV acquired during its first decade, and Mort Künstler: The Art of Adventure, which exhibits the art of renowned artist and illustrator Mort Künstler. Organized by the Norman Rockwell Museum, Stockbridge, Massachusetts, and only on view in the MSV until August 2, 2015, The Art of Adventure features more than 80 of Künstler's works in a variety of genres.
Throughout the day visitors are also invited to explore the MSV's six-acre gardens, which include a Grand Allée of crab apple trees, statues, fountains, colorful perennials, and a Water Garden that features a pond stocked with golden trout. Built in 1794 by Robert Wood, son of Winchester founder James Wood, and last owned by MSV benefactor Julian Wood Glass Jr. (1910–1992), the Glen Burnie House has been home to the Wood and Glass families for generations. Along with interpretive panels telling the house's story, decorative objects Glass collected and enjoyed in his ancestral home and a fully furnished miniature model of the house are on view.
Visitors are invited to bring a picnic to enjoy in the gardens. In addition and throughout the day in the gardens, Sodexo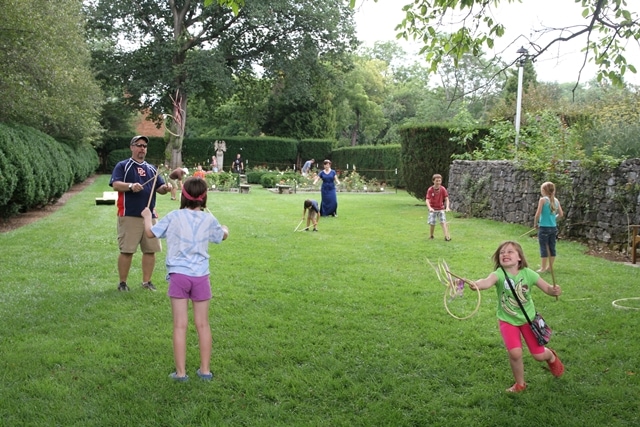 catering will offer family-geared food for purchase. Before leaving for the day, all visitors will also want to enter a free drawing in the Museum lobby to win a one-year Family Membership to the MSV (a $75 value). The drawing will take place at the conclusion of the day; winners are not required to be present.
The Museum of the Shenandoah Valley is located at 901 Amherst Street in Winchester, Virginia. The MSV complex—which includes galleries, the Glen Burnie House, and six acres of gardens—is open Tuesday through Sunday from 10 a.m. until 4 p.m. The museum galleries are open year-round; the house and gardens are open April through October. On days other than Saturday's Glen Burnie Day, admission is $10 or $8 for seniors and youth. General admission is always free to youth ages 12 and under, MSV Members, and—thanks to generous sponsorship from Howard Shockey & Sons, Inc.—it is free to all every Wednesday. On Wednesdays through September 2, 2015, the house and gardens will be open free of charge until 8 p.m. More details are available at www.theMSV.org or by calling 540-662-1473, ext. 235. –END–
For the schedule of the day's events click HERE.