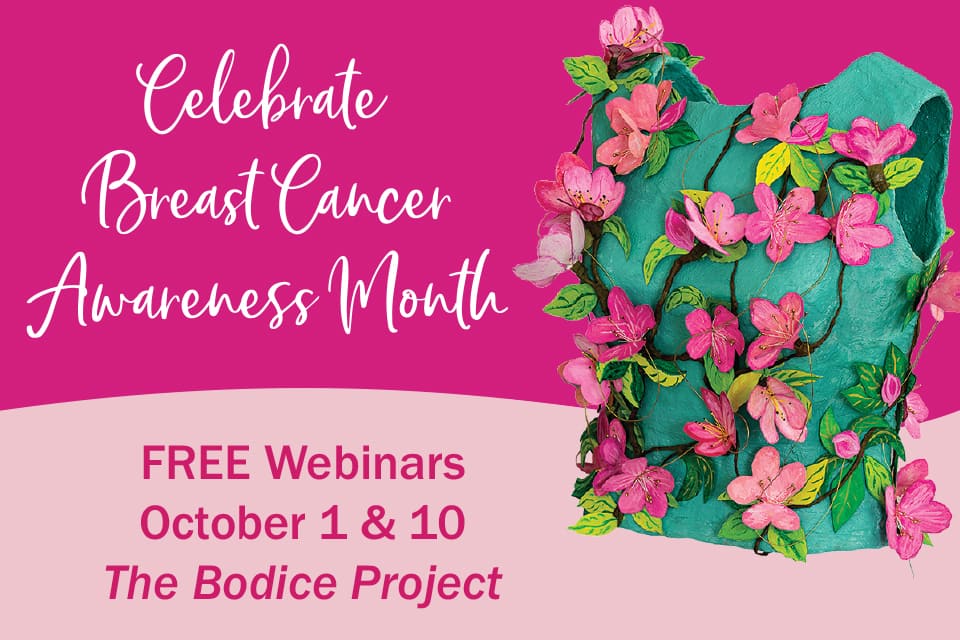 MSV Observes Breast Cancer Awareness Month with The Bodice Project Exhibition and Free Webinars
Exhibition on View through November 1; Webinars Offered on October 1 and 10
Winchester, VA 09/30/20…The Museum of the Shenandoah Valley (MSV) is observing Breast Cancer Awareness Month this October with continuing display of the inspirational Bodice Project exhibition and two free webinars that address topics related to breast cancer.
On view in the MSV through November 1, 2020, The Bodice Project illustrates the struggles and triumphs of those who have had breast cancer. The impactful display presents nearly two dozen sculptures that were created to promote personal healing of breast cancer survivors.
The exhibition features plaster-cast torso works of women and men who have undergone mastectomies, lumpectomies, or reconstructive surgery and sculptures made of wood, yarn, clay, metal, and other materials. All works celebrate the beauty and strength of those who have had breast cancer. Accompanying statements from the artists regarding the inspirations for the works give the sculptures additional impact, as do anonymous quotes from survivors.  Works by artists from Virginia, Maryland, West Virginia, and Washington, DC are included.
Along with the display of The Bodice Project, the MSV and the exhibition's organizers are presenting two free webinars during Breast Cancer Awareness Month.
From 5:30 to 6:30 p.m. on October 1, the broad range of ways the arts influence health will be discussed in the virtual presentation The Power of Art to Heal, led by Dr. Tony Meadows, director of music therapy at Shenandoah University.
From 10 a.m. to 1 p.m. on Saturday, October 10, a variety of topics related to breast cancer and breast health will be addressed in an expert-led virtual Breast Health Forum. Topics and speakers include: Lifetime Breast Cancer Risk Assessment, Anita Minghini, MD, Valley Health Breast Center; Update on Breast Cancer Imaging, Christopher Nieman, MD, Winchester Radiologists; Why Family History Matters: The Importance of Genetics in Breast Cancer Risk, Meredith Melchiori, MS, CGC, Myriad Genetics; Let Food Be Thy Medicine: The Role of Nutrition in Reducing Breast Cancer Risk, Donna Michel, MD, FACP, DiplABLM; and Let Movement Be Thy Lifestyle: The Role of Exercise in Reducing Breast Cancer Risk, Laura Dabinett, MD, FACOG, Women's Center of Winchester.
Advance registration is required for each of the free webinars. Those interested in participating may register online (click HERE for Oct. 1 and click HERE for Oct. 10) or by calling 540-662-1473, ext. 240.
The MSV display of The Bodice Project and the presentation of October's free webinars are possible thanks to the support of Winchester gynecologist Dr. Laura Dabinett and the sponsorship of Myriad Genetics; Women's Center of Winchester; Winchester Obstetrics and Gynecology, PLC; Drs. Anita Minghini and Paul Lambert; Power Wellness; Shenandoah Oncology, P.C.; Valley Health System; and Tracy Fitzsimmons and J. Knox Singleton.
A regional cultural center, the MSV is located at 901 Amherst Street in Winchester, Virginia. The MSV includes galleries displaying permanent collections and rotating exhibitions, the Glen Burnie House, seven acres of gardens, and is the future home of The Trails at the MSV, which will open on November 25, 2020, and provide three miles of trails for walking, running, or biking. The MSV is open Tuesday through Sunday from 10 a.m. to 5 p.m. Thanks to corporate sponsor Howard Shockey & Sons, admission to the MSV galleries is free to all each Wednesday (offer excludes the gardens and exhibition David Rogers' Big Bugs). Additional details are available at www.theMSV.org –END–