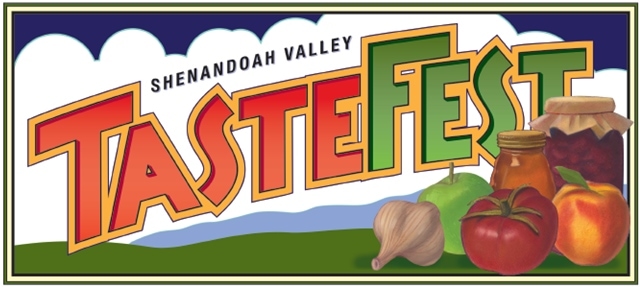 Free Day at the MSV to Include Vendors, Cooking Demonstrations, Edible Flower Talk, Antique Tractors, Children's Games, Garden and Gallery Tours, Free Museum Admission, and More
Winchester, VA 8/22/16…Foodies, gardeners, and all those who love fresh produce will want to visit the Museum of the Shenandoah (MSV) for the FREE Shenandoah Valley TasteFest this Saturday, August 27, from 10 a.m. to 4 p.m. Along with the TasteFest event, admission to the MSV galleries, Glen Burnie House, and seven-acre gardens also will be FREE on Saturday.
TasteFest activities will include: cooking demonstrations; samplings of fresh seasonal produce; a talk about edible flowers; guided gallery and garden tours; sixteen vendors selling locally produced and artisan foods, garden products, and kitchen gadgets; children's games; a display of antique tractors;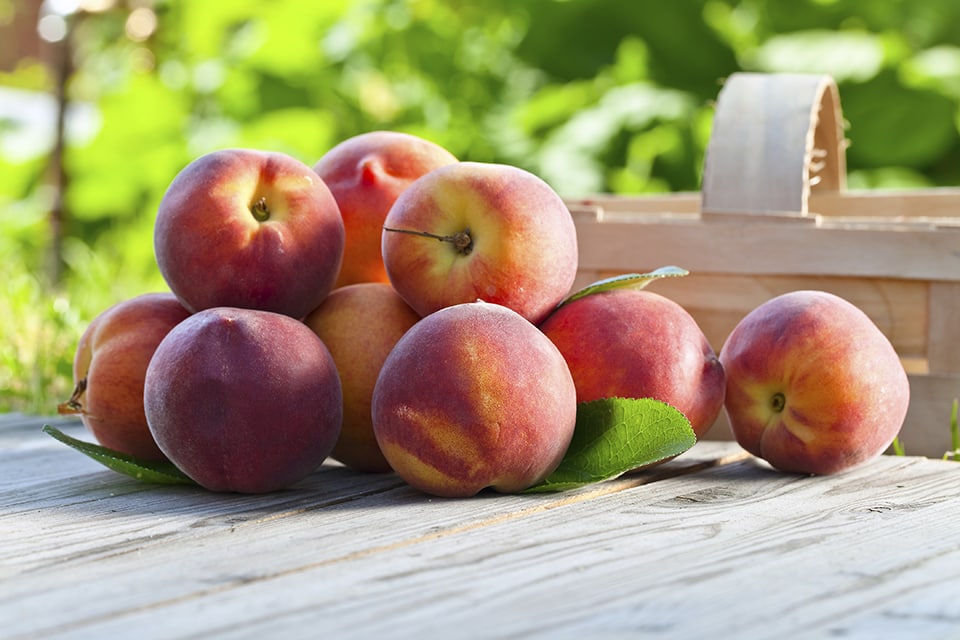 barrel rides for children, and a contest to win an MSV Family Membership.
The MSV created the TasteFest, now in its seventh year, to celebrate the Shenandoah Valley's rich tradition of agriculture and to encourage residents to purchase locally grown produce and locally made food products. According to MSV Community Programs Manager Autumn Gray, the event also includes free admission to the entire MSV site—thanks to event sponsor Trilogy at Lake Frederick.
At 10:30 a.m., MSV Director of Gardens Perry Mathewes will lead a guided garden tour highlighting the formal Vegetable and Herb Gardens and detailing what's in bloom throughout the landscape. At 10 a.m. and 2 p.m. MSV educators will lead guided tours in the Shenandoah Valley Gallery that focus on the MSV's life-size recreations of Valley kitchens from the 1830s and 1930s and detail the traditions, culinary practices, and foodways in the region during those eras. Other food-related objects on view in the gallery include an apple butter kettle from the mid-1800s, a still from the early 1900s, a mash paddle made around 1900, and a rustic, wooden apple picker from the 1800s.
In addition to the tours and tasting products offered by vendors, attendees may sample several varieties of locally grown tomatoes, peaches, and other fresh, seasonal produce in the MSV Reception Hall.
TasteFest attendees will also have the opportunity to see experts cook and to learn about edible flowers during demonstrations in the MSV Reception Hall. At 10 a.m. Blair Dolinar, co-owner of Nibblins will demonstrate how to make peanut soup. At 11 a.m. Ed Matthews, chef-owner of Winchester's One Block West restaurant, will prepare summer vegetable ceviche, pan-roasted fish with Mediterranean chopped salad, and cantaloupe carpaccio. At 1 p.m. Sheryl Campbell of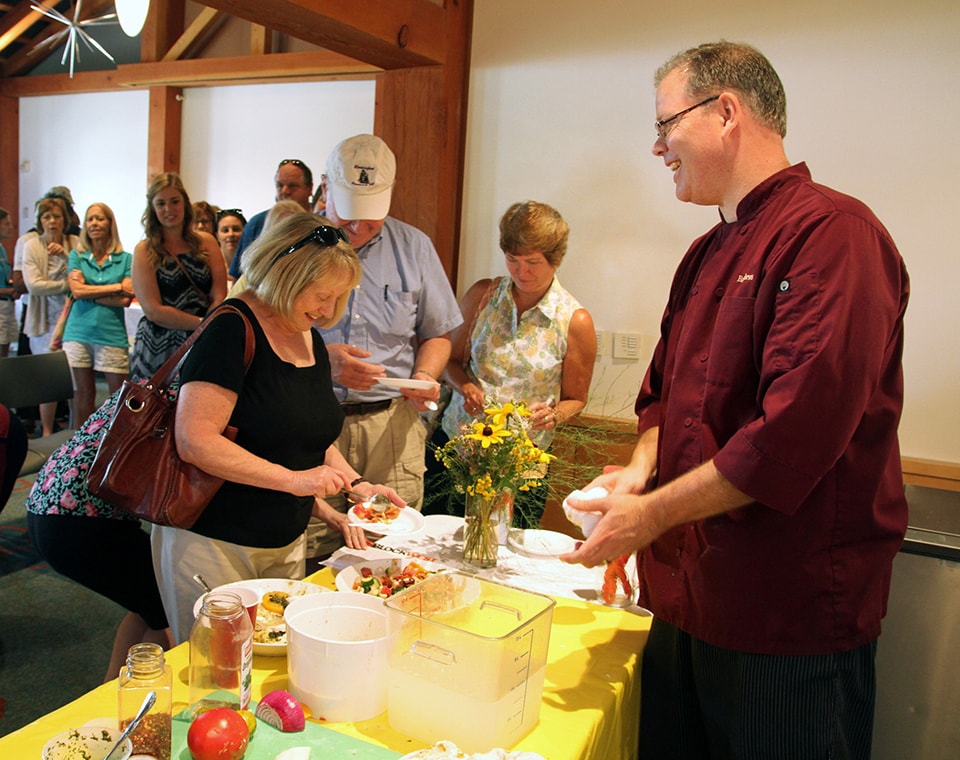 Middletown's Bouquet Banquet will detail varieties of edible flowers and their flavors, explain how to incorporate flowers into meals, and share tips, ideas, and recipes for edible flowers.
The MSV TasteFest also will feature specialized vendors selling everything from freshly made cheese and locally grown peaches to lavender-infused ice cream, hard cider, and specialty syrups. Products will include: locally grown produce from Richard's Fruit Market; artisan oils and vinegars from Flavor Pourfection; scones and tea bread prepared with naturally grown herbs from Loudoun Valley Herbs; fresh produce from Willow Grove Farm CSA; kitchen tools from the Pampered Chef; homemade fudge from Nibblins; hickory syrups from Falling Bark Farm; fresh cheese produced by Main Street Farmstead; apple cider mustard, syrup, and cake from J & W Farm; apple butter, peach butter, and salsa from Shawnee Canning Company; essential oil-infused water from Young Living; and creamed honey and fruitcake from Holy Cross Abbey. Also in the vendor tent and offering tastes for purchase, Blooming Hill Lavender Farm will showcase lavender-infused ice cream and Winchester Cider Works will offer hard cider tastings. Representatives from the Shenandoah and Potomac Iris Society will also be at the TasteFest with irises and ornamentals for purchase and providing tips on growing irises and edible flowers. Inside, the Museum Store will be offering tastes of some of its more popular food items including Shenandoah Apple Candy, Route 11 Potato Chips, and Shenandoah Blends seasoning mixes.
Along with offering tastes throughout the day the event will include an antique-tractor display and free barrel-pull rides for children from 11 a.m. to 3 p.m., both coordinated by the Massanutten Antique Tractor & Gasoline Engine Club. Also for younger visitors, Saturday's TasteFest will include garlic hunts and vegetable garden games at 11 a.m. and 1 p.m. In addition and throughout the day, a children's vegetable painting craft will be offered in the garden Carriage House.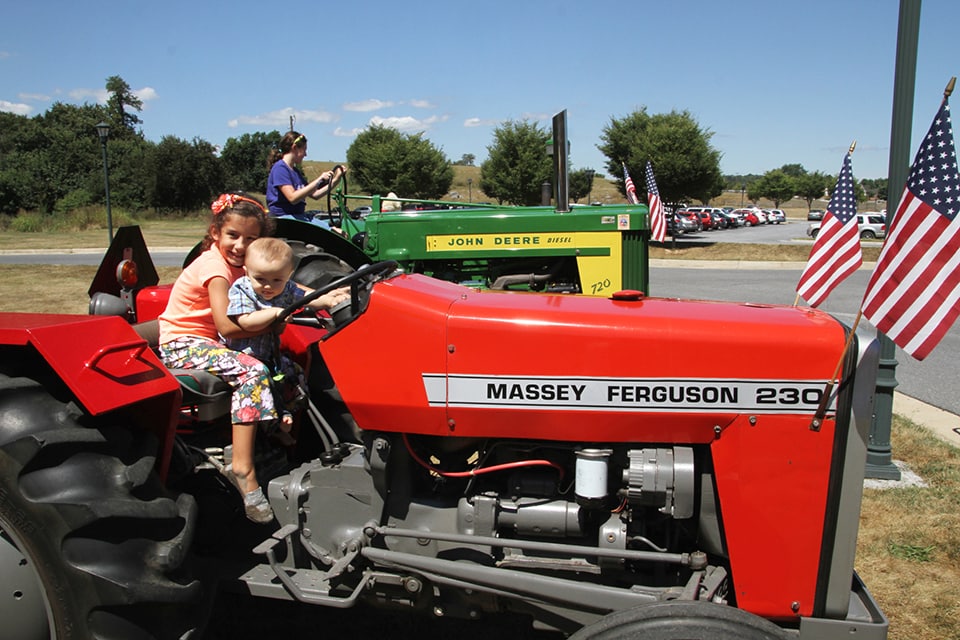 Bluegrass music will provide ambiance to TasteFest attendees. Outside and from 11 a.m. to noon, the band Southern Brand comprised of Red Henry, Mary Beth Schuweiler and Rob Schuweiler will perform. From 1 to 3 p.m. Joe and Sam Herrmann, David McLaughlin, and Marshall Wilborn will play.
Lunch from Jack Knuckle Gourmet will be available for purchase at the MSV. A full-service gourmet food truck, Jack Knuckle Gourmet will offer several specialty sandwiches including grilled turkey breast, pork tenderloin barbecue, and gourmet grilled cheese.
All those attending the TasteFest may also participate in a free contest to guess the number of vegetables in a jar. The winner of this contest will receive a one-year Family Membership to the MSV ($75 value). Participants do not need to be present to win.
Admission to the MSV and all TasteFest activities is free to all and, as vendors will be located in a large event tent, the TasteFest will take place rain or shine.
A regional cultural center, the MSV is located at 901 Amherst Street in Winchester, Virginia. On days other than this Saturday's TasteFest, admission is $10 or $8 for seniors and youth ages 13 to 18. General admission is always free to youth ages 12 and under and to MSV Members. Thanks to sponsorship from Howard Shockey & Sons, Inc., admission is free to all every Wednesday. Through August 31, the MSV is open free of charge each Wednesday until 8 p.m.  More details are available at www.theMSV.org or by calling 540-662-1473, ext. 235. –END–