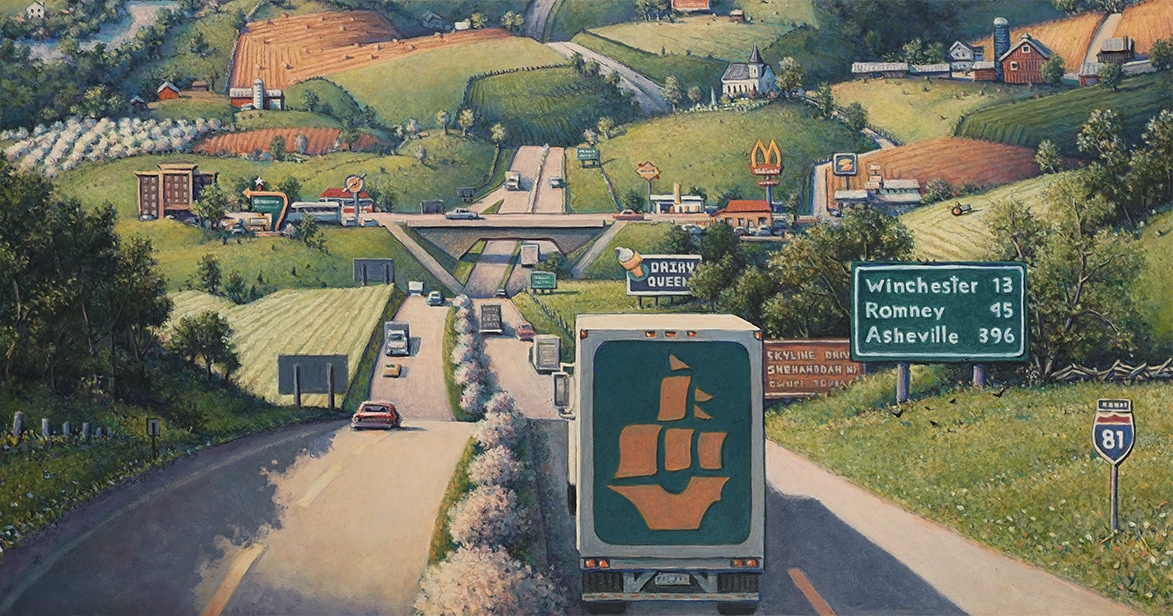 Under the Appalachian Sky: The Paintings of Barry Vance
Presents Dreamlike Interpretations of Familiar Scenes and Landmarks
Landscape Artist Celebrates the Valley and Potomac Highlands in New MSV Exhibition
Unique interpretations of the Shenandoah Valley and Potomac Highlands will be on view when Under the Appalachian Sky: The Paintings of Barry Vance opens in the Museum of the Shenandoah Valley (MSV) on August 26, 2017.
The exhibition, which will be on view through June 24, 2018, presents nearly 40 landscapes created by artist Barry Vance between 1973 and 2017.  Most of the works are on first-time public display in the MSV exhibition. The presentation of Under the Appalachian Sky has been partially funded by the Woltz–Winchester Foundation.
According to MSV Director of Exhibitions Corwyn Garman, Under the Appalachian Sky is the third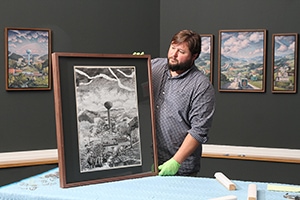 in a new series of solo exhibitions presented in the Museum's Shenandoah Valley Gallery and featuring contemporary representations of the region. Vance's work is particularly appealing, Garman notes, because his paintings depict the Valley as one might see it in a dream, melding multiple viewpoints, different time periods, and familiar places into imaginative landscapes.
Under the Appalachian Sky presents 32 paintings, three drawings, and four sketchbooks. Works in the exhibition feature familiar scenes and landmarks from the region, such as Shenandoah National Park, Harrisonburg's vanished Star Gables Motor Court, Belle Grove Plantation, Indian Alley in Old Town Winchester, and the South Branch of the Potomac River.  In addition, several paintings depict lesser-known small towns, including Sugar Grove, West Virginia, and Doe Hill, Virginia.
A native of Baltimore, Maryland, Barry Vance studied at Pratt Institute, earning a BFA in 1969, as well as at Brooklyn College, earning an MFA in 1971. He also attended the Maryland Institute College of Art, Skowhegan School of Painting and Sculpture, and the Art Students League of New York. Following his studies, Vance maintained a studio in New York City. There he also worked in the exhibition design department at the Metropolitan Museum of Art and was a founding member of the First Street Gallery. In 1971, Barry Vance began spending summers painting in the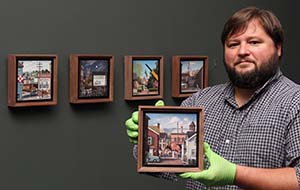 Shenandoah Valley and the Potomac Highlands. Vance and his wife permanently relocated to the area in 1976, and since that time, he has been painting the region's landscape. Barry's Vance's work is in numerous public and private collections and his paintings have been included in museum exhibitions at the Corcoran Gallery of Art, the Huntington Museum of Art, the Butler Institute of American Art, the Roanoke Fine Arts Center, and the Clay Center.
A regional cultural center, the MSV is located at 901 Amherst Street in Winchester, Virginia. The MSV includes galleries, the Glen Burnie House, and seven acres of gardens. The galleries and exhibitions are open year-round; the house and gardens are open April through December. The site is open Tuesday through Sunday from 10 a.m. to 5 p.m. April through December (11 a.m. to 4 p.m. January through March). Admission is $10 or $8 for seniors and youth ages 13 to 18. General admission is always free to youth ages 12 and under and to MSV Members. Thanks to sponsor Howard Shockey & Sons, Inc., admission is free to all every Wednesday and during the weeks between Memorial Day and Labor Day, the MSV is open free of charge each Wednesday until 8 p.m. Additional details are available at www.theMSV.org or by calling 540-662-1473, ext. 235. –END–
Above: Shenandoah Valley [detail], 2013. Painting by Barry Vance.
Top and bottom insets: installation of exhibition Under the Appalachian Sky with MSV Director of Exhibitions Cory Garman. Photos by Rick Foster.