by Director of Gardens Perry Mathewes
A Second Look
One of the great things about working here is the chance to see this garden on a daily basis. Having a membership to the MSV is a pretty good way to have that experience as well, only you don't have to pull the weeds. I remember my first visit here, there was so much to see it was difficult to take it all in. You remember the colorful splashes of flowers or major features like hedges, walls, and pavilions. With each subsequent visit you notice more details. This garden is great at sharing itself over time if you give it a chance.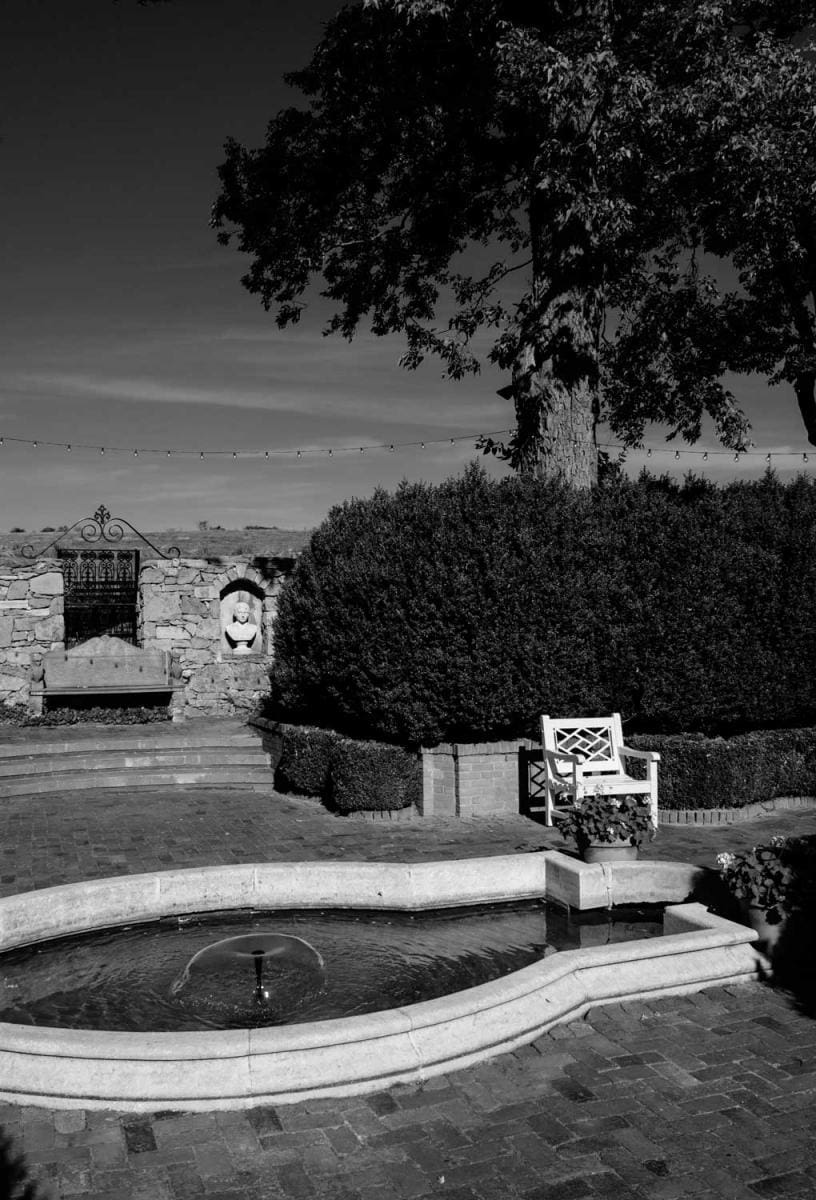 Pink Pavilion Garden in black and white
Looking at garden images in black and white is one way to see new details. Initially, many are drawn to the color in our garden. Visitors linger over the bright yellows and cool blues in the Parterre, enjoy the pinks and reds in the Rose Garden, and marvel at the rainbow of colors in the Perennial Garden. But remove the idea of color and you have to look at other aspects—other details—that the garden offers.

Grand Allée in black and white
Now, we can't shut off seeing in color, so what do you do? Start to look at shapes, textures, lines, and the play of light. Look for the contrast of soft shrubs against firm surfaces of stone walls and brick paths. Look at how shadows dance across the lawn. Look at the arc of a path or stream. Look at the juxtaposition of plants and garden sculpture. Pay attention to those things and you will start to see the garden in a fresh light, appreciating the design as well as the colorful flowers. Once you do that, you will start to notice more things each time you visit.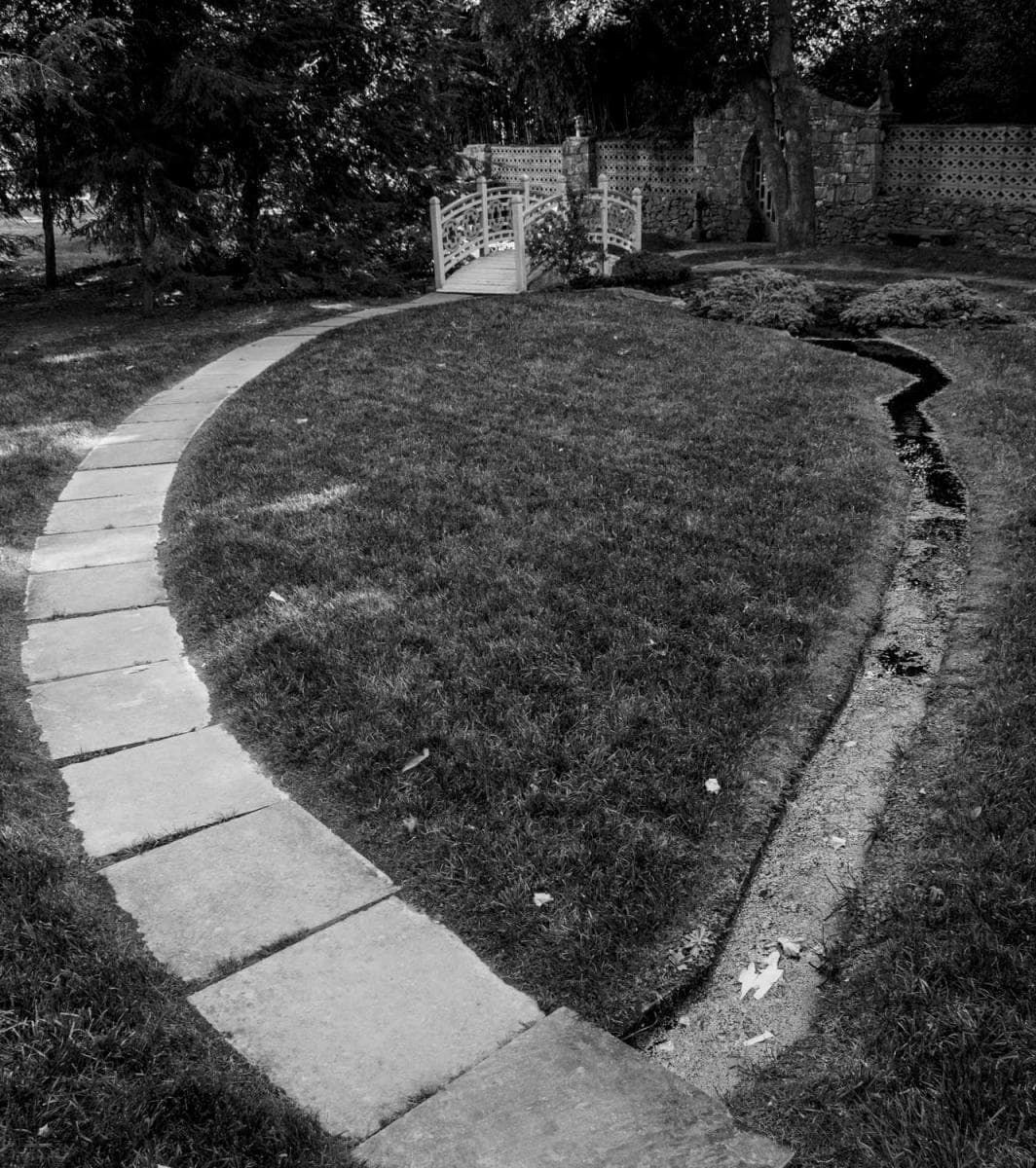 Chinese Garden in black and white
This appreciation of the form instead of color will also open another new door for you. One of the most dominant colors in the garden is green. But for many, it is a background color and we are instead drawn to the reds, yellows, blues, and other colors that stand out against that green. We have green grass, green shrubs, and leafy green trees but they are not what most people notice when they first visit. Thinking in black and white for a few moments may make you appreciate that color even more.

Japanese Lantern in Liriope in black and white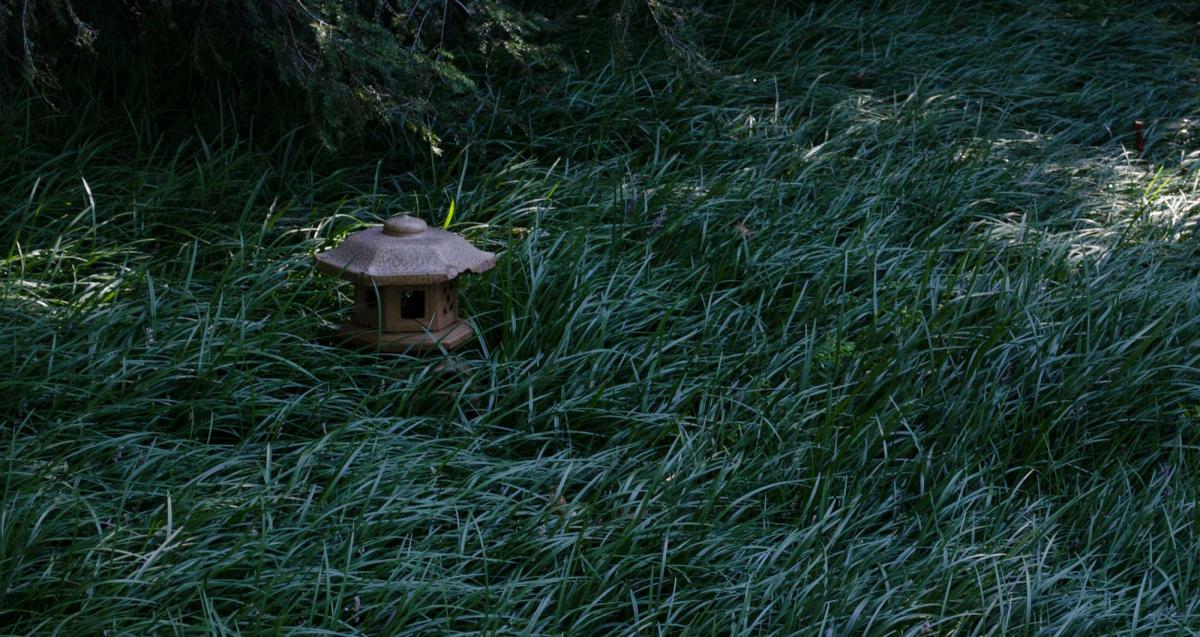 Japanese Lantern in Liriope
So come on out for a visit. Then come again. Then come again and see something new each time.
---
Last chance for FREE extended Wednesday hours for the Glen Burnie House & Gardens is September 2, 2015 (open for free from 10 a.m.–8 p.m. thanks to sponsor Howard Shockey & Sons, Inc.)
Previous Posts:
7/31/15 Cool Plants for the Summer
6/5/15 Let Me Tell You A Story
4/23/15 How Does Your Garden Grow?
Photos by Director of Gardens Perry Mathewes.