Watering the Soul
by Director of Gardens Perry Mathewes
One of the things I really like about this garden is the variety of spaces within it. There is the bright and colorful Parterre Garden, the formal Grand Allée, the intricate Knot Garden, and the playful Pink Pavilion. Each space has its own personality and many are great for gathering and being with friends. They are spaces to celebrate and make joyful noises.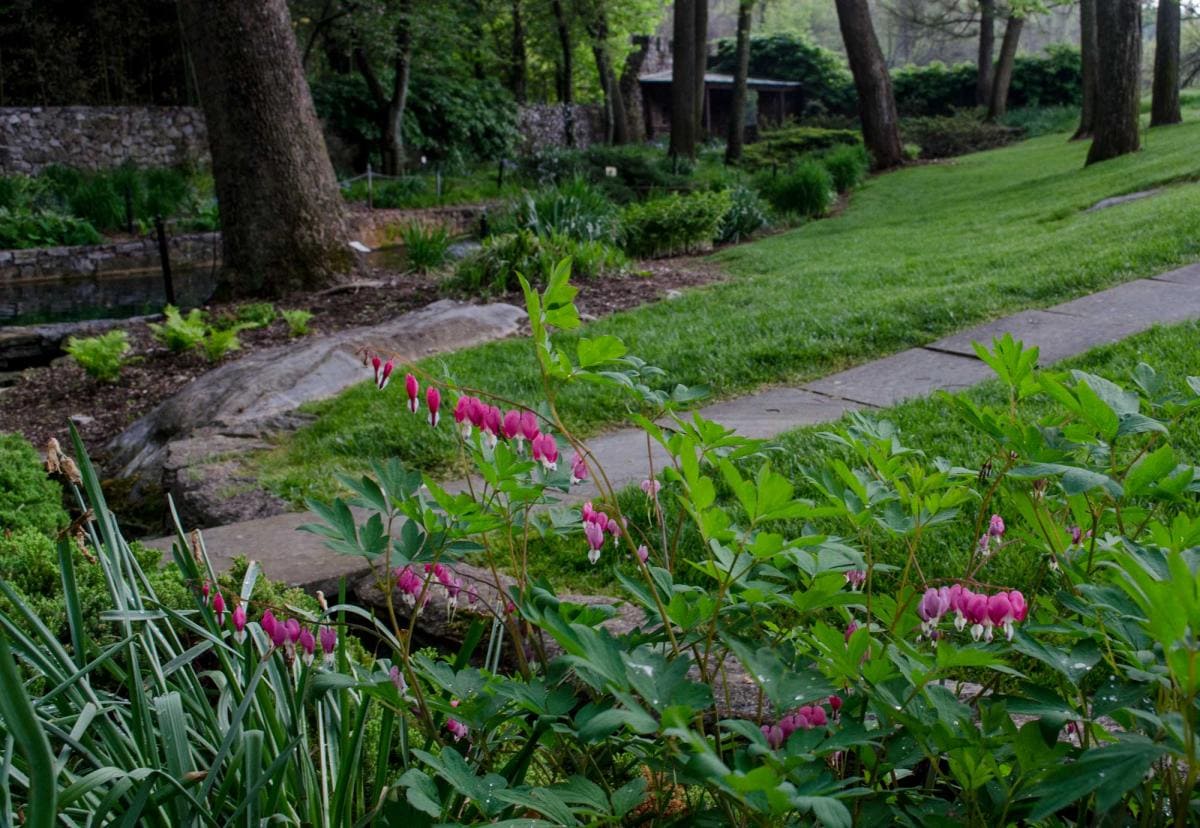 Water Garden Looking South
One of the quieter spots is the Water Garden. Tucked in between a limestone ridge and a wall of bamboo, the noises of the surrounding gardens, the Museum, and Old Town seem to quietly float overhead while the gentle splashes of waterfalls and fountains fill your ears. The insistent call by robins to "cheer up" complement the gurgling noises of water. An occasional "kee-ahh" by the red-shouldered hawk nesting overhead in the ash tree reminds you that you are being watched as you tour this spot. You have entered a space completely different from the rest of the garden.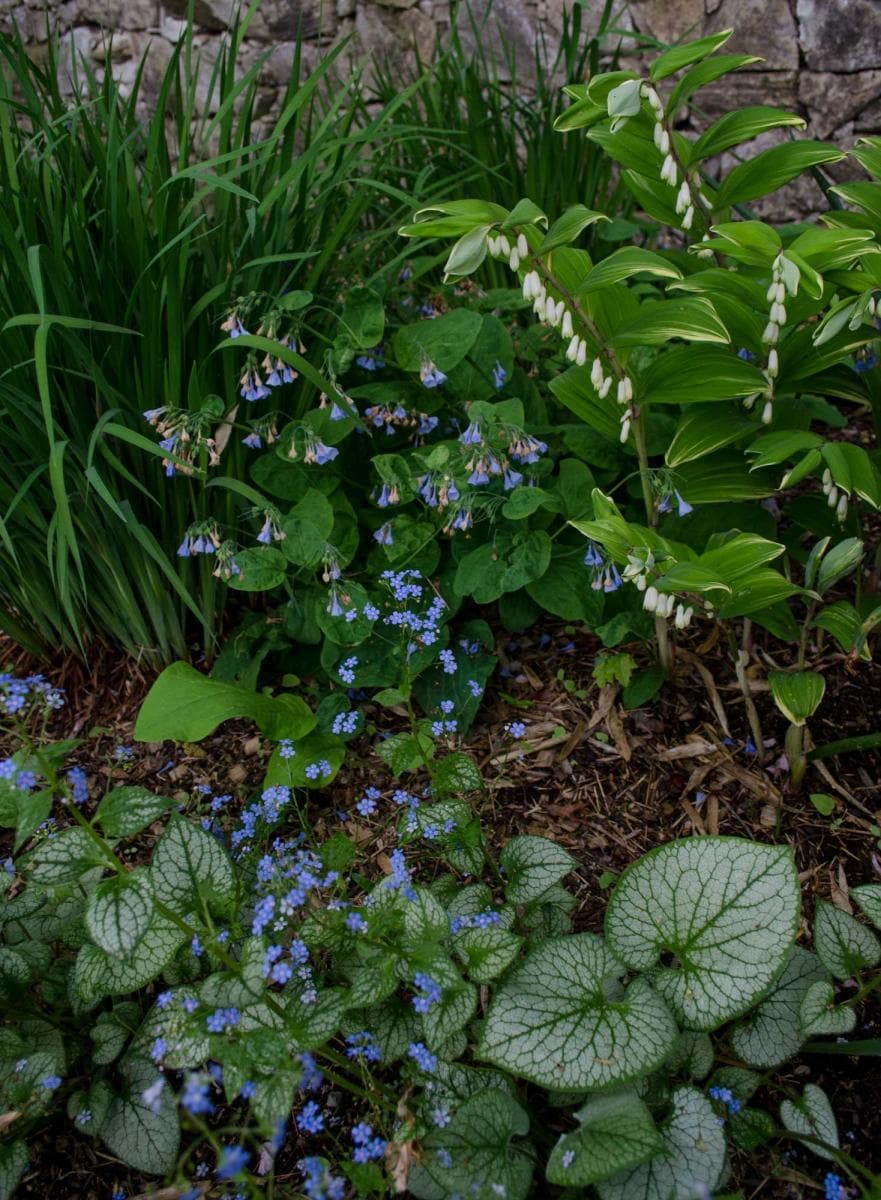 Siberian bugloss (Brunnera macrophylla 'Jack Frost'), Virginia bluebell (Mertensia virginica), and Solomon's seal (Polygonatum odoratum var. pluriflorum 'Variegatum')]
A circuit around the loop walk showcases many flowers right now. You are first greeted by several bright pink bleeding heart flowers, nodding approval as you enter this domain. Ferns, lungwort and foxglove sit quietly along the edge of the pond. Along the back walk, sandwiched between pond and stone wall hide Solomon seal, bluebells, and Siberian bugloss (a.k.a. false forget-me-not). Nearby are more ferns, hostas, and a yellow hybrid trout lily known as Pagoda. Pink petals from a Kwanzan cherry litter the ground, making the various shades of green pop. It is almost impossible to not stop and drink in the sights and sounds of this space. That is why there is a bench placed there—just for you.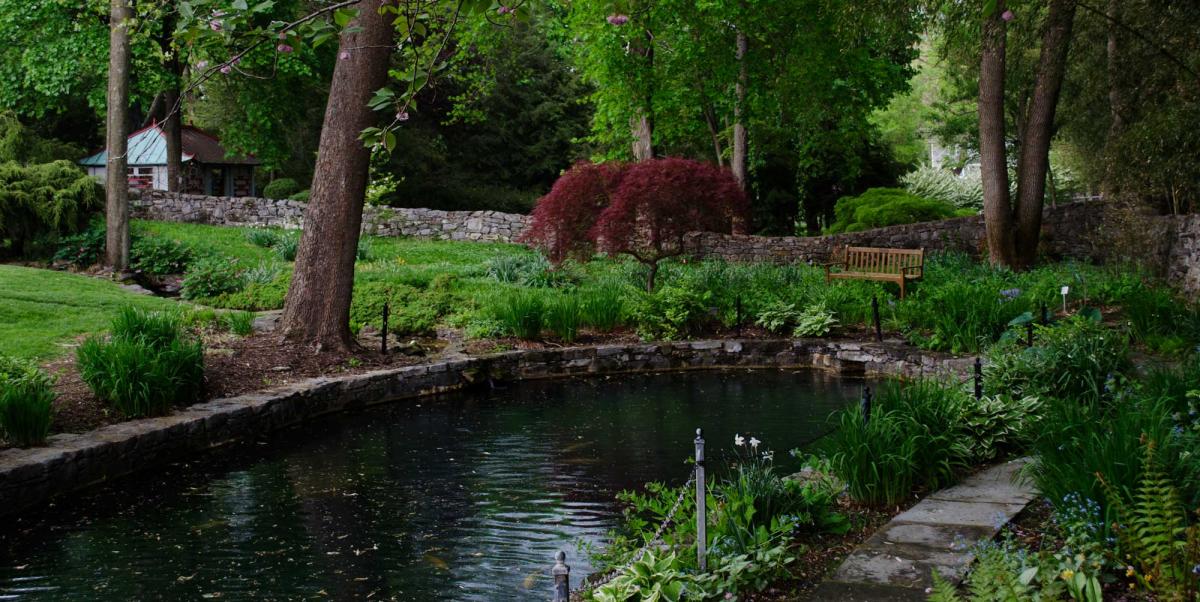 Water Garden Looking North
When I am busy and feeling hectic this is one of the best places to come to slow down, breathe and recharge my personal battery. It is a watering hole for my soul. I highly recommend you try it sometime.
Photos by Director of Gardens Perry Mathewes.