Winter Interest
by Director of Gardens Perry Mathewes
Winter is a great time to plan ahead for your garden. Sitting inside flipping through catalogs, magazines, and gardening books (or at least your iPad) and dreaming about beautiful flowers in the spring and summer is always nice when it's cold outside. But with all that forward thinking, we sometimes forget the beauty that is here and now.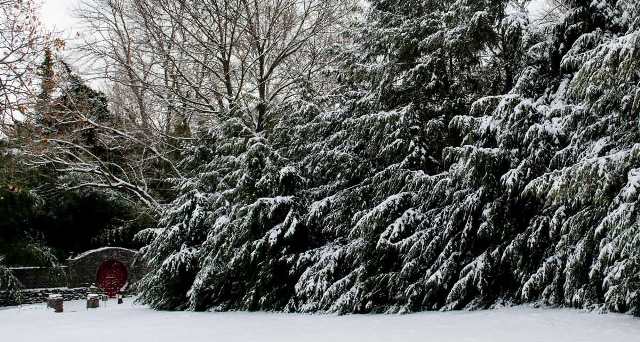 Hemlocks in Snow
I am talking about discovering what is beautiful and interesting in the garden during winter time. Garden writers like to talk about "winter interest," although some don't like that term (see this rant, although I think the writer conflates winter interest with a winter garden). Personally I love gardens in the winter time. It empowers me to look at the space in a whole new way. Instead of being dazzled with colorful flowers and lush green landscapes I am forced to look for and enjoy the subtler beauties nature has to offer.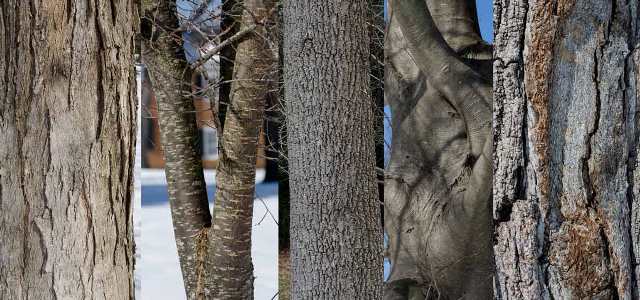 Bark Sampler
How often do you examine the bark of trees? With leaves gone, the hardy covering of these woodland towers gain in prominence. Look for the incredible diversity of bark type: the random ridges running down a maple, the reddish brown markings on an Okame cherry, the plentiful furrows on an ash, the gentle ripples on the otherwise smooth beech bark, and the deep crevices in a black walnut. One of my favorite trees in winter is the sycamore. Mottled bark near the base of the tree gives way to a skeletal white higher up. Very striking on a clear cold day.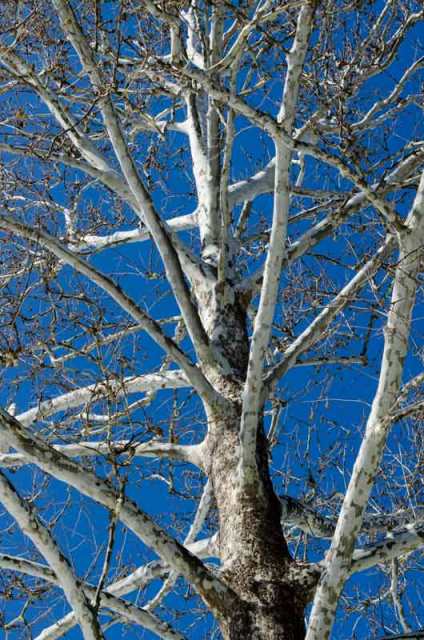 Sycamore
Texture and form gain prominence in the winter landscape. The contorted branches of a Harry Lauder walking stick are easy to enjoy, whereas in the summer they disappear behind a cloak of green leaves. The arching branches of a hedge apple draping itself over a stone wall is readily apparent this time of year. Of course when the snow falls, a white dusting brings out even more detail on many trees, such as the drooping branches on a hemlock or spruce.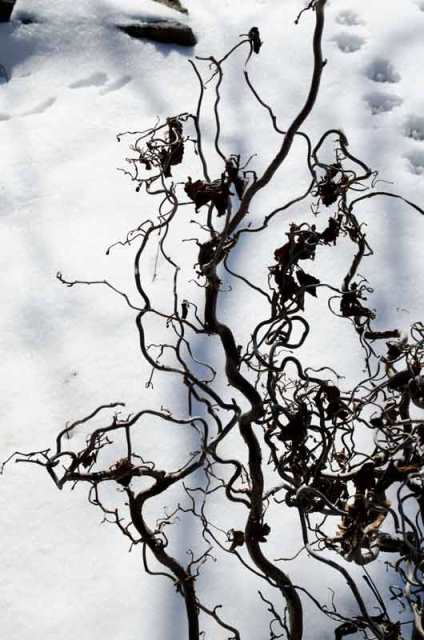 Harry Lauder Walking Stick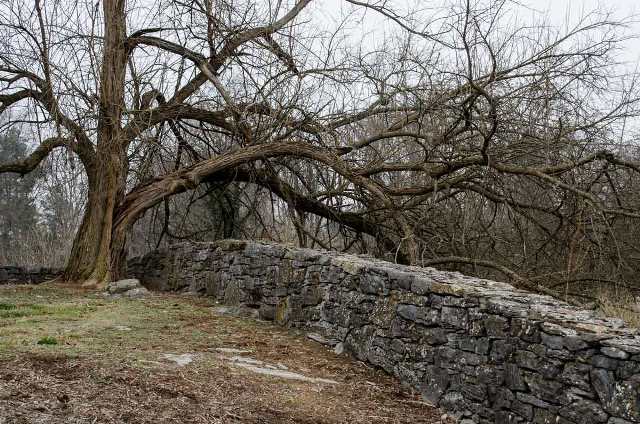 Hedge Apple Wall
So get out and explore the winter garden. Look for the treasures to be found and don't lament the lack of flowers. Besides, when you look close enough, you will see plenty signs of spring – some flower buds are starting to swell.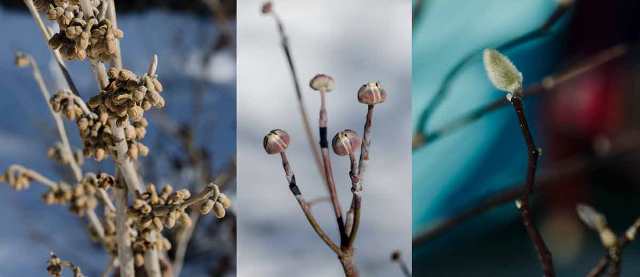 Flower Buds
Previous Posts:
February 12, 2015:    Roses in February
January 29, 2015:     What Gardeners Do in January
Note: All photos by Director of Gardens Perry Mathewes.