http://themsv.org/event/new-program-stroller-stroll-face-faceStroller Strolls Program on Friday, March 13, Features Guided Tour of Portraiture Exhibition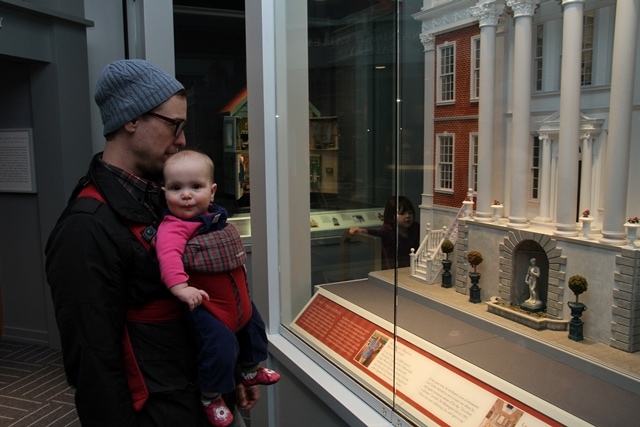 Winchester, VA 3/09/15…Those interested in participating in an upcoming gallery tour highlighting eighteenth-century portraiture at the Museum of the Shenandoah Valley (MSV) will need to bring a baby along. Just for adults with babies in strollers or carriers, the MSV Stroller Stroll tour of Face to Face: Portraits from the Julian Wood Glass Jr. Collection will take place from 9:30 to 11 a.m. this Friday, March 13.
According to MSV Deputy Director of Arts and Education Nancy Huth, the Stroller Stroll program is designed to offer parents and caregivers the opportunity to experience the Museum and enjoy adult conversation and a guided gallery tour during which no one minds if a baby coos or cries.
Friday's program will include coffee and pastries followed by a casual tour—led by Huth and geared toward adults—of the MSV exhibition Face to Face: Portraits from the Julian Wood Glass Jr. Collection.
On view in the Museum's Founders Gallery, Face to Face examines the world of eighteenth- and early nineteenth-century portraiture with the display of 35 British, American, and Dutch portraits from the collection of MSV benefactor Julian Wood Glass Jr. The exhibition features works by renowned artists, such as Rembrandt Peale, George Romney, Gilbert Stuart, Sir Henry Raeburn, John Singleton Copley, Sir Thomas Lawrence, and Thomas Gainsborough.
Complemented by eight mirrors from the Glass Collection dating from 1735 to 1840, the portraits on display in Face to Face are grouped by subject matter in five sections: military men, ladies, gentlemen, families and children, and nobility. Friday's tour will focus on select portraits of women and families and include a discussion of the fashions depicted in the paintings.
Following the 30- to 40-minute guided tour, Stroller Stroll participants are welcome to explore all of the MSV galleries and exhibitions on self-guided tours.
Registration for Friday's program—which includes admission to all galleries and exhibitions, the guided tour, coffee, and pastries—is $5 for MSV Members or $10 for all others (free to babies). As space is limited, those interested in participating in  the program must register by 5 p.m. on Thursday, March 12. Register online or call 540-662-1473, ext. 240.
Friday's Stroller Stroll program was designed for adults with babies in strollers or carriers; the tour is not designed to accommodate toddlers.
The Museum of the Shenandoah Valley is located at 901 Amherst Street in Winchester, Virginia.
The MSV complex—which includes the Museum, the Glen Burnie House, and six acres of gardens—is open Tuesday through Sunday. The galleries are open year-round; the gardens are open April through October. Additional details are available at www.theMSV.org or by calling 540-662-1473, ext. 235.  – END –