Newest Museum of the Shenandoah Valley Exhibition
Showcases Feline-themed Works by Théophile-Alexandre Steinlen
Winchester, VA 5/01/2019. Cats are taking center stage at the Museum of the Shenandoah Valley (MSV).  From May 2 through September 1, 2019, feline-themed works by Théophile-Alexandre Steinlenn will be on view in the traveling exhibition Steinlen: Cats.
A French-Swiss artist whose career spanned the transition from Art Nouveau to Modernism, Théophile-Alexandre Steinlen (1859–1923) was a printmaker, illustrator, painter, and sculptor. Steinlen often depicted animals in his work, specifically cats, as well as the bohemian cabaret culture of turn-of-the-century Paris. Cats appealed to Steinlen because of their charm, personality, and movement, and he tried to capture these qualities in his art.
Organized by the Virginia Museum of Fine Arts, Steinlen: Cats focuses exclusively on the artist's images of cats as he experimented with a wide range of styles. The exhibition presents 26 works made between 1894 and 1923, and includes drawings, lithographs, a bronze sculpture, and books featuring Steinlen's cat illustrations.
According to MSV Director of Exhibitions Corwyn Garman, the exhibition is a must-see for fine art enthusiasts and fans of French poster art. "We are excited to give cat lovers the opportunity to see this exhibition of beautiful, feline-themed art," Garman adds.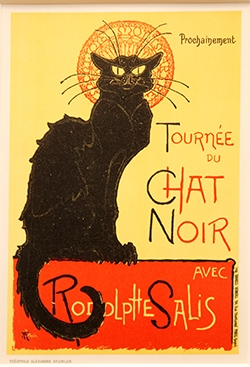 Steinlen's best-known work—the cabaret advertisement The Black Cat Cabaret (La Tournée du Chat Noir), the 1896 poster featuring a black cat silhouetted against a burnt orange background—is now an icon of the "poster craze" of the late 1800s. A version of this poster is among the works on view in Steinlen: Cats. The exhibition features both highly stylized and tender, realistic images, such as a blue crayon sketch dating to 1910–20 of a cluster of kittens snuggling with their mother.
The exhibition also features a "Sketch and Post" interactive where visitors of all ages may try their hand at drawing cats. Visitors are encouraged to post their feline drawings in the exhibition and share them on social media with the hashtag #CatsatTheMSV.
Several programs are taking place at the MSV in conjunction with Steinlen: Cats. A pet portrait painting class is being offered from 6 to 9 p.m. on June 19. The cost for the class is $40 for MSV Members and $45 for all others. An adult cat toy construction workshop will will be held from 6 to 8 p.m. on July 17. The cost of the workshop—which includes materials to make three different types of cat toys—is $20 for MSV Members and $30 for all others. Guided gallery talks highlighting works on view in Steinlen: Cats will take place from 2 to 3 p.m. on July 26 and July 28. Led by MSV Deputy Director of Arts and Education Nancy Huth, the talks are free to MSV Members and $15 for all others. Advance registration for these programs is required. Those interested in registering for the workshops or gallery talks may do so on www.theMSVorg or by calling 540-662-1473, extension 240.
In addition and throughout the month of August, cat lovers of all ages may drop in to the MSV Makerspace Studio to make cat toys from noon to 6 p.m. on Sundays and 4 to 7:30 p.m. on Tuesdays. Admission to the Makerspace is $10 per adult and $5 per child, or for MSV Members, $8 per adult and $4 per child. Supply kits to make cat toys are available for purchase ($5; while supplies last).
A regional cultural center, the MSV is located at 901 Amherst Street in Winchester, Virginia. The MSV includes galleries displaying permanent collections and rotating exhibitions, the Glen Burnie House, seven acres of gardens, and is the future home of The Trails at the MSV, a 90-acre art park with three miles of trails. The MSV is open from 10 a.m. to 5 p.m. Tuesday through Sunday. Admission is $10 or $8 for seniors and youth ages 13 to 18. General admission is always free to youth ages 12 and under and to MSV Members. Thanks to corporate partner Howard Shockey & Sons, Inc., admission is free to all every Wednesday, and  between Memorial Day and Labor Day, the MSV is open free of charge each Wednesday until 8 p.m. Additional details are available at www.theMSV.org or by calling 540-662-1473, ext. 235. –END–