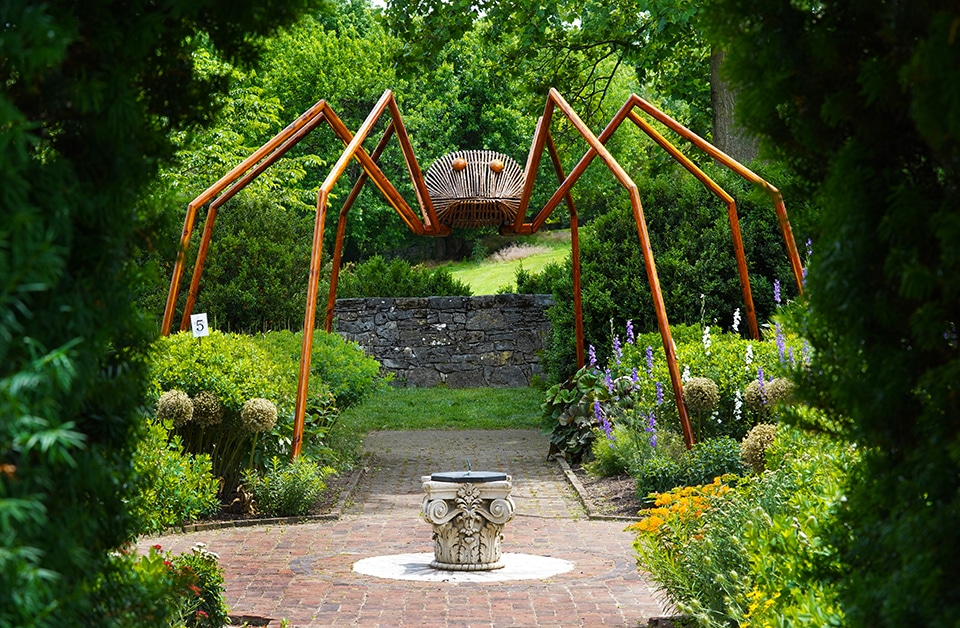 Beware! Giant Bugs to Prowl the MSV Landscape!
David Rogers' Big Bugs Exhibition Opens June 23 in Museum Gardens
Winchester, VA  06/17/20… Visitors are advised to be on the lookout for giant bugs invading the gardens at the Museum of the Shenandoah Valley! But it is all in great fun, beginning June 23 when the outdoor exhibition David Roger's Big Bugs displays giant sculptures of insects through November 15, 2020.
Artist David Rogers, Long Island, New York, created these gargantuan bugs from forest materials, such as fallen trees, cut green saplings from the willow family, dry branches, and a variety of woods. The result is a fascinating traveling exhibition that has captivated visitors in such prestigious locations as the U.S. National Arboretum, the United States Botanic Garden, Epcot at Walt Disney World Resort, Longwood Gardens, and more.
In the MSV Perennial Garden, visitors to Big Bugs will stroll beneath a 10-foot-tall daddy long legs spider. In front of Glen Burnie House, an 18-foot-long praying mantis weighing 1,200 pounds lurks. And on the pond of the Water Garden, a 17-foot-wide dragonfly hovers.  In all, the traveling exhibition brings ten fascinating sculptures to the Museum's seven-acre gardens.
Along with seeing larger-than-life bug sculptures in a beautiful setting, visitors to David Rogers' Big Bugs will learn about the important role insects play in nature. Next to each giant sculpture, a family friendly interpretive sign provides the actual size of the bug depicted by the artwork, the role the bug plays in the garden, and where one might find the insect in the MSV landscape. For example, the information panel near the 2-foot-long bee on a nine-foot-tall flower in the Rose Garden notes that real bees are about half an inch long and found on a wide variety of plants in the MSV gardens, including pansies, zinnias, and asters.
In addition to the insect sculptures, the exhibition also includes the artist's sculpture of a carved hummingbird on a seven-foot-tall flower. This sculpture is on view in Kathie's Spring Garden, where real hummingbirds are often seen in the mornings at the MSV.
Admission to Big Bugs—which includes admission to the MSV galleries— is $15, $10 to youth (age 13–18) and to seniors (60+), $5 to ages 5–12, free to ages 4 & under, and free to MSV members. Thanks to exhibition sponsor Navy Federal Credit Union, admission to Big Bugs is free to all active duty, National Guard, and Reserve military personnel and their families and to individual retired veterans (military ID required). MSV gallery admission is always free to ages 12 & under and free to all on Wednesdays; however, these free admission offers do not include David Rogers' Big Bugs.
Those visiting the MSV galleries and Big Bugs Pop-Up Shop in the gardens must wear face masks in compliance with the requirements of the Commonwealth of Virginia. Both indoors and outdoors, MSV guests are being asked to follow recommended physical distancing guidelines of 6 feet.
Along with title sponsors Navy Federal Credit Union and Shenandoah Country Q102, the MSV display of Big Bugs is sponsored by AirPac, Inc.; Annandale Millwork & Allied Systems Corp.; Barrett's Horticultural Services, LLC; Blauch Brothers, Inc.; Chick-fil-A; Four Winds Tree Experts; iHeartMedia; Lantz Construction Company; Marlow Motor Company; Perry Engineering Company, Inc.; Reader & Swartz Architects; Simpson, Gumpertz & Heger, Inc.; Six Star Events; The Feltner Group; The Winchester Group Inc./Erie Insurance; and Yount, Hyde, and Barbour.
A regional cultural center, the MSV is located at 901 Amherst Street in Winchester, Virginia. The MSV includes galleries displaying permanent collections and rotating exhibitions, the Glen Burnie House, seven acres of gardens, and is the future home of The Trails at the MSV, which will provide three miles of trails for walking, running, or biking. The MSV is open Tuesday through Sunday from 10 a.m. to 5 p.m. Each Wednesday now through September 2, the MSV is open until 8 p.m. Additional details and information about programming organized in conjunction with David Rogers' Big Bugs  is available at www.theMSV.org–END–
Exhibition downloads:
Big Bugs Family Guide
Big Bugs Spanish Language Guide
Big Bugs Garden Map