Beginning in 2016, the National Museum of Women in the Arts (NMWA) in Washington D.C. asked a simple question: can you name #5WomenArtists?
By Adult Programs Manager Sally Meyer
The first time I saw this question I was indignant. Of course I could! I came up with a few, but the rest sat at the back of my brain drowned out by the multitude of male artists that have had endless exhibitions, books, and presentations devoted to them.  This isn't to say that male artists haven't created some of the most inspiring artwork in the world, but women were often working right alongside them, uncredited, or women's work was considered "craft" rather than high art. In Janson's Basic History of Western Art, 8% of the 300+ artists listed are women, less than 1% are women of color.[1] At the MSV, we've joined with a lot of other institutions to help even the balance. You can read about what our Curator of Collections Nick Powers has been bringing into the collection in the past months in our past blog here.
In recognition of the charge from the NMWA and the MSV's 15th Anniversary this month, I wanted to share a quick look at #15WomenArtists represented in the MSV collection. Click on the artist names to learn more!

Fig. 1. Harvest Ghost by Sally Veach (American, b. 1962), Woodstock, VA, 2018. Signed on back: "Sally Veach / 'Harvest Ghost' / 2018". Oil on canvas. Collection of the Museum of the Shenandoah Valley, 2018.15.1. Photo by the artist.
Sally Veach (American, b. 1962)
If you've been by the MSV in previous recent months, you may have seen Ghosts of a Forgotten Landscape: Paintings by Sally Veach. Her interest in humans' relationships with nature led her to develop a body of work around endangered barns in the Shenandoah Valley.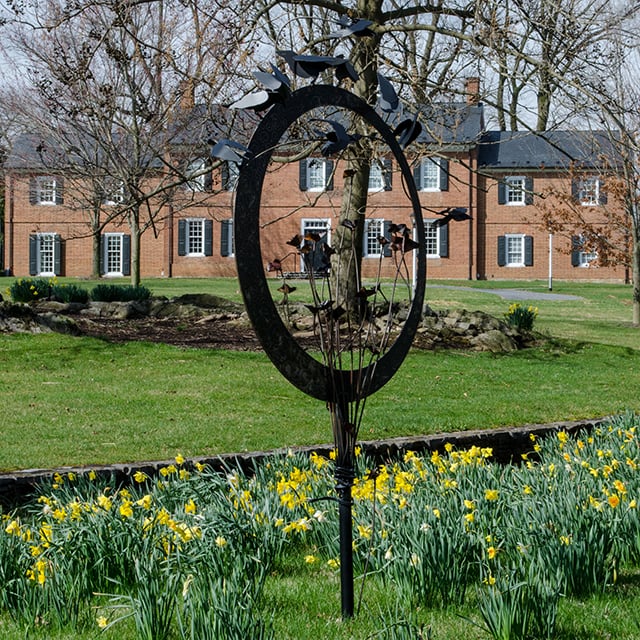 Fig. 2. Unbroken Circle with Poppies by Sally Myers, Winchester, VA, 2019. Steel, copper. Collection of the Museum of the Shenandoah Valley, Purchased with funds provided by Jaimianne and Anthony Jacobin, 2019.11
Sally Myers is a Valley artist who creates sculpture that reflects her relationship with nature. Her work Unbroken Circle with Poppies can be seen in the MSV's Spring Garden.
Rachel "Ren" Crawford (American, b. 1933)
A resident of the Shenandoah Valley, Ren Crawford's contemporary abstract artwork Wild Horse has been on view in Vital Force since last winter. The artist says she relies on "pure color, line, and movement for her compositions."
Dolores Bausaum (American)
Dolores Bausaum designed quilts and represented the master needlecrafters who stitched them. These quilts were part of the Art in the Embassies program through the U.S. State Department on view in museums and locations in Virginia, Portugal, Luxembourg, Georgia, Kyrgyzstan, Texas, and Washington D.C.
Natasha Beshenkovsky (Russian-American)
A favorite spot in the MSV galleries for children and adults alike is the R. Lee Taylor Miniatures Gallery. World-renowned artisan Natasha Beshenkovsky created five miniature tables in the MSV Collection including one in "Lee Hall" exhibiting extreme attention to detail and craftsmanship.
Katharine "Kate" Glass Greene (American, 1865-1948)
Katharine Glass Greene was a Winchester native, artist, and art teacher who founded and oversaw Fort Loudoun Female Seminary in Winchester. Art was a central focus of the seminary's coursework, presumably taught in part by Katherine.
Grandma Moses (American, 1860-1961)
Anna Mary Robertson Moses or "Grandma Moses" did not begin painting until she was in her late 70s. At first, she worked with whatever materials were at hand, later gaining an international reputation for her self-taught or "naïve" artwork depicting farm scenes in New York and Virginia.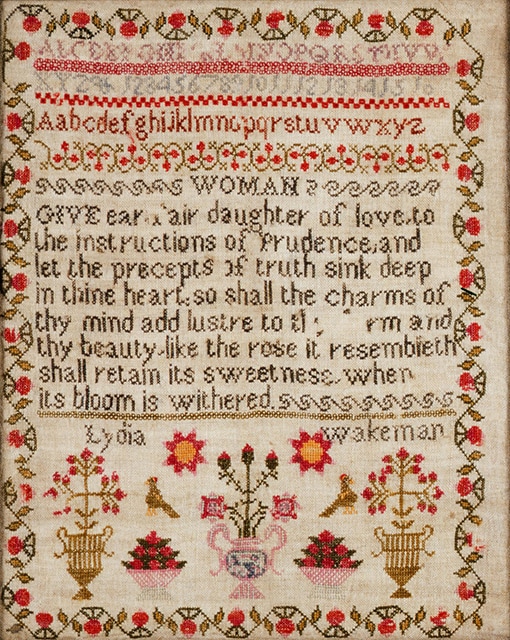 Fig. 3. Sampler by Lydia C. (Wilkins) Wakeman (American, 1855-1896), Shenandoah County, VA, ca. 1879. Linen ground with wool yarn. Collection of the Museum of the Shenandoah Valley, 2001.13.821. Photo by Ron Blunt.
Lydia C. Wakeman (American, 1855-1896)
Samplers like this one might have been used to help a young girl learn the alphabet and how to read. It also displayed her sewing and embroidery skills. Lydia Wakeman included the alphabet, numbers, a book passage, decorative urns, and her name on this sampler!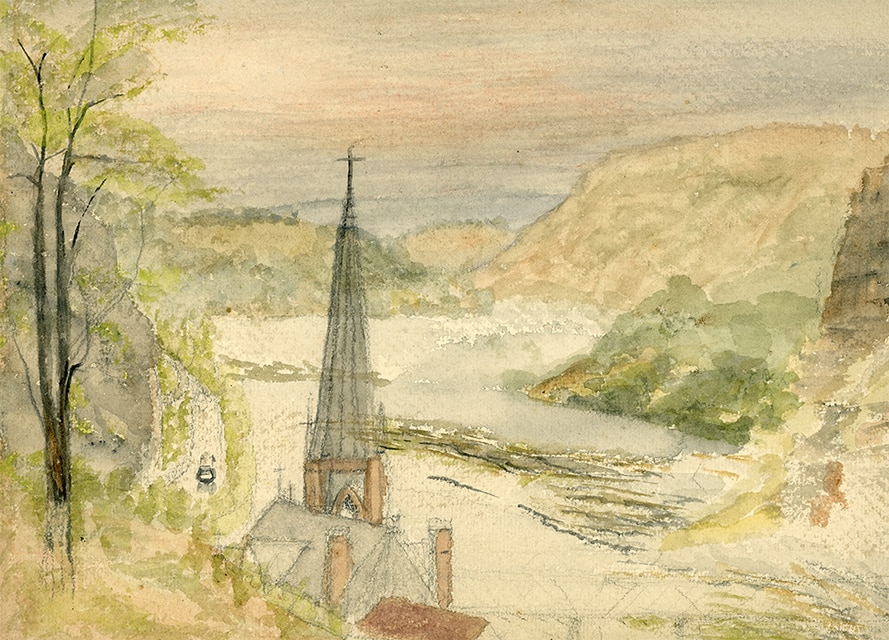 Fig. 4. View of Harpers Ferry from Jefferson Rock attributed to Louise Wood Brackett (American, 1842-1936), Harpers Ferry, WV, late 1800s or early 1900s. Watercolor and ink on paper. Collection of the Museum of the Shenandoah Valley, gift of Mrs. Anne Dungan, Mr. John C. Newcomer, Mr. Thomas W. Newcomer, and Mrs. Elizabeth Snyder, 2009.0010.9.
Louise Wood Brackett (American, 1842-1936)
Following the Civil War, Louise Wood Bracket founded Storer College for African American students in Harpers Ferry, West Virginia, with her husband . Louise taught art to the students and created several watercolor and ink drawings of Harpers Ferry.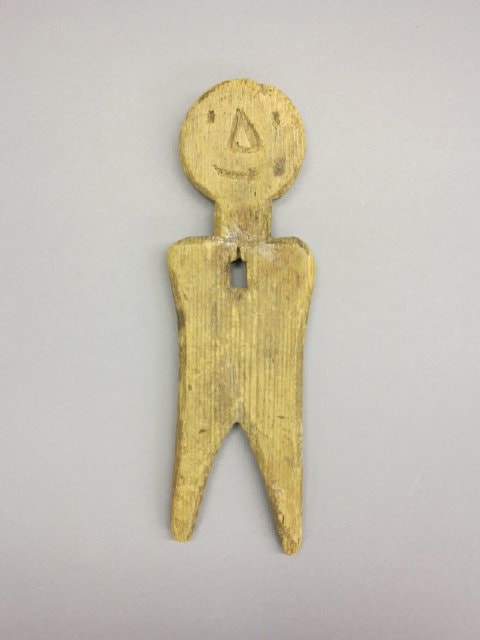 Fig. 5. Doll by unknown maker, attributed to an enslaved person on the John Branner farm, Forestville, Shenandoah County, VA, 1850-1860. Carved pine. Collection of the Museum of the Shenandoah Valley, Gift of Nancy Branner Stewart in honor of Naomi Kibler, 2017.09.1.
Unknown, mid-1800s.
Scholars have compared this doll to West African akua'ba fertility figures worn by women who were hoping to have a child. This doll was found in a hidden nook on a farm in Shenandoah County and was likely owned by an enslaved woman. While we don't know who made this doll, it emphasizes how far museums still have to go to ensure that collections represent all cultures and experiences.
Emilie Preyer (German, 1849-1930)
Known for her still life paintings, Preyer learned to paint from her father, as women were not allowed to enroll in formal art schools. She was popular with American collectors and two of her still life paintings hang in the main hall in the Glen Burnie House.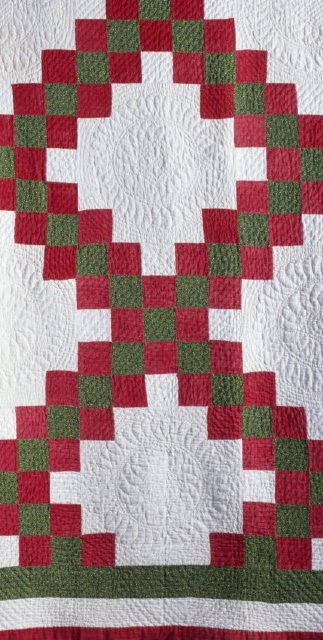 Fig. 6. Double Irish Chain Quilt attributed to Catharine Rachel Fries (Lewis) (1839-1912). Frederick County, VA, 1859-1861. Cotton. Collection of the Museum of the Shenandoah Valley, 2000.08.1. Photo Ron Blunt.
Catherine Rachel Fries (American, 1839-1912)
This quilt is signed by Catherine Rachel Fries of Frederick County, VA. It was made in the mid-1800s and is an example of the beautiful quilts made by female artisans in their homes.

Fig. 7. The Valley of the Shenandoah by Currier & Ives after Frances "Fanny" Flora Bond Palmer (Anglo-American, 1812-1876), New York, NY, 1864. Hand-colored lithograph. Collection of the Museum of the Shenandoah Valley, 2007.0015.1.
Fanny F. Palmer (Anglo-American, 1812-1876)
Frances "Fanny" Flora Bond Palmer was an English illustrator who immigrated to the United States and began working for Currier and Ives. Though largely unrecognized in her lifetime, she designed over 200 prints, including this one depicting the Shenandoah Valley.
Jane Stuart (American, 1812-1888)
Stuart was a talented painter and portraitist who learned to paint by observing and assisting her father, Gilbert Stuart. She supported her family after her father's death by creating original work and teaching art, as well as by copying and completing her father's artwork.

Fig. 8. A Picnic in England, Rolinda Sharples (British, born in America, 1793-1838). 1825. Oil on canvas. Collection of the Museum of the Shenandoah Valley, Julian Wood Glass Jr. Collection, 0156. Photo by Ron Blunt.
Rolinda Sharples (British, born in America, 1793-1838)
Sharples was born in America but active in Britain. She mastered pastel and painting under the instruction of both her parents. She painted individual and group portraits including this one acquired by Julian Wood Glass Jr.
Looking over these artists and artisans and their works, you get a wide-ranging representation of the MSV's Collection and how it reflects our mission "to preserve and enrich the cultural life and heritage of the Valley." Women artists have been an essential part of contributing to the history and culture of the Shenandoah Valley. When our doors reopen, we hope you'll keep your eyes peeled for these #15WomanArtists!
---
[1] #5WomenArtists. National Museum of Women in the Arts. Washington, D.C. <https://nmwa.org/5WomenArtists>