Superheroes and Superstars: The Works of Alex Ross Will Close May 14
at the Museum of the Shenandoah Valley in Winchester, VA
WInchester, VA 05/03/17…The popular exhibition Superheroes and Superstars: The Works of Alex Ross, now on view at the Museum of the Shenandoah Valley (MSV) in Winchester, Virginia, will soon close, with May 14, 2017, being its final day at the MSV.
According to MSV Executive Director Dana Hand Evans, the exhibition, which features the work of one of the world's greatest comic book artists, has been extremely popular, especially with families. She urges all those who have yet to see the exhibition, or those who wish to see it again, to hurry into the MSV in the next two weeks, as it is not possible to extend the run of the display.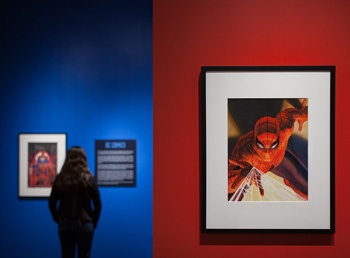 The MSV is the first venue to host this traveling exhibition, which has been organized by the Norman Rockwell Museum in Stockbridge, Massachusetts. The exhibition's MSV display is sponsored by Shenandoah Country Q102.
According to Superheroes and Superstars curator Jesse Kowalski, Alex Ross has revitalized classic superheroes into works of fine art with his unique, painted, photo-realistic style.
"The MSV has been thrilled to be the first venue to present Superheroes and Superstars," notes MSV Executive Director Dana Hand Evans, who adds that the Museum jumped at the chance to bring the exhibition to the region.
"Alex Ross is one of the premier illustrators of our time," says Evans. Along with offering comic book fans a rare opportunity to see Ross's original artwork of classic superheroes, such as Wonder Woman, Superman, and Spider-Man, Evans says the exhibition illustrates the Museum's commitment to present contemporary art in the Shenandoah Valley.
Superheroes and Superstars includes more than 100 original works created by Alex Ross, all on public display for the first time. Most of the works in the exhibition are on loan from Ross's personal collection.
The exhibition features Alex Ross's well-known images of superheroes, villains, and his recent paintings of popular culture icons, such as The Beatles and Monty Python. Paintings, sketches, and models from his childhood and college years are also on view, including "Spidey" booklets that Ross created at the age of four, action figures he made when he was 11 years old, and a self-portrait for a high school art class. Some of Ross's more recent works in Superheroes and Superstars include A Tale of Two Reeves, a 2016 painting illustrating the two actors audiences most identify with Superman; the 2016 Hulk Marvelmania poster painting; Flash Gordon, a 2015 painting marking the 35th anniversary of the Flash Gordon film; and Ross's variant cover for Star Wars #1, an homage to the original 1977 issue for Marvel's relaunch of the classic Star Wars comic book series.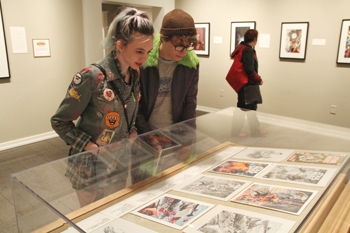 Comic book fans are encouraged to stop by the Museum Store where a variety of Alex Ross merchandise is available for purchase, including a limited number of lithographs of Ross's The World's Greatest Superheroes ($50), released at the MSV on April 1. Painted in 2005 and on view in Superheroes and Superstars, the work features the most recognizable superheroes of DC Comics. In addition to the new print, books ($25–$200), mini-canvasses ($150), sets of Ross's Yellow Submarine portraits of John Lennon, Paul McCartney, Ringo Starr, and George Harrison ($200–$1,500), and a limited supply of Flash Gordon prints signed by Alex Ross ($100) are available for purchase.
A regional cultural center, the MSV is located at 901 Amherst Street in Winchester, Virginia. The MSV includes galleries, the Glen Burnie House, and seven acres of gardens. The galleries and exhibitions are open year-round; the house and gardens are open April through December. The site is open Tuesday through Sunday from 10 a.m. to 5 p.m. (11 a.m. to 4 p.m. January through March). Admission is $10 or $8 for seniors and youth ages 13 to 18. General admission is always free to youth ages 12 and under and to MSV Members. Thanks to sponsor Howard Shockey & Sons, Inc., admission is free to all every Wednesday. Additional details are available here or by calling 540-662-1473, ext. 235. –END–
About Alex Ross:
Alex Ross was born in Portland, Oregon, in 1970 and raised in Lubbock, Texas. At just three years of age, he was drawing television commercials from memory. By the time Alex Ross was 13, he was drawing and scripting comic books. At the age of 17, Ross enrolled in the American Academy of Art in Chicago.
Alex Ross began his professional career as a storyboard artist for an advertising agency. When he was 19, Alex Ross received his first comic book assignment from NOW Comics – to illustrate the comic book series, Terminator: The Burning Earth. Five years later, Ross created the illustrations and cover art for Marvels (1994), a comic book series co-written by Kurt Busiek which featured Marvel's central characters, such as Spider-Man, the Human Torch, Captain America, and Galactus. His sophomore project, Kingdom Come (1996), was a comic book series in which an alternate DC Universe is filled with aging superheroes, including Superman, Wonder Woman, and the Green Lantern, who come out of retirement to fight a new generation of superhuman beings.
Alex Ross won the Comic Buyer's Guide Award for Favorite Painter seven times in a row, resulting in the retirement of the category.
In recent years, Ross has applied his artistic skills to outside projects with comic book roots, including a limited-edition promotional poster for the Academy Awards. In 2015, Alex was chosen by Apple Corps LTD to be commissioned as the first artist in more than 30 years to paint the Fab Four. Driven by the legendary music of The Beatles and inspired by the generation's new trends in art, Yellow Submarine is a classic of animated cinema. Alex has often been referred to as "the Norman Rockwell of comics."  Even so, his Yellow Submarine artwork reveals the similarly powerful influence of master surrealist Salvador Dali, whom Alex has also recognized as a guiding influence on his style.