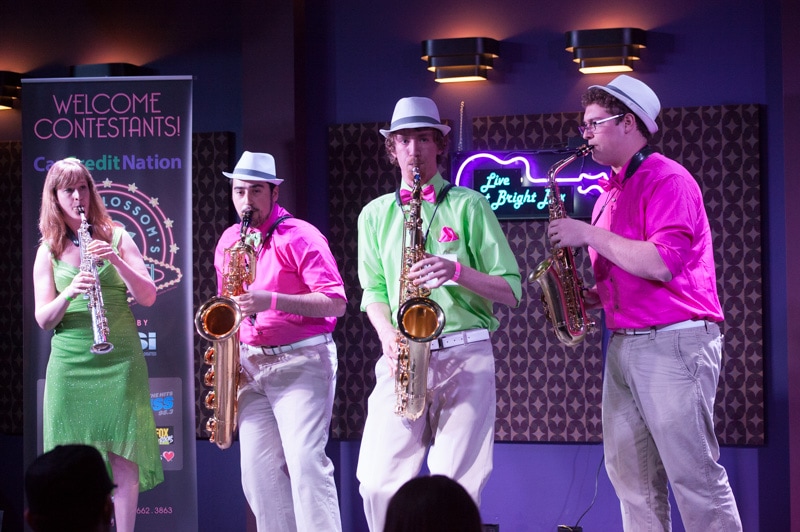 SU Conservatory Doahnamics Saxophone Quartet to Perform at 2 p.m.
FREE Student and SU Faculty Admission
Winchester, VA 04/24/15…The Doahnamics Saxophone Quartet will perform classical, jazz, and pop music in a 2 p.m. show at the Museum of the Shenandoah Valley (MSV) this Sunday, April 26.
Part of the monthly "Afternoons at the MSV" concert series presented by the Museum in partnership with Shenandoah Conservatory, Sunday's program is free to MSV Members, all Shenandoah University students and faculty (with identification), and youth ages 12 and under. For all others, the cost is just $10 ($8 youth/senior) and includes the performance and admission to the MSV galleries, the Glen Burnie House, and site's six-acre gardens.
A four-member band comprised of students from Shenandoah Conservatory, Winchester, Virginia, the Doahnamics Saxophone Quartet includes Nessyah Buder, Jonathan Mills, Drake Stoughton, and Joey Speranzo. According to saxophonist Jonathan Mills, each member of the quartet brings unique specialties and tastes to the band; therefore, the quartet's repertoire ranges from baroque to classical, ragtime to jazz, and also includes rock, popular, and contemporary genres. The quartet was a top ten finalist in the 2014 Apple Blossom's Got Talent competition.
Those planning to attend Sunday afternoon's performance are encouraged to arrive early; seating is limited and will be on a first-come, first-served basis. Tickets for the concert will be available at the Visitor Information Desk beginning at 10 a.m. on Sunday.
Before or after the performance, attendees are invited to tour the MSV and experience new exhibitions and blooming gardens. On view in the Founders Gallery, Face to Face: Portraits from the Julian Wood Glass Jr. Collection features 35 portraits by renowned eighteenth and nineteenth-century American and European artists. In the MSV's Glen Burnie House, Beauty in Botany features 22 botanical-themed works by seven celebrated regional botanical artists. Works included in the exhibition range from scientifically precise botanical illustrations of various stages of a plant's life cycle to more expressive renderings of flowers. Surrounding the house, the six-acre Glen Burnie Gardens feature colorful spring flowers such as tulips, daffodils, and blooming crabapple trees.
Following Sunday's recital, the spring's final "Afternoons at the MSV" will take place on May 17 and will feature a performance of classical and Romanian folk music from the trio Amor e Saudade.
The Museum of the Shenandoah Valley is located at 901 Amherst Street in Winchester, Virginia. The MSV complex—which includes galleries, the Glen Burnie House, and six acres of gardens—is open Tuesday through Sunday from 10 a.m. until 4 p.m. The Museum galleries are open year-round; the house and gardens are open April through October. Admission is $10 or $8 for seniors and youth ages 13 to 18. General admission is always free to youth ages 12 and under and to MSV Members, and thanks to generous sponsorship from Howard Shockey & Sons, Inc., it is free to all every Wednesday. During the weeks between Memorial Day and Labor Day, the house and gardens will be open free of charge each Wednesday until 8 p.m. Additional information is available at www.theMSV.org or by calling 540-662-1473, ext. 235. –END–