Exhibition is First to Focus on Cherished Shenandoah Valley Furniture Form
Winchester, VA  5/12/14…The first-ever exhibition of food safes made in the Shenandoah Valley region is now on view in the Museum of the Shenandoah Valley (MSV) in Winchester, Virginia.
Organized by the MSV, Safes of the Valley will be on view through March 29, 2015.
Featuring decorative punched-tin panels, the rustic food safe represents country charm and awakens memories of a simpler time for many people. In the 1800s, most homes in the Shenandoah Valley had a food safe.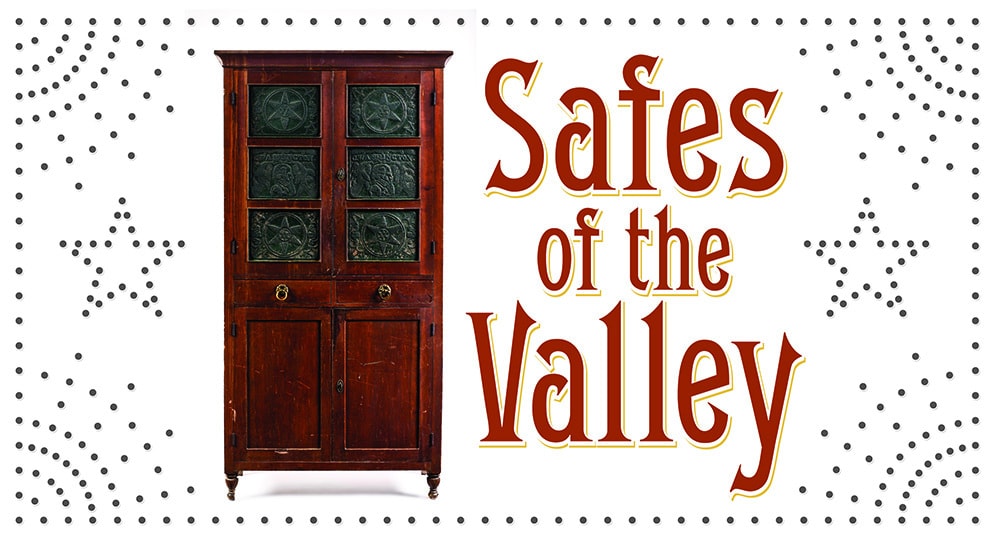 Yet as common as food safes were, scholarship regarding these unique cabinets has been limited. Now, for the first time, according to MSV Executive Director Dana Hand Evans, Safes of the Valley presents an unprecedented opportunity to see so many Valley food safes in one location. Evans anticipates that visitors will be surprised to discover the many safe forms made in the Valley and the variety of their punched-tin designs.
According to the exhibition's guest curators, Valley furniture experts Jeffrey S. Evans and Kurt C. Russ, Safes of the Valley features 45 food safes, most from private collections and many on first-time display in this exhibition. MSV Deputy Director of Arts and Education Nancy Huth credits the tremendous amount of fieldwork conducted by Evans and Russ and the curators' relationships with Valley families and collectors as the significant factors in making it possible for the MSV to host the exhibition and tell the story of the Valley food safe.
Among the many new findings presented in the exhibition is the degree to which Valley cabinetmakers and tinsmiths cooperated to produce these storage cupboards with punched-tin panels. The exhibition also provides first-time identification of specific Valley craftspeople who produced food safes, as well as important regional areas and schools of production.
In conjunction with Safes of the Valley, the MSV is also publishing Opening the Door: Safes of the Valley, a catalogue presenting the full body of the curators' scholarship informing the exhibition. Slated for publication in November of 2014, the book will feature color images of every safe on display and photographs of the exhibition installation.
Notable Findings of Safes of the Valley
For many people, the term "pie safe" is the more familiar phrase used to describe a type of storage cabinet having punched-tin panels. That term, however, dates to the 1900s. In inventories of household items and advertisements of the 1800s, the phrases "safe," "food safe," "parlor safe," and "closet safe" were used to describe this unique furniture form.
While the phrase "pie safe" or "food safe" might seem to suggest these cabinets were used exclusively to store food items, in fact, according to MSV Director of Exhibitions Corwyn Garman, people used these cabinets to store all sorts of things. This included, in addition to items of food, tableware, cutlery, linens, and more. Accordingly, says Garman, people not only placed safes in kitchens, but also in dining and other rooms of the Valley home.
It appears that German settlers first introduced the safe into the Valley during the second decade of the 1800s. Various Valley regions developed their own unique interpretations of the safe, with variations in size, design, and, especially, decorative tin patterns. These patterns had cultural meanings to those who made the safes as well as those who purchased and used them.
For example, stars were prevalent in the work of Lexington-area Rockbridge County tinsmiths. Rockingham County safe designs included eagles as well as intricate geometric patterns, and in Shenandoah County, home to the largest population of Germans in the Valley, tinsmiths often used German design elements. In the Winchester area of Frederick County, safe panels often featured animals, including birds, leaping stags, roosters, and horses.
From Rockbridge County and the earliest safe in the exhibition, the Kahle-Henson safe dates to 1829. Its punched-tin panels feature an image of the profile of George Washington. Signed by the tinsmith, "JH," this safe also includes the name of the original owner who commissioned it, "R L McDowal," from a family that operated a tavern in Lexington, Virginia.
A group of safes dated between 1860 and 1871 and initialed for the RDH cabinet shop of Augusta County demonstrate the height of safe-makers' artistic expressions. Safes of the Valley provides the first documentation of these safes with their beautifully executed punched-tin panels, and it identifies the specific maker for the first time.
Safes of the Valley also shows safes made into the 1930s by Phil Baker in the Brock's Gap region of northwestern Rockingham County. These later Baker safes are among the last examples of 1800s-style food safes made in the United States.
According to curators Evans and Russ, this presentation of safes from the earliest to latest examples provides Museum visitors with a better understanding of how the safe was made and changed over the years and how people used it in their everyday lives. For Evans and Russ, Safes of the Valley presents research they began in 2010 as part of their Virginia Safe Project with their goal being to record and document all forms of punched-tin paneled furniture from every region of Virginia. Both men have been researching and collecting safes for more than 30 years.
About the Curators
Jeffrey S. Evans is the president of Jeffrey S. Evans & Associates auctions, specializing in early American glass and lighting, Americana, and fine and decorative arts. He began his career as an auctioneer at his parents' auction house, being licensed as an auctioneer at age 12. His research interests lie in Shenandoah Valley decorative arts, and he has organized museum exhibitions of pottery and furniture. Evans has contributed to antiques reference volumes and periodicals, and lectures widely on early American glass and Shenandoah Valley decorative arts. He has served as a consultant for several museums, and sits on the boards of directors and advisory committees for numerous national, regional, and local organizations. With Kurt C. Russ, Evans is co-founder and co-director of the Virginia Safe Project.
Kurt C. Russ is the Executive Director of the Mountain Valley Preservation Alliance, Inc. A specialist in Virginia ceramics and nineteenth-century material culture, Russ earned his bachelor of arts from Washington and Lee University, and his master of arts at the University of Tennessee. As a historical archaeologist, Russ has conducted excavations of historical potteries in Virginia as well as investigations of domestic farmsteads, early educational institutions, and iron mining and manufacturing sites. A consultant for a variety of local, state, and federal agencies, Russ is also a collector of nineteenth-century Virginia decorative arts, has served as guest curator for several Virginia stoneware exhibitions, and has contributed numerous articles on Virginia pottery to prestigious ceramics journals. With Jeffrey S. Evans, Russ is co-founder and co-director of the Virginia Safe Project.
The Museum of the Shenandoah Valley is located at 901 Amherst Street in Winchester, Virginia.  The MSV complex—which includes the Museum, the Glen Burnie House, and six acres of gardens—is open Tuesday through Sunday. The galleries are open year-round; the gardens are open April through October. The Glen Burnie House will reopen on June 10 following an extensive preservation project. Admission to the site is $10 for adults and $8 for seniors and youth (age 13 to 18). Admission is always free to MSV Members and ages 12 and under. Additional details are available at www.theMSV.org or by calling 540-662-1473, ext. 235.