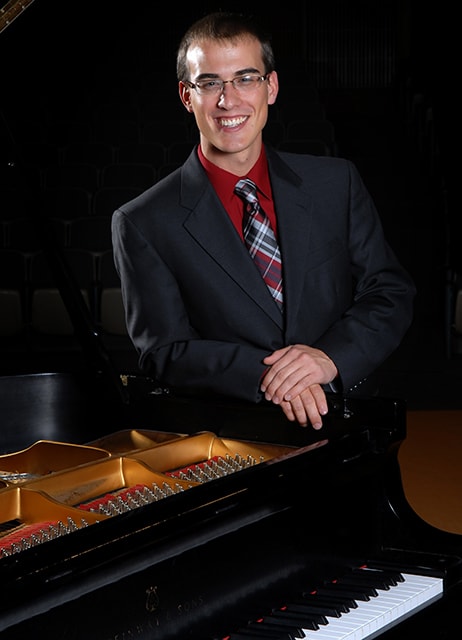 SU Conservatory Student Richard Jeric to Perform at 3 p.m.
FREE Student and SU Faculty Admission
Winchester, VA 01/12/17…Award-winning pianist and Shenandoah Conservatory student Richard Jeric will perform classical music during a solo recital at the Museum of the Shenandoah Valley (MSV) this Sunday, January 15, at 3 p.m.
Part of the monthly Afternoons at the MSV concert series presented by the MSV in partnership with Shenandoah Conservatory, Sunday's program is free to MSV Members, Shenandoah University students and faculty (with identification), and youth ages 12 and under. For all others, the cost is $10 and includes the performance and admission to the MSV galleries and exhibitions. The 2017 Afternoons at the MSV concert series is sponsored by Sodexo.
Sunday's recital will include works composed by Domenico Scarlatti, Frédéric Chopin, Franz Liszt, and Claude Debussy.
An accomplished solo, concerto, and chamber music performer, pianist Richard Jeric is currently pursuing a Doctor of Musical Arts degree at Shenandoah Conservatory under the tutelage of Distinguished Artist-in-Residence John O'Conor. Jeric has performed internationally in Prague, Beijing, and Dublin, as well at prestigious venues throughout the United States including Severance Hall, Cleveland, Ohio; the Kaufmann Center for the Performing Arts and the Folly Theater, Kansas City, Missouri; and Harris Concert Hall, Aspen, Colorado. Jeric is the winner of numerous competitions including the 2014 Jefferson City Symphony Piano Concerto Competition (Missouri), the 2012 and 2014 University of Missouri-Kansas City Concerto/Aria Competitions, and the 2010 Kent State University Concerto Competition. Richard Jeric holds an Artist Certificate and Master of Music degree from the University of Missouri-Kansas City and a Bachelor of Music degree from Kent State University, Ohio.
Those planning to attend Sunday's recital are encouraged to arrive early; seating is limited and will be on a first-come, first-served basis. Attendees may pre-register for tickets HERE or by calling 540-662-1473, ext. 240.
Before the performance attendees are invited to enjoy the MSV galleries. In addition to permanent displays, special exhibitions currently on view include Dynamics of Desire: The Evocative Works of Jim Costello featuring more than 20 works by modernist painter Jim Costello and This Must Be the Place: The Art of Landscape presenting 300 years of landscape art from the collection of MSV benefactor Julian Wood Glass Jr.
Following Sunday's event, the MSV and Shenandoah Conservatory will present the Shenandoah Quintet performing chamber music on February 12.
A regional cultural center, the Museum of the Shenandoah Valley is located at 901 Amherst Street in Winchester, Virginia. From January through March, the MSV is open from 11 a.m. to 4 p.m. MSV operating hours are 10 a.m. to 5 p.m. April through December. The MSV galleries and exhibitions are open year-round; its Glen Burnie House and seven acre gardens are open April through December. Additional information is available at www.theMSV.org or by calling 540-662-1473, ext. 235. – END –