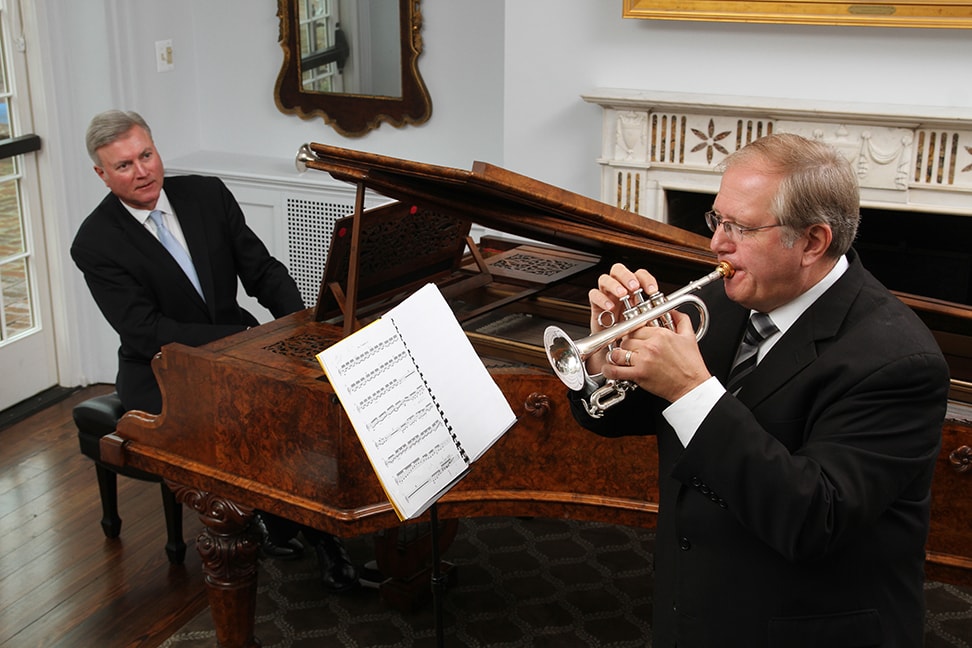 Drawing Room Concert Features Trumpeter Chuck Seipp and Pianist Randall Sheets
and Includes Wine & Cheese Reception
Winchester, VA 5/28/16…A musical tribute from trumpeter Chuck Seipp and pianist Randall Sheets, a wine-and-cheese reception, and special evening access to the Glen Burnie House and surrounding seven-acre gardens will highlight the Museum of the Shenandoah Valley (MSV) Glen Burnie Salon Series concert from 5 to 7 p.m. on Thursday, June 16.
For the concert, the Glen Burnie House and Gardens will open at 5 p.m., wine and cheese will be served on the drawing room terrace, and attendees may explore the house and gardens at their leisure. The concerts will take place from 6 to 7 p.m. in the Glen Burnie House drawing room.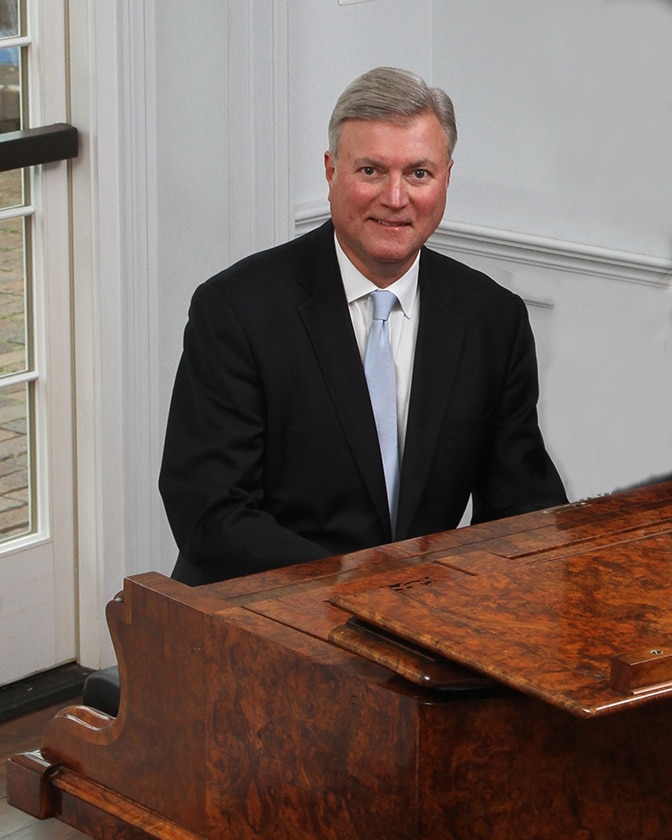 For their Glen Burnie performance, Chuck Seipp and Randall Sheets will treat concert-goers to a musical journey featuring works from a wide range of famous composers including George Frideric Handel (1685–1759), Johann Sebastian Bach (1685–1750), Claude Debussy (1862–1918), Jean Rivier (1896–1987), John Philip Sousa (1854–1932), Jennifer Higdon (b. 1962), and others. Narrator James Laster will assist with the evening's program, which will also include—as a special tribute to veterans and the military—the performance of "Amazing Grace" and "The Stars and Stripes Forever."
According to MSV Community Programs Coordinator Autumn Gray, the salon series offers exceptional musical entertainment in an intimate setting. Gray notes that during the June concert, Randall Sheets will be playing the MSV's recently restored nineteenth-century piano. Made by the English piano manufacturer Broadwood and Sons in the late 1800s, the piano was owned by MSV benefactor Julian Wood Glass Jr. and is now in top playing condition following an extensive two-year restoration project.
With nearly 60 years of professional music experience between them, Chuck Seipp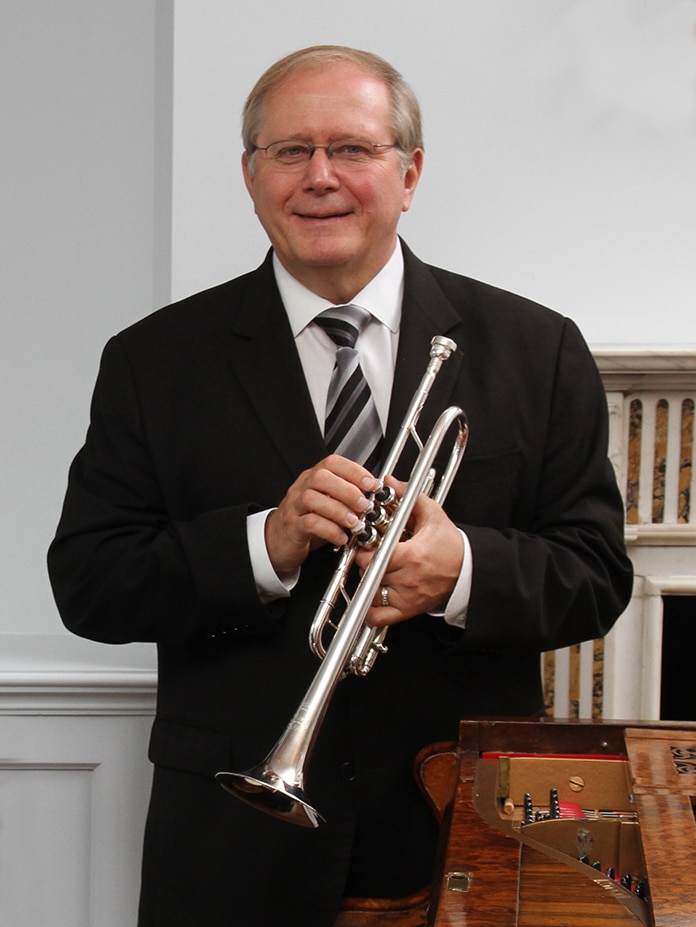 and Randall Sheets are accomplished musicians and scholars. Adjunct associate professor of trumpet at Shenandoah Conservatory, Chuck Seipp is a retired sergeant major of The United States Army Band. During his 32-year career with "Pershing's Own," Seipp performed in national, presidential and historical world events and performed with the concert band, orchestra, ceremonial band, herald trumpets, and brass quintet. An extremely versatile musician and the ceremonial organist for Arlington National Cemetery for the last 15 years, Randall Sheets has worked full time as a church musician for 25 years, performing as organist and directing choral ensembles, bell choirs and concert series. A published scholar and lecturer, Sheets has taught at the University of Maryland, College Park, and in Washington, DC, at the Smithsonian Institution, the Levine School of Music, and the National Cathedral School.
The Glen Burnie Salon Series is organized by the MSV in partnership with Shenandoah University. Tickets to salon performances, which include the entertainment and wine-and-cheese reception, are $40 per person for MSV Members and SU faculty and students. For all others, tickets are $45. Seating is limited; those interested in attending must purchase tickets in advance by calling 540-662-1473, ext. 240, or registering HERE.
The Salon Series will continue on August 4 with violinist Akemi Takayama and on October 6 with the Trio TAJ (clarinet, cello, and piano).
A regional cultural center, the Museum of the Shenandoah Valley is located at 901 Amherst Street in Winchester, Virginia. The MSV complex—which includes the Glen Burnie House, seven acres of gardens, and galleries (not open during the salon concerts) —is open Tuesday through Sunday. Additional information is available by calling 540-662-1473, ext. 235. –END–
About the Glen Burnie House and Gardens: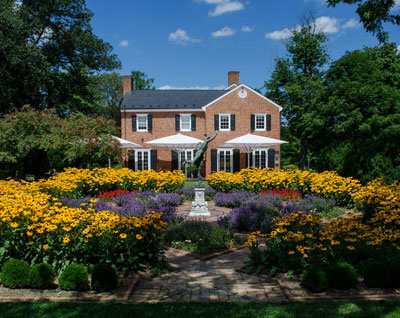 The Glen Burnie House sits on land that Winchester-founder James Wood settled in 1735. Wood's son Robert built the oldest portions of the house in 1793 and 1794. Descendant Julian Wood Glass Jr. (1910–1992) became the house's sole owner in the 1950s; with partner R. Lee Taylor (1924–2000), he transformed the Glen Burnie House into a country retreat surrounded by acres of formal gardens featuring fountains, sculptures, and intimate garden rooms. After Glass's death, the house and gardens opened to the public in 1997. The house underwent an extensive, three-year preservation and renovation project from 2011 to 2014 and reopened with a new visitor experience. Interpretive panels in the house show visitors archival images of people who have lived in Glen Burnie over the generations and a fully furnished miniature model of the Glen Burnie House provides visitors with an exacting look at how Glass and Taylor furnished the house as their private residence. Added to Glen Burnie in 1959, the drawing room features three crystal chandeliers and provides the perfect setting for the Glen Burnie Salon Series.
Top: Chuck Seipp playing trumpet and Randall Sheets playing the newly-restored Broadwood piano in the Drawing Room of the Glen Burnie House; 2nd from top: Chuck Seipp; 3rd from top: Randall Sheets; bottom: Garden Parterre and the Glen Burnie House. Photos of Chuck Seipp and Randall Sheets by Rick Foster. Photo of Parterre by MSV Director of Gardens Perry Mathewes.a