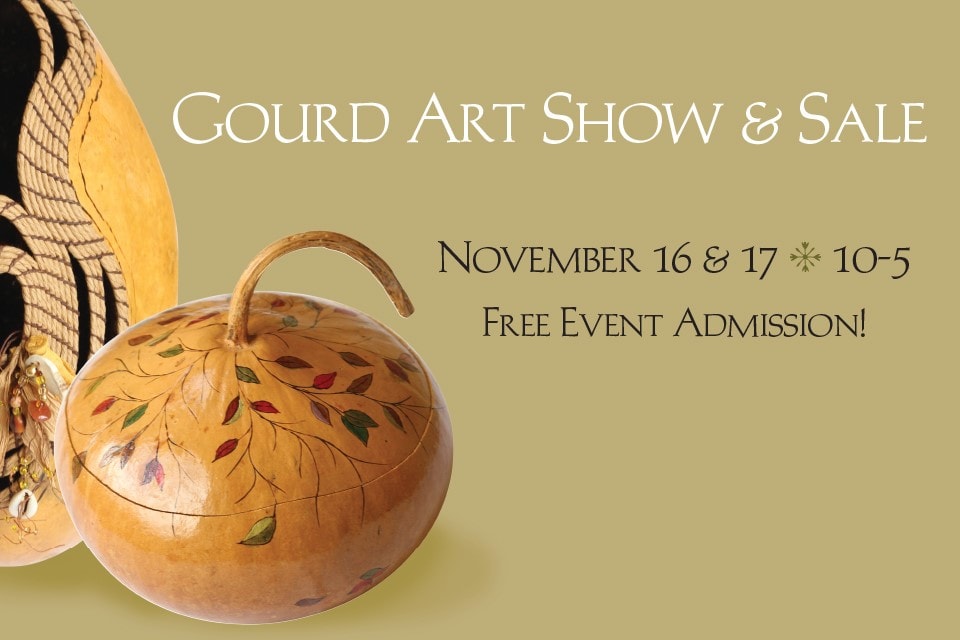 MSV to Host Virginia Gourd Show & Sale This Weekend 
Admission is Free to Weekend Event Featuring 12 Vendors and Demonstrations  
Winchester, VA 11/15/19…The Museum of the Shenandoah Valley (MSV) will host the Virginia Gourd Show, Sale & Competition from 10 a.m. until 5 p.m. this Saturday and Sunday, November 16 and 17. Admission to the show and sale is free.
Gourd artisans from Virginia, West Virginia, Maryland, and Pennsylvania are scheduled to participate in the show and sale at the Museum. Gourd art available for purchase at the event will include luminaries, birdhouses, oil lamps, bowls, musical instruments, ornaments, and more. Raw gourds will be also available for purchase. Grown in Delmar, Maryland, the raw gourds—cleaned and ready for use—are suitable for arts and crafts or decorating and will range in size from large bushel gourds to small jewelry-size gourds.
While browsing displays of gourd art available for purchase, event attendees will have the opportunity to converse with artisans, watch demonstrations of gourd art techniques, and see winning entries in the event's annual gourd competition. A free hands-on "make and take" gourd ornament activity will also be offered.
Organized by the Virginia Lovers' Gourd Society (VLGS), the Virginia Gourd Show, Sale & Competition has taken place in various area venues for 17 years. This weekend marks the third consecutive year that the event is being held at the MSV. The Virginia Gourd Show, Sale & Competition will take place on the first floor of the Museum and there is no fee to attend the event. Regular admission rates apply to visit the MSV galleries and gardens.
Based in Stephens City, the VLGS is dedicated to educating the public about the benefits of gourd gardening, encouraging the use of gourds in arts and crafts, and supporting gourd agriculture. Attendees of this weekend's event may enter a raffle to win a variety of themed baskets. Raffle tickets will be available for purchase for $1 each or six for $5. Proceeds of the raffle will benefit the work of the non-profit VLGS.
A regional cultural center, the MSV is located at 901 Amherst Street in Winchester, Virginia. The MSV includes galleries displaying permanent collections and rotating exhibitions, the Glen Burnie House, seven acres of gardens, and is the future home of The Trails at the MSV, which will provide three miles of trails for walking, running, or biking. The galleries and exhibitions are open year-round; the house and gardens are open April through December. The MSV is open 10 a.m. to 5 p.m. Tuesday through Sunday (11 a.m. to 4 p.m. January through March). Additional details are available at www.theMSV.org or by calling 540-662-1473, ext. 235. –END–