Have you ever thought about taking one of the many wonderful workshops we offer at the MSV but talked yourself out of it because you doubt your artistic abilities? Well, you are not alone.
By Director of Education Mary Ladrick
I am a museum educator, but I am not an artist! However, I really, really love pottery. When a fellow staff member suggested that I try making some myself at the MSV's Adult Pottery Workshop, my first impulse was to say no – I'm no good at art! But then I remembered that life begins at the end of your comfort zone, so I decided to challenge myself by taking the six-day workshop. Join me on my journey as I delve into the wonderful world of pottery making.
Day 1.  Our instructor, Heather Scott, shows us all the basics: how to wedge clay, throw a pot on the wheel, and some hand building techniques. A couple of my classmates have a little experience, but most are newbies like me. Heather makes using the wheel look easy, but I am afraid! After Heather's demos, we have about a half hour left to get to work. I opt to observe others using the pottery wheels and wait until tomorrow's class to make something. (In other words, I totally chicken out).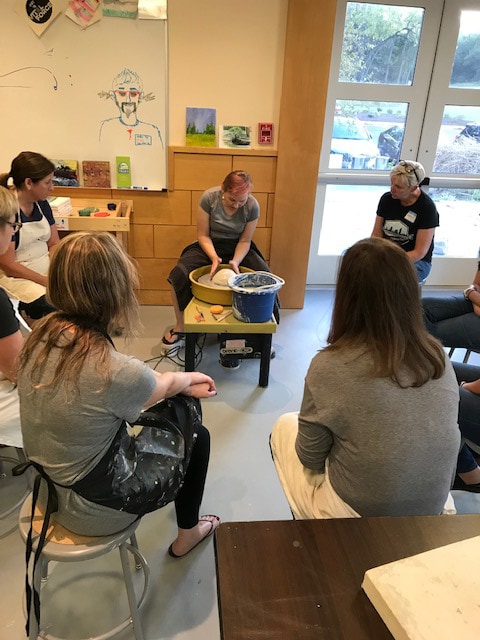 Instructor Heather Scott demonstrates centering clay on the wheel.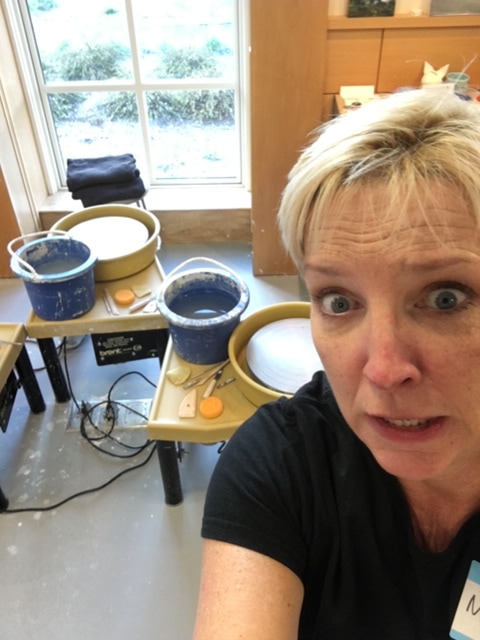 The fear of the wheel is real!
Day 2. I decide to take the bull by the horns and throw some clay on the wheel. Heather talks me through getting my clay centered on the wheel and opening up the middle to create a vessel. I am shaking a little but help is always nearby. Et voila! I did it! I actually threw a bowl!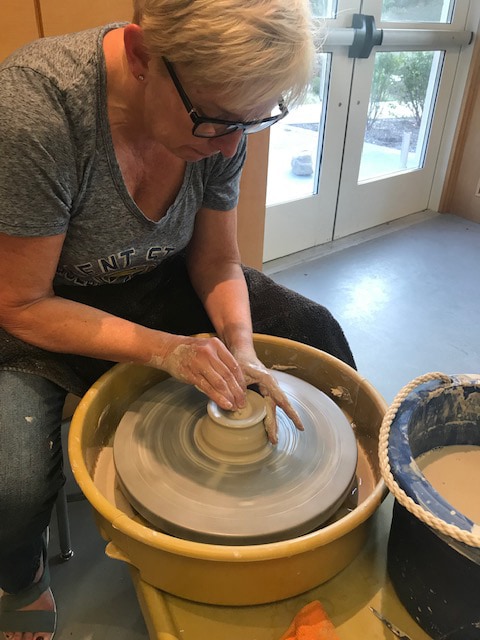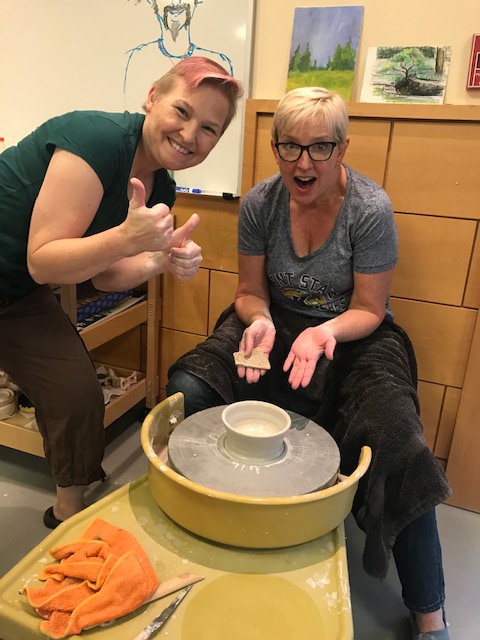 Day 3.  The October weather inspires me to create some ceramic leaves. A walk through the MSV Gardens provides real leaves to use as templates. I press them into clay and carefully cut around the edges. I use cookie cutters to cut out some smaller leaves and little turkeys – my Thanksgiving table is going to look sweet! My classmates are making bowls, plates, platters, mugs, vases, Christmas ornaments, butter dishes, and more. The possibilities are endless!
Day 4. Time to get back on the wheel. I am determined to make a pitcher to go with my bowl. Heather talks me through centering the clay, building up the sides, tapering in the top, and pinching out the spout. It is becoming fun to play with the clay and see what happens.
Day 5.  My pottery has had its first firing. This is called a bisque firing and it removes any remaining water from the clay and makes it hard. Now it is time to glaze it and then it will be fired again. Glazing is interesting because you don't really know how things are going to turn out – the fired color of the glaze is not the same as the beginning color of the glaze. What happens if you mix or layer colors or use different colors in different places? No one really knows, so this is my chance to experiment.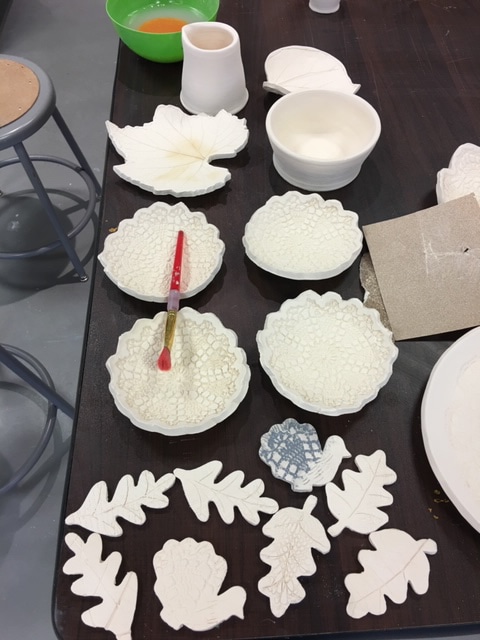 Ready to glaze.
Day 6. Glazing continues. You need three coats of glaze on everything before it is fired, and this takes a long time because I have made a TON of stuff! I can't get it all done, but I know I can always come back to the MSV Makerspace and finish it later.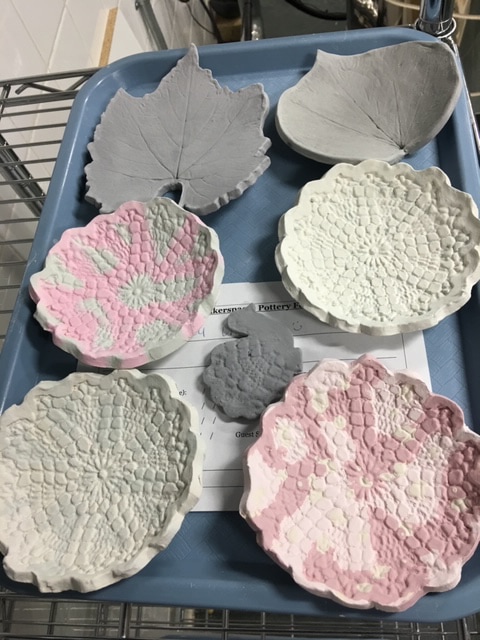 Glazed and ready for final firing. 
TA DA!! Look what I made! I am especially proud of the leaves. Who knew I could make art like that? If I can do it, so can you. Take the plunge and try a workshop at the MSV!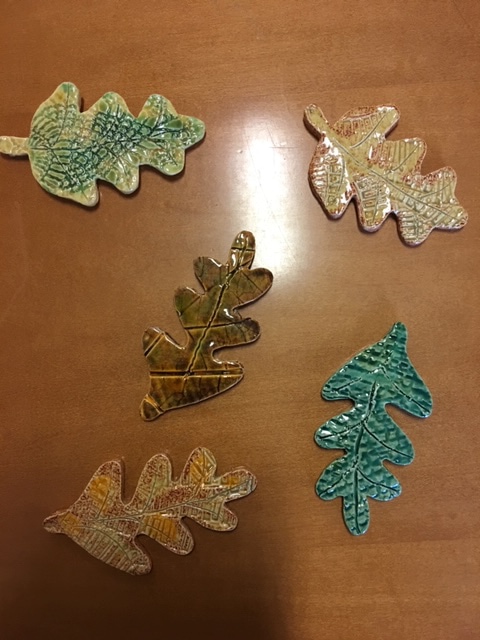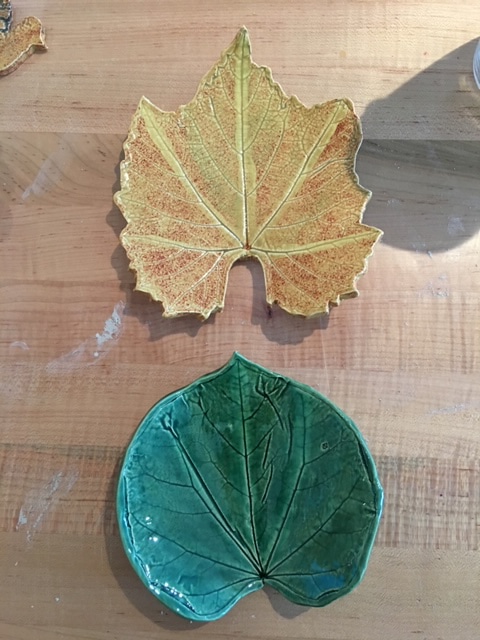 Click HERE to browse the MSV events schedule for upcoming workshops. The next 3-week Adult Makerspace Pottery program will begin on April 15 (get details and register HERE).