Jeffrey S. Evans and Kurt C. Russ to Discuss Safe Forms and Schools of Production
Winchester, VA  7/30/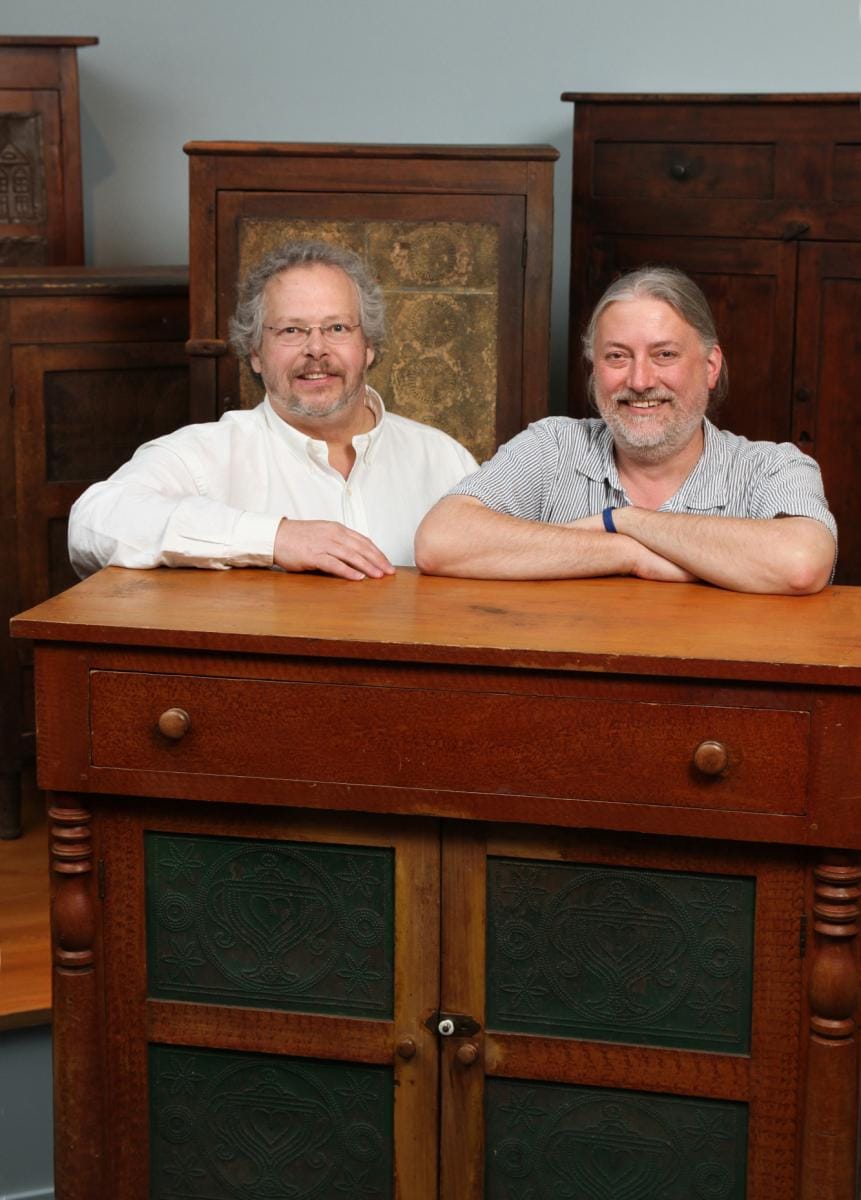 14…Valley furniture experts Jeffrey S. Evans and Kurt C. Russ will discuss the Shenandoah Valley food safe in an illustrated lecture at 1 p.m. on Saturday, August 2, in the Museum of the Shenandoah Valley (MSV).
Commonly referred to as a "pie safe" and featuring decorative, punched-tin panels, the food safe was often found in nineteenth-century Shenandoah Valley homes. In partnership with the MSV, Russ and Evans guest curated Safes of the Valley, the first-ever exhibition of food safes made in the Shenandoah Valley region. With most safes from private collections and many on first-time display, the exhibition will be on view in the MSV until March 29, 2015. Later this year, the MSV will publish a catalogue co-authored by Evans and Russ that will expand on the research presented in the exhibition.
In Saturday's two-part lecture, Evans will discuss various safe forms and styles, and Russ will explore the range, variation, and meaning of the decorative motifs of their tin panels. Different safe forms Evans will address include closet safes, sideboard safes, server safes, food safes, meat safes, cupboard safes, and built-in safes exemplifying Federal, Empire, and Victorian styles. Evans will also detail woods used in the manufacturing of the cases and wood finishes. Russ will discuss several important schools of production, including the Kahle-Henson school of Lexington, tin safe groups from Rockingham County, the RDH group from Augusta County, and tin groups from Botetourt County.
Evans and Russ are co-founders and co-directors of the Virginia Safe Project, a multi-year research study of punched-tin paneled furniture that launched in 2010.
Jeffrey S. Evans is the president of Jeffrey S. Evans & Associates auctions, specializing in early American glass and lighting, Americana, and fine and decorative arts. He began his career as an auctioneer at his parents' auction house and earned his auctioneer license at age 12. His research interests lie in Shenandoah Valley decorative arts, and he has organized museum exhibitions of pottery and furniture. Evans has contributed to numerous antiques reference volumes and periodicals, and he lectures widely on early American glass and Shenandoah Valley decorative arts. He has served as a consultant for several museums and sits on boards of directors and advisory committees for numerous national, regional, and local organizations.
Kurt C. Russ is the Executive Director of the Mountain Valley Preservation Alliance, Inc. A specialist in Virginia ceramics and nineteenth-century material culture, Russ earned his bachelor of arts from Washington and Lee University and his master of arts at the University of Tennessee. As a historical archaeologist, Russ has conducted excavations of historical potteries in Virginia as well as investigations of domestic farmsteads, early educational institutions, and iron mining and manufacturing sites. A consultant for a variety of local, state, and federal agencies, Russ is also a collector of nineteenth-century Virginia decorative arts, has served as guest curator for several Virginia stoneware exhibitions, and has contributed numerous articles focused on Virginia pottery to prestigious ceramics journals.
Tickets for the Saturday's lecture, which include the lecture and admission to the Safes of the Valley exhibition and the MSV complex, are free for MSV Members and $10 for all others. Seating is limited; tickets will be available beginning at 10 a.m. on Saturday at the Visitor Information Desk in the Museum lobby.
The Museum of the Shenandoah Valley is located at 901 Amherst Street in Winchester, Virginia.  The MSV complex—which includes the Museum, the Glen Burnie House, and six acres of gardens—is open Tuesday through Sunday. The galleries are open year-round; the gardens are open April through October. Additional details are available at www.theMSV.org or by calling 540-662-1473, ext. 235.