April 1, 2016 – December 31, 2016
On view in the drawing room of the MSV's Glen Burnie House, Suzanne Stryk: Notes on the State of Virginia features more than 20 mixed-media assemblages created by Virginia artist Suzanne Stryk and inspired by Thomas Jefferson's book Notes on the State of Virginia (1781).
For this project Stryk traveled from the western Appalachians to the Eastern Shore, visiting ecologically or culturally distinct places throughout Virginia. At each site she recorded observations in sketchbooks and collected natural materials. Back at her studio in Bristol, she created assemblages about each place, layering her paintings, sketches, and found objects with topographic maps.  On view through December 31, 2016, this fascinating exhibition is an homage to the regions, nature, and history of Virginia.
Above: Jefferson's Secret [Piedmont Region] [detail], 2011, map, acrylic on Jefferson silhouette based on Raphaelle Peale's original, Jefferson's originial handwritten Notes on the State of Virginia printed on clear Mylar, fern, acrylic painitng on mylar, map tack, Google Earth image of Monticello (on leaf).
---
About the Artist Suzanne Stryk
For more than 25 years Suzanne Stryk has recorded her experiences with nature in sketchbooks that are both journals of walks near her Bristol, Virginia, home, and scientific documents of the flora and fauna she observes. These pages have served as foundations for hundreds of mixed-media works that blend the natural history of a place with Stryk's own direct experiences with each environment.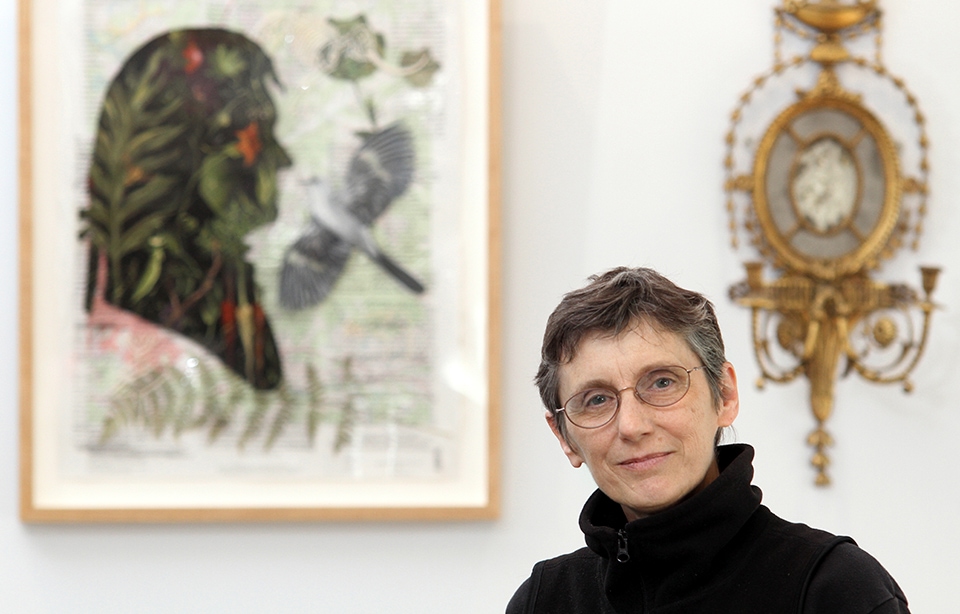 Ever since her move to Virginia nearly 30 years ago, the artist has wanted to do a series based on Thomas Jefferson's book Notes on the State of Virginia (written in 1781, published in 1785), a detailed account of the state's diverse animal and plant populations. After receiving a Virginia Commission for the Arts grant in 2011, Stryk decided to travel the state to create her own "notes" inspired by Jefferson, yet observations from her own individual point of view.
The results are over two dozen "place-based assemblages," most on United States Geological Survey topographical maps, others on mirror or plant-stained paper. Atop the foundation are layers of drawings and notes copied onto transparent Mylar, including computer prints of Google Earth images, Jefferson's original handwritten script, and actual hand-painted passages. In addition, attached across surfaces are organic materials collected during various forays, including dragonflies, leaves, moth wings, clay, and coal dust. Other specimens from the artist's studio—part of her extensive collection of things she's found over the years—are also presented in a table installation, along with sketchbooks and a Virginia map tracing Stryk's travels, each site marked with a map pin.
To create these pieces, Stryk logged hundreds of miles in 2011 by car, foot, and waterway to document unique places in the state. On many trips she met up with naturalists who would guide her to secret areas. Stryk traveled to Natural Bridge, Poplar Forest, Monticello, and hiked parts of the Appalachian Trail. She kayaked Dragon Run Swamp at night and watched rare Red-cockaded woodpeckers emerge at daybreak from cavity nests at Piney Grove Preserve. From Virginia Beach and Chesapeake Bay to the Jefferson Baths of the Alleghenies, Stryk explored nearly every corner of Virginia with sketchbook in hand, recording what she saw while keeping in mind the history and fellow explorers who came before her.
Stryk hopes the show will encourage each viewer "to really engage with an actual place." Her advice: "Leave the virtual world behind for a while and experience the natural world first hand."
—Leah Stoddard
Adjunct Curator of Contemporary Art
Taubman Museum of Art, Roanoke, Virginia