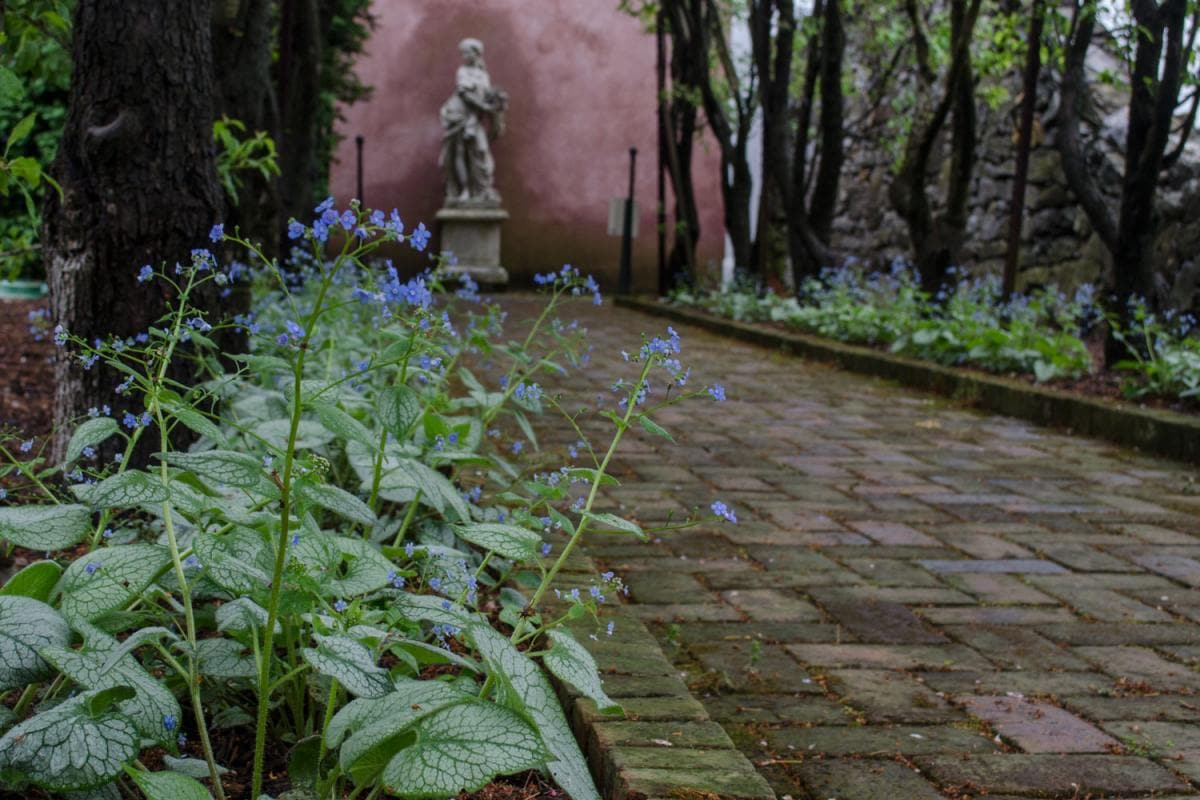 Spring can be very exciting in a garden. Each day something new is popping out of the ground and buds are bursting open.
Spring can be very exciting in a garden. Each day something new is popping out of the ground and buds are bursting open. There are so many plants to see it can almost be overwhelming. A stroll through the garden is not just a walk, it's an adventure.
A lot of gardeners get excited about the latest and greatest new plants. I do like learning about them, but I always have a soft spot for some good old-fashioned ones as well. These are the plants that have stood the test of time in a garden and you know what they can do for you. They have interesting back stories that are worth sharing. They are our good friends, dropping by for a visit once again.
On May 20 and 21, the MSV is presenting its first Heritage Plant Sale so we can share some of these good old fashioned plants (and a few newer ones too) with you. We have selected plants that will grow well in Shenandoah Valley gardens. In fact, you will find many of them already growing in our garden. Here are a few of my favorites: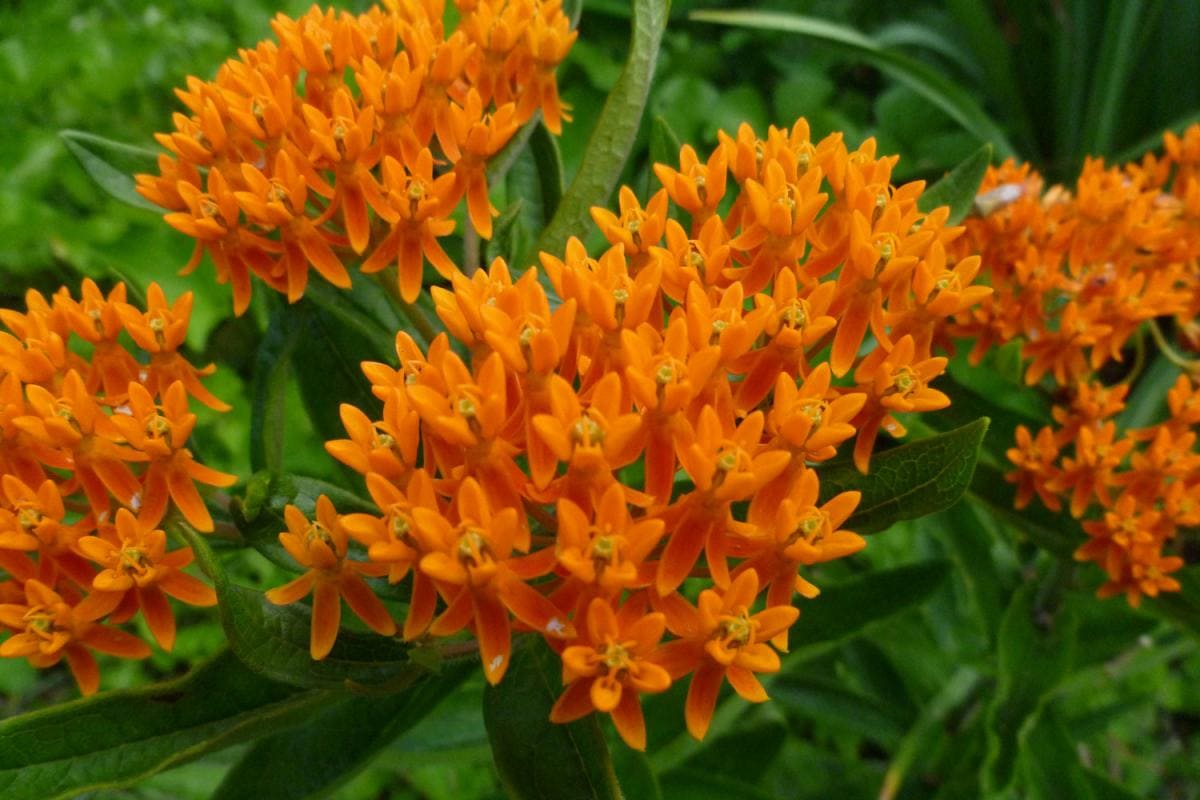 Butterfly Weed (Asclepias tuberosa)
It is hard to open a garden magazine without seeing an article on pollinators, especially butterflies. A favorite species is the Monarch butterfly. If you want to attract Monarchs, you need plants in the milkweed family to act as a host plant for them to lay their eggs. In that case, the native butterfly weed is a prime plant for your garden. It produces brilliant orange flowers that many pollinators enjoy and of course Monarch caterpillars love the leaves. Give it plenty of sun and enjoy the show.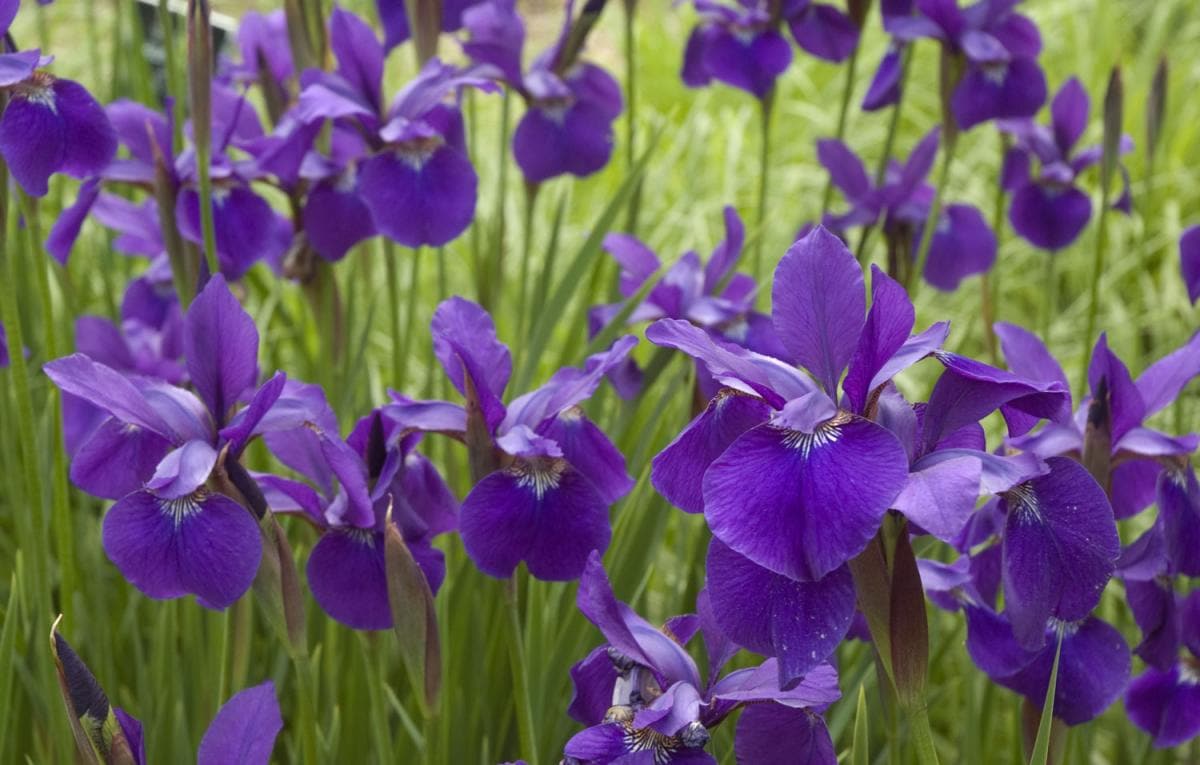 Siberian Iris (Iris siberica 'Caesar's Brother')
Irises have been a staple in many gardens for generations. We have quite a few clumps of irises around the garden, from the knoll above the water garden to Kathie's Spring Garden. Caesar's Brother is a classic Siberian iris, having been around since the 1930s. The Siberian iris is an incredibly durable plant as well as beautiful. It can tolerate wet soils, but thrives just as well in drier spots. You can find the dark violet flowers blooming in our Water Garden.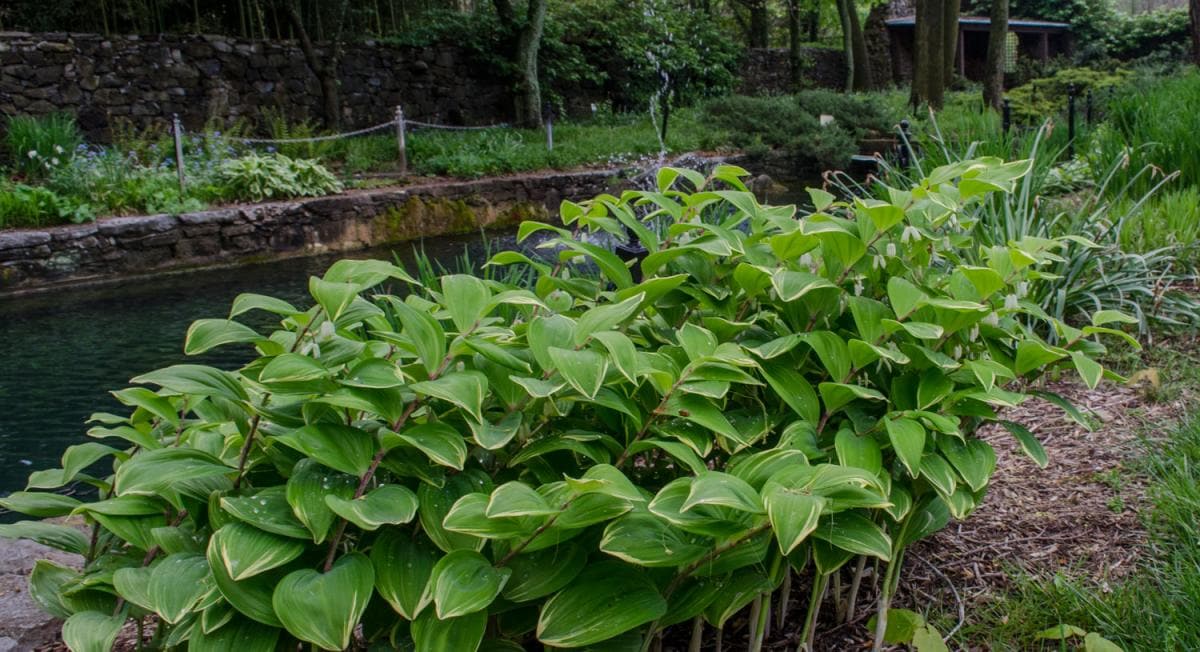 Solomon's Seal (Polygonatum odoratum)
If you have a shady spot, you really need to make sure you have some Solomon's Seal. The variegated foliage really brightens a dark corner and the long arching stems will feature small white bell-shaped flowers in the spring. This plant will spread nicely when it finds a happy spot. We have large patches growing in the water garden near the folly.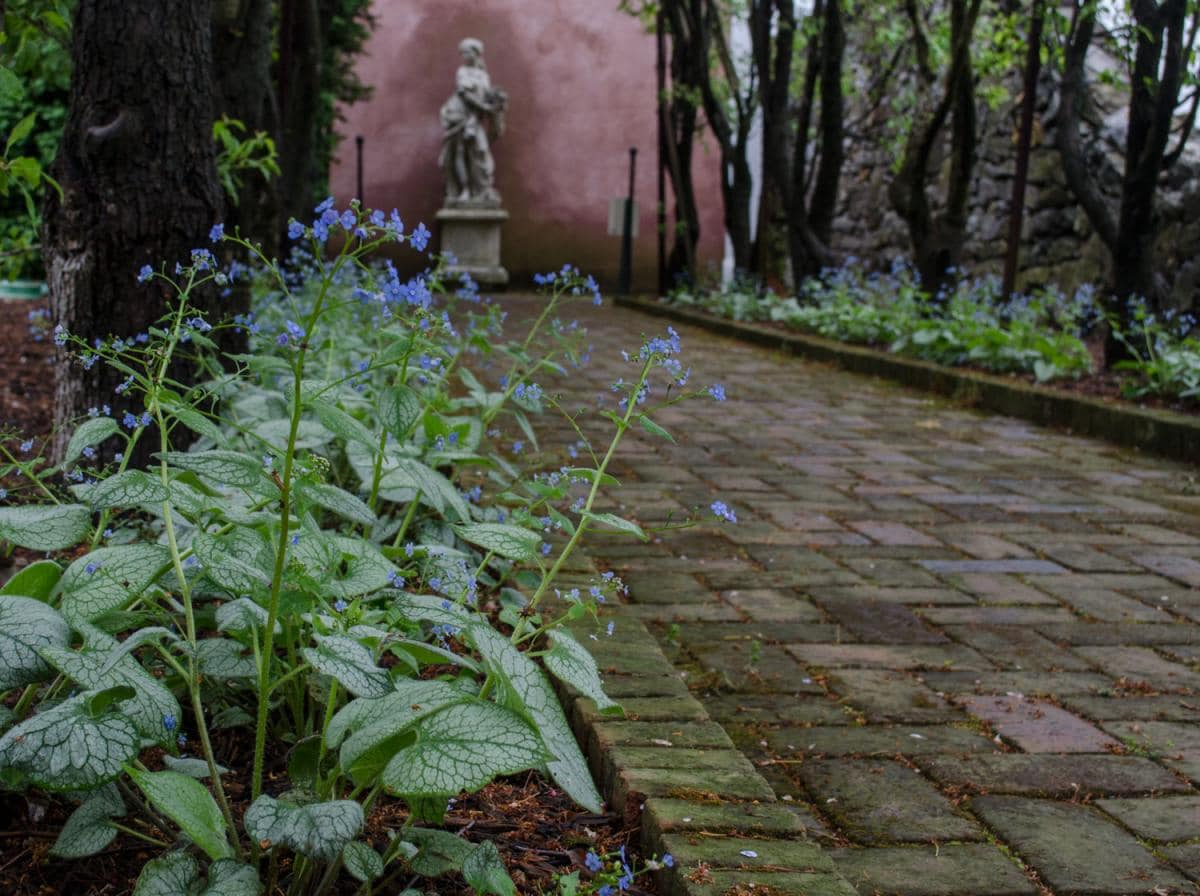 False Forget-Me-Not (Brunnera macrophylla)
Also called Siberian bugloss, this is a good perennial for shady areas. It will spread slowly by rhizomes so may eventually carpet an area with its broad leaves. In the spring small blue flowers, similar to a forget-me-not blossoms, will pop up above the foliage. It does much better with consistently moist soil. Last year we used a recent (2003) variegated introduction called 'Jack Frost' to replace the seasonally planted caladiums Lee Taylor used in the Pleached Allée. It provides a similar look without the yearly digging and storing of the summer bulbs.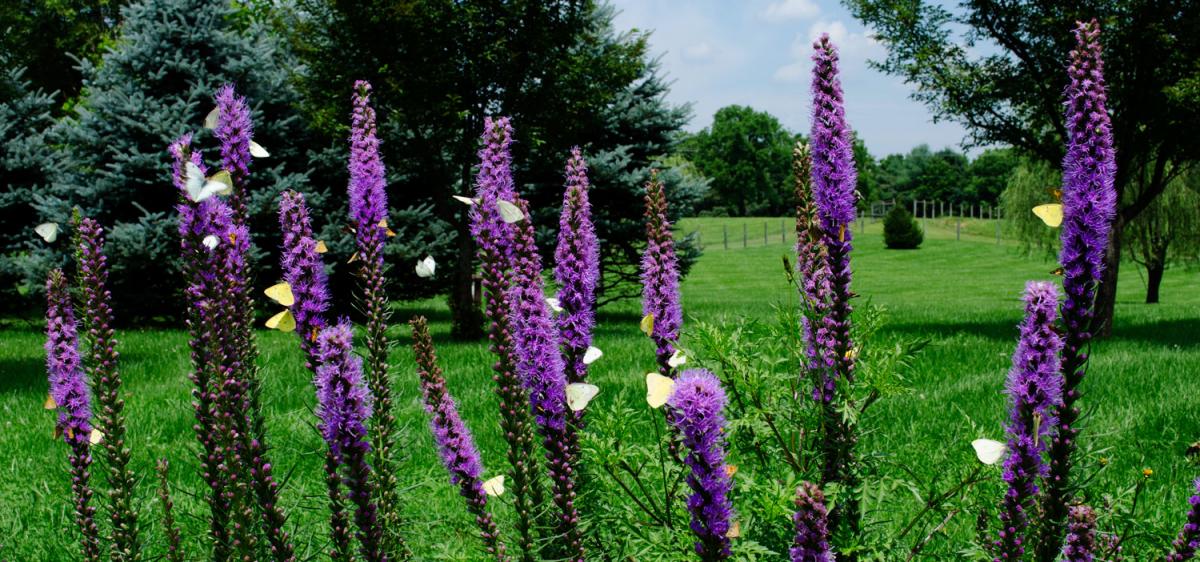 Blazing Star (Liatris spicata)
This tall, spiky native perennial does well in most sunny garden settings. Also called spike gayfeather, it can tolerate very poor dry soils, but does not like wet soils. A member of the aster family, the purple flowers that open from the top of its spike downwards are a butterfly magnet. I had everything from cabbage whites to zebra swallowtails on the ones at my house last summer. It is also a good cut flower and in fact gained a lot of popularity in the gardening world in the 1980s because it was such a popular flower with florists.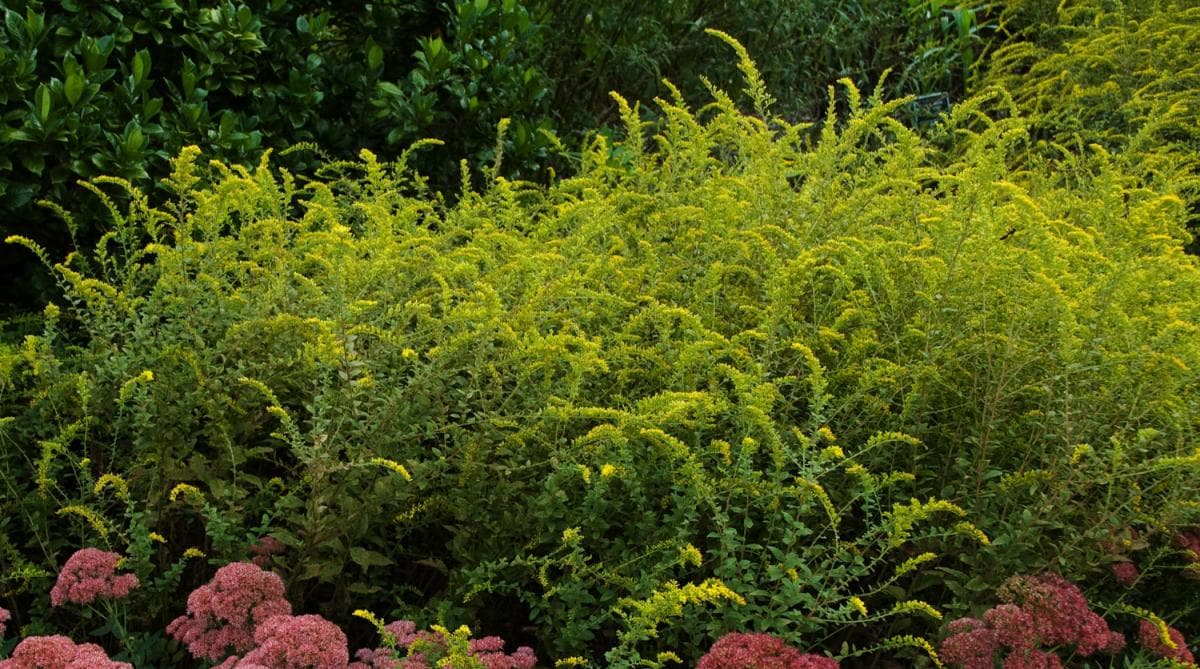 Goldenrod (Solidago rugosa)
Guilt by association. This beautiful flower is often maligned for causing allergies when it fact it is ragweed that is the real culprit. (Google ragweed and, sadly, half the images are goldenrod). Instead, this fantastic plant should be a stalwart in any garden. A mat of leaves along the ground will gradually grow upwards as the summer progresses before shooting out tall spikes of yellow flowers in late summer and early fall. The plant will steadily spread, so give it some room towards the back of the flower bed and it will form a nice background plant for smaller flowers in front. By the way, the pollen is so heavy, it requires bees to move the pollen from one plant to another, so the only way it could end up in your nose would be if a bee carries it there. Then I think you will have a bigger problem than allergies.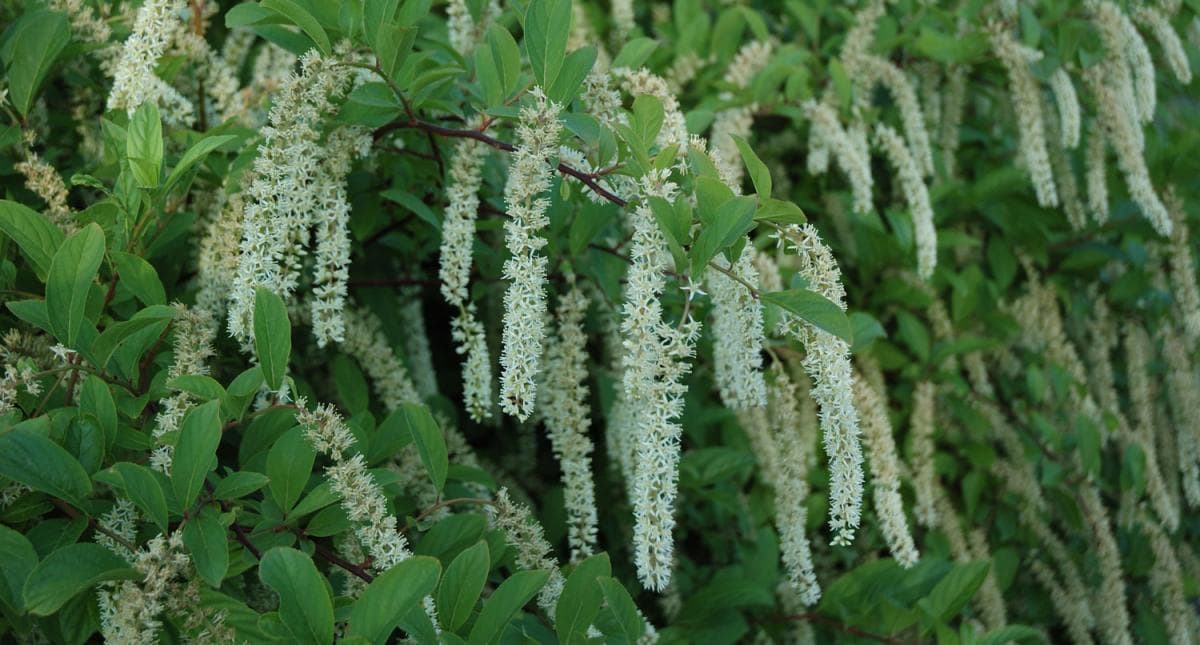 Virginia Sweetspire (Itea virginica)
This native shrub is great in the garden. Arching reddish stems provide interesting color and texture in the winter, racemes of fragrant white flowers cover the shrub in spring and reddish purple leaves in the fall means this plant is interesting to see just about any time of year. They can grow from three to five feet tall and spread even more. In the wild they are often found in large colonies along the banks of streams and we have plant several along the edge of Town Run in Kathie's Spring Garden.
There will be nearly 100 different types of plants available for purchase at the plant sale, so I can't list them all (click here for a detailed list). On the day of the sale, come talk with me or one of the garden staff and we will be glad to help you find the right plant for your garden. See you there.